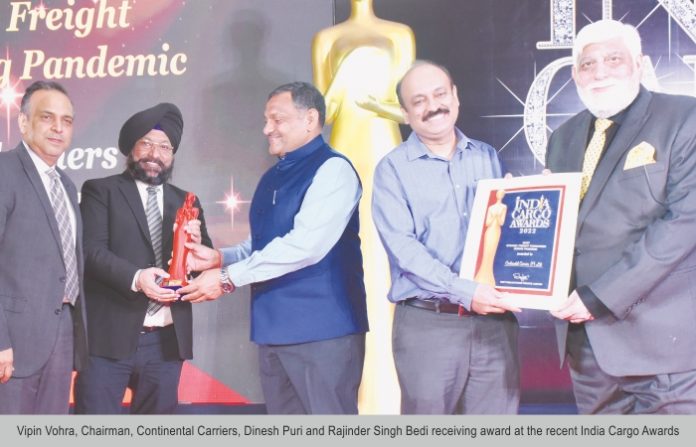 Vipin Vohra, Chairman, Continental Carriers Private Limited; Co-Chairman, Civil Aviation, PHDCCI; Convener FFFAI, and Advisory Board, ACAAI is focused towards achieving growth by adopting mega trends and raising concerns to resolve existing bottlenecks. In an interview with CARGOTALK, he says, the industry will reach new heights in next five to eight years.
Ritika Arora Bhola
How do you see the future of Indian logistics and air cargo industries?
The Indian logistics and air cargo industries have a bright future. In the next five to eight years, it will reach new heights. The country's manufacturing capability is growing, thanks to the Make in India initiative. We must remember that India is a resource-rich country and we must take advantage of the resources by focusing on skill development, infrastructure, and developing a transparent ecosystem to accelerate the logistics industry to the next level.
What are the transformations you have observed since the time you stepped in and how can they benefit the industry?
Technology has transformed the industry, especially risk management systems (RMS). It is without a doubt the best EXIM trade implementation. The way customs clearance procedures are handled. The system's self-assessment processes not only reduce dwell time but also ensure quality control throughout assessment, inspection, and post-clearance monitoring, among others. Following COVID-19, industry players have been investing in new technologies and innovative solutions. Supply chain management has never been more connected, convenient, or controllable.
At various forums, you have raised issues such as infra, high logistic costs, freight corridors, and AFSs. What are the possible solutions?
Given the rapid growth of the logistics industry, insufficient infrastructure, high logistics costs, dedicated freight routes and the need for more air freight stations (AFS) are the issues that must be addressed soon. This is the reason why I continued to raise the flag on various occasions. It is unfortunate that no Greenfield AFSs have been built  in the country since 2014. The government must resolve all such hurdles to the AFSs
becoming operational.
How can Gati Shakti, EoDB, and Atmanirbhar Bharat help improve the industry?
Initiatives such as Make in India and Atmanirbhar Bharat are already showing positive results. The manufacturing  facilities are expanding, and several foreign investors are showing interest and approaching with know-how sharing. Gati Shakti is a great initiative.
You focused on improving sea trade. Can we expect to see more shippers moving freight by ocean this year?
Every means of transport has its own set of benefits and drawbacks. We saw a shortage of containers during the ongoing pandemic.