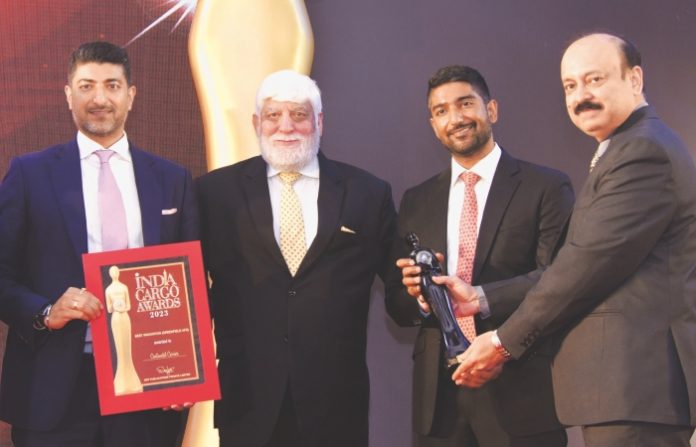 Vipin Vohra, Chairman, Continental Carriers was felicitated with Best Innovation for  Greenfield  AFS Award at India Cargo Awards 2023 in New Delhi. AFSs can facilitate EODB, provide  additional capacity, streamline cargo handling processes, improve turnaround times, reduce costs.
Sara Haque
How important do you think greenfield AFSs are for the growth of air cargo industry?
Establishing more greenfield Air Freight Stations (AFSs) can play a vital role in the air cargo industry growth. Greenfield AFSs are purpose-built cargo handling and off-airport processing facilities designed to handle air freight. Greenfield AFSs could be an important factor in fostering the growth of the air cargo industry in India by addressing capacity constraints, improving efficiency, and enhancing India's overall logistics infrastructure.
Capacity expansion: The industry has been growing steadily due to increasing e-commerce, exports, and demand for perishables and electronic goods. Greenfield AFS can provide additional capacity for handling this growing volume.
Efficiency and speed: Greenfield AFSs are equipped with the latest tech and infra, allowing for efficient cargo handling processes. This can reduce processing times, improve TAT for aircraft, and enhance overall supply chain efficiency with reduced logistics cost.
Improved connectivity: The greenfield AFSs can enhance connectivity between airports, cities, and regions. This can lead to better distribution networks and faster movement of goods thus benefiting domestic and global trade.
Reduced logistics costs: Efficient cargo handling and reduced processing times can lead to lower logistics costs and promote competition among the CTOs by tapping the market in tier II and III cities. This can make Indian products more competitive in the global market and encourage more companies to use air cargo services.
Reduced congestion: Airports often face congestion issues due to a combination of passenger and cargo traffic. Greenfield AFSs can help alleviate some of this congestion by providing dedicated cargo processing facilities at off Airport locations.
How do you think the government could help in developing these AFSs?
Infrastructure investment: The government can allocate funds for the development of the well-equipped AFS facilities. This includes prioritizing land allotment near the industrial clusters with good road connectivity, access to railways, and proximity to airports.
Regulatory framework: Establish a regulatory framework defining the responsibilities of AFS operators, customs procedures, security protocols, and other formalities. This will provide clarity and security for investors and operators.
Investment incentives: Providing incentives such as tax breaks, subsidies, or grants to attract private investment in AFSs. These incentives can encourage businesses to set up the greenfield AFSs in strategic locations.
Regional development: Strategically planned AFS locations promote regional development and reduce congestion at the major airports.
What are the challenges for the domestic and the global air cargo segments?
Air cargo infrastructure and connectivity between different cities and regions could be a challenge. Inadequate airport facilities, limited cargo handling capacity, and lack of well-developed logistics networks could impact the efficient movement of goods and services. Regulatory processes, documentation among others can be time-consuming and complex.