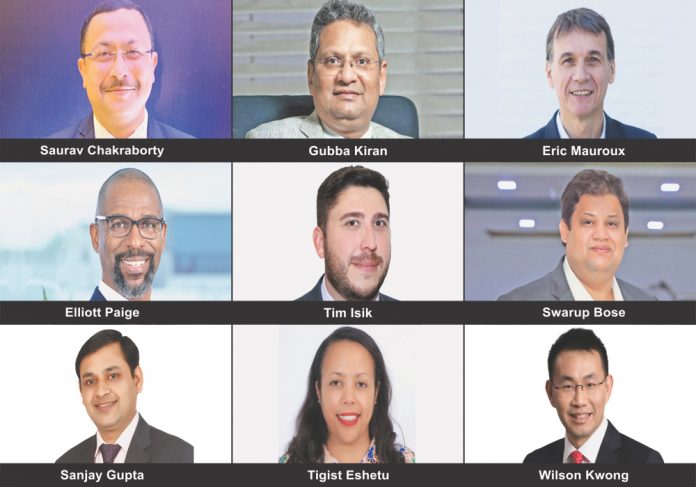 From Chilean blue berries, apples from U.S, mangoes from India, best of Italian wines to more traditional temperature-sensitive perishables such as fruits, vegetables among others, demand for global perishable trade witnessed tremendous upsurge, despite Covid-19-related disruptions. Expansion of air freight in 2020-21 is majorly attributed to perishables.
Ritika Arora Bhola
The perishable goods transportation market is poised to grow by US$ 6.43 billion from 2022 to 2026, progressing at a compound annual growth rate (CAGR) of 7.22 per cent during the forecast period, according to a report. The key factors fuelling the growth are anticipated to be changes in consumer behaviour, increased disposable income, and the adoption of healthy eating habits.
As per Saurav Chakraborty, Chief Operating Officer, Lords Freight, the dynamics of food consumption have changed in recent times. "In India, the demand for dairy food products is high, followed by frozen foods, fruits and vegetables, seafood and meat. The perishable goods transportation market is being driven by factors, including the increase in demand for processed foods and the adoption of environmentally friendly transportation. An increase in consumers' disposable income has also changed their spending patterns. Consumers today prefer quality over cost," he said.
The Indian government has in the past few years fostered an environment that is conducive to developing a strong cold chain economy, with perishable logistics primed to flourish as a sunshine sector. The Farmers (Empowerment and Protection) Agreement of Price Assurance and Agricultural Services Bill, 2020; Essential Commodities (Amendment) Bill, 2020; and Farmers' Produce Trade and Commerce (Promotion and Facilitation) Bill, 2020 are the three new farm legislation that can prove to be a game changer in the perishables industry, particularly for the entire cold chain infrastructure that underpins it. Also, especially in this new normal, as the impact of the pandemic lessens, cold chain firms are being given priority over other sectors. "Despite operational difficulties brought on by the ongoing pandemic, the organised perishable logistics sector has experienced tremendous growth," Chakraborty affirmed.
On similar lines, Gubba Kiran, Chief Executive Officer, Gubba Cold Storage, said, "The pandemic accelerated the demand for online purchase of food items. Technology is another key growth driver. The industry needs to invest in skilled manpower and highly efficient technologies, such as AI, Blockchain, IoT, Data Science, and high-end temperature regulating services to meet the ever evolving demand."
From a global perspective, Eric Mauroux, Board Member, Cool Chain Association (CCA) and Founder and Chief Executive Officer, FreshBizDev, said, "In developed countries, the steady growth of perishables is fuelled by healthier eating habits, while in developing countries, the increase is linked with the emergence of middle classes, where income growth is coupled with population growth."
Meanwhile, Elliott Paige, Director-Air Service Development, Hartsfield-Jackson Atlanta International Airport, reiterated, "A rise in the global perishables trade, especially fresh fruits, is being witnessed. There has also been a requisite increase in demand for fresher and organic food in the last two to three years." He further pointed out the following:
Newer technology in preserving and packing perishable shipments has made air transport more available.
As airlines return to point-to-point international destinations due to increased demand for passenger travel, this frees space in the belly cargo to move more perishables.
Airports must provide recharging stations and space to keep their active temperature-controlled systems functional.
Consolidation of the spread of multi-modal investments such as MAERSK Air Cargo and CMA CGM Aircargo offering seamless air charter and sea-air shipments also adds to the availability of options for shippers.
Airports adopt trade-facilitation-agreement technology such as cargo community systems to track and trace cargo to bolster efficiencies and shipper confidence in air cargo and airports.
CEIV Pharma certifications and good distribution practices also allow for a network of trade lanes of like-mined airports and airlines.
Infra to ease trade
Perishables require an adequate temperature to be maintained throughout —from the point of origin to the final destination—to ensure zero wastage. Cold chain service providers, airports, and airlines should invest in world-class infrastructure and transportation facilities (reefer vehicles) for temperature-sensitive shipments.
"India is one of our top perishable markets, and the main trade lanes originate from North and South Asia and India, into the Middle East and Europe," said Tim Isik, Vice President, Etihad Cargo.
In 2021, Indian fresh exports ranked as Etihad's Cargo's fourth-largest market and recorded increased shipment volumes by over 40 per cent. Etihad Cargo's tonnage in and out of Ahmedabad increased by a mammoth 254 per cent in 2021 as against 2020. He added, "We achieved significant increase across other key destinations in India, including 65 per cent for Thiruvananthapuram, 40 per cent for Hyderabad, 30 per cent for Bengaluru, 10 per cent for Mumbai, and 7 per cent for Delhi. Demand for Indian exports is driven by increased demand for fruits and vegetables. This product group makes up two-thirds of all exports from India transported by Etihad Cargo, and we saw 383 per cent y-o-y inbound growth for our FreshFoward product in 2021. Demand for Indian mangoes is driven by the UK markets, and they are Etihad Cargo's second most popular commodity shipped from India, making up 10 to 14 percent of all perishable goods out of India. Etihad Cargo continues to add capacity to key destinations in India, including daily flights to and from Mumbai, Delhi, Ahmedabad, Bangalore, Hyderabad, Kochi, and Kerala."
Etihad has a specialised team dedicated to cool chain products—FreshForward and PharmaLife—as well as SkyStables and LiveAnimals, FlightValet, FlyCulture, SafeGuard, and AirMail. In 2019, Etihad Cargo received IATA CEIV Fresh and Pharma certifications. "In the next few months, we will be launching a new cool chain facility at Abu Dhabi Airport which will further expand the current Etihad Cargo's cool chain storage capacity and capabilities," shared Isik.
To avoid ripening of fruits and vegetables during storage and transportation, Chakraborty said, "Pallet-based storage is available in the model cold storages across India, which complies with FSSAI regulations. The multi-commodity cold storage employs Danfoss variable frequency drives, valve stations, and a system controller for monitoring and defrost control and is designed to operate at —25°C to +10°C throughout the year. Moreover, the model cold room is the most economical and energy-efficient option available in the Indian market, lowering operational expenses by 15-20 per cent by using less energy than a traditional cold store."
Chakraborty averred, "IoT, analytics, and machine learning (ML) services with refrigeration and monitoring solutions extend digital offerings for managing the temperature-controlled transport and storage of perishables. Using the right digital platform will benefit from end-to-end tracking, real-time alerts, automated processes, and predictive analytics to help deliver temperature-controlled cargo more efficiently, in turn decreasing the operational costs by optimizing resource utilization and reducing cargo loss and spoilage."
Addressing the issue of the low number of reefer trucks for perishable transportation in India, Swarup Bose, Founder and CEO, Celcius highlighted, "Most countries have enough reefer trucks to haul pharmaceutical and perishable products at low temperatures. They employ refrigerated trailers for transport. These trailers feature an independent refrigeration unit and power source, helping them to maintain low temperatures regardless of whether they are hauled by a truck, train, ship, or plane. Globally, there is an added emphasis on packaging, and most cold chain products are shipped in insulated containers, protecting them from temperature excursions, damaging sunlight, humidity, and more. Several countries have an established nationwide cold chain network, facilitating a seamless functional cold chain system. Globally, most cold chain entities have widely adopted technology into their services to minimize constraints and challenges associated with a lack of automation. Technologies such as Artificial Intelligence-backed cold chain software, Blockchain, IoT-based devices and gadgets, cloud-integrated storage systems for en route data, integrated WMS and TMS, to name a few, are all part of global cold supply chain management hygiene."
Air India SATS (AISATS) continues to innovate and adopt world-class standards to improve operational efficiency with a focus on customer service. For example, their IATA CEIV FRESH certification ensures the highest standards for handling of fresh and perishable products. They are also IATA ISAGO-certified, which is recognized by the industry as a standard for improving safety and achieving cost savings.
"AISATS has a handling capacity of 250,000 MT per annum at its air cargo terminals at Kempegowda International Airport Bengaluru, out of which 40,000 MT is dedicated to cold chain products, including agri-perishables and pharmaceuticals. The physical infrastructure comprises of advanced material handling systems such as automated storage and retrieval system (ASRS), elevated transfer vehicle (ETV) system and very narrow aisle (VNA) high rise racking system at its air freight terminal, while 17 dedicated cold rooms with temperatures, ranging from —25°C to +15°C are available to handle different types of cold chain products at its Coolport facility," said Sanjay Gupta, CEO, AISATS.
Atlanta International Airport has sent a request for proposal for a modern air cargo facility. "Our deadline is 21 July 2022. In the project, we are developing 53 acres of land with a third-party developer to handle cargo, including perishables. We have requested systems to charge rechargeable refrigerated containers and facilities with various temperature-controlled brick-and-mortar facilities," informed Paige. He added, "We have implemented an AI-supported cargo community system. Members of the system get priority delivery of the cargo."
Ethiopia has also spread its wings to Mumbai, Delhi, Bengaluru, and Chennai. Fruits and vegetables constitute a good proportion of exports from India. Ethiopian Cargo & Logistics Services has a cold storage facility and is capable of transporting perishables and pharmaceuticals across the globe. The cargo terminal spanning 54,000 has compartmentalized and different temperature ranges from +15°C to 25°C, +2°C to 8°C, and frozen —25°C facilities with a real-time temperature monitoring system. The airline complements its cargo terminal facilities with temperature-controlled modern freighter and belly fleets, dedicated teams, and Smart Cool Dollies that have the capability to maintain a temperature between —29°C and +27°C to ensure an unbroken cold chain.
"The cargo and logistics infrastructure in Ethiopia is developing as compared to developed economies. In terms of airports and cargo terminals, Ethiopia has a world-class airport and cargo warehouse. The Ethiopian government is dedicated to improving the infrastructure for cargo and logistics growth in terms of human capital, technology, and infrastructure," said Tigist Eshetu, Regional Director-Indian Sub-Continent, Ethiopian Airlines.
Bottlenecks
There are several bottlenecks faced by the logistics trade. The lack of integration of first and last mile movement of perishable products is the first. Seamless integration needs to improve the traceability and accountability of the products. Procuring border paperwork and access for temperature-sensitive products—these aspects must be planned in advance so as to reduce transit time for perishables. The fragmented, unverified, and unreliable network of reefer vehicles, cold storage, and distribution networks is the bane of the sector especially in India. The industry requires a central network system which can monitor and connect the various aspects of the perishable supply chain onto a single platform, providing maximum visibility to the producers and LSPs to manage and supplement their supply chain.
Chakraborty outlined a few challenges:
Inventory management: Manufacturers, retailers, and distributors must collaborate to keep an eye on inventory levels at the point of sale to maximize food and beverage inventories. They must also trace it all across warehouses and fulfilment locations.
Increasing regulatory procedures: Government organizations and consumer advocacy groups collaborate daily to find innovative methods to enhance the quality and safety of the food and beverage items that offer nutrition and satiate cravings for sweets or other foods. These concepts are sometimes transformed into rules that aid in regulating the production, storage, and transfer of goods.
Forecasting: Accurate forecasting continues to be a problem in the sector, along with inventory control.
Threat of product recalls: A breach in quality control standards or processes is typically what causes a product recall. Quality control is essential to the effective and secure production of all food and beverage items, whether it be failing to correctly monitor temperatures for cold storage or perishable goods during transit or a manufacturing facility's cleaning procedures.
Lack of logistics connectivity: There are limited options of direct flights to cater to the prevailing demand from the source of origins in the country. Hyderabad, Ahmadabad, Vizag, Bengaluru, Kochi, and Thiruvananthapuram do not have direct flight options to Area 1 lands of IATA. This leads to delays in transit and poor quality of services.
"Improper packaging and bad inventory management can lead to spoilage of perishable goods during delivery," observed Gubba.
With an international perspective, Paige observed, "The bottlenecks for delivering perishables are airports, especially those that are passenger focused. Such airports often pay less attention to cargo and passengers because passengers are politically relevant. I always say that cargo boxes do not tweet complaints about dirty toilets or insufficient meal options. However, some airports are paying attention and adding features that make them more cargo-friendly."
Eric said, "Nowadays the main bottlenecks are linked to the access to air and sea capacities at origin. These issues could be partly overcome with better communication between shippers and operators. Airlines or shipping lines are reluctant to increase their product mix to perishables not only because the yields are higher but also because the bookings are not reliable, thus exposing operators to a higher risk of no-shows or low-shows."
"For Hong Kong Air Cargo Terminal Ltd. (Hactl), the key to perishables handling is minimising the dwell time between the arrival of aircraft and handing out to customers; we achieve this through dedicated and accredited procedures, priority handling, temperature-controlled storage and working areas, and dedicated loading bays. Hactl has many years of experience in handling perishables and had put in place many resources and procedures long before we became accredited under IATA CEIV Fresh," said Wilson Kwong, Chief Executive.
FUTURE PROJECTION
Industrial collaboration can drive perishable growth. Collaboration is vital for a healthier, safer and more sustainable cold chain. Through a good collaboration, industry players can develop a uniquely powerful ecosystem to give customers greater flexibility, visibility, and intelligence across the cold chain. Collaborative efforts such as standardization, GDP and CEIV Pharma are measures in the right direction.