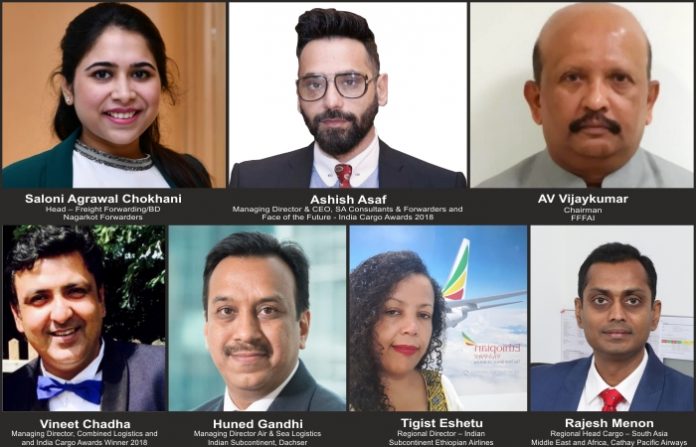 Believe it or not but the pandemic has forced the industry to digitise the processes; which the industry has been only talking about since decades. But can digitisation become a threat to freight forwarders as it brings airlines closer to shippers? Let us delve into what forwarders and airlines have to say about it. 
Kalpana Lohumi
There is no denying the fact that COVID-19 has accelerated the digitisation in air cargo and freight forwarding industry by years; whatever practices being adopted by the industry now are the same that have been discussed two years ago. Traditional forwarders that wish to survive have no choice but to digitise. Since freight forwarder is an intermediary between the shipper and the carrier, it does not necessarily require assets such as aircraft or ships or trucks. However, with the advent of digital technologies the question on the need for freight forwarders has been frequently raised.      
Commenting on the possibility of digitalisation taking the lead and replacing freight forwarders, Saloni Agrawal Chokhani, Head – Freight Forwarding/BD, Nagarkot Forwarders, says, "The pace at which digitalisation is taking place in the logistics industry, there is a good possibility of agents being replaced by computers in the next five years. Logistics being a technical industry and involving many stakeholders, it may take time to completely establish a comfort zone in digitalisation, but surely there is going to be a change."
On the other hand, Ashish Asaf, Managing Director & CEO, SA Consultants & Forwarders, believes, "Digitisation shall bring in more transparency and efficiency between the stakeholders but not eliminate any stakeholder at least for few more years. It brings in more regulatory checks on the flow of commodities and tariffs by governments and tariff regulators by way of analysing the data available. Digitalisation is a reality today and an unavoidable evil. But human intervention can never be wiped out or substituted in the business of freight forwarding or custom clearance. Apart from quoting rates and closing deals, it is the essence of consensus of human minds at play which governs a contract between parties."
Asking if computerisation has replaced agents, AV Vijaykumar, Chairman, FFFAI, says, "Digitisation is only an enabling technology that offers better efficiency and cost savings. Agents have always been at the forefront in accepting and adopting the technological changes without disruption." According to him, these assumptions are inaccurate.
"Digital platforms for freight forwarding come up with a promise of increased efficiency, better transparency and reduced logistics cost plus guaranteed peace of mind. Supply chains that have expanded globally, interconnecting businesses across borders, have slowly become inefficient as there is so much to consider while shipping cargo from point A to point B, such as the best mode of transport, lead times, managing documents, track and trace, transparency across the logistics chain and of course the final cost. To manage all this the traditional freight forwarding involved a lot of emails, phone calls and bundles of paper work, but with digitalisation, technology solutions are now being introduced to address these inefficiencies and thus provide a more efficient, agile and customer-centric supply chain.
Traditionally, carriers and forwarders in the industry typically employ large teams of people who build sales, write quotes and do the legwork necessary to create a price point for a shipper who is looking to move cargo. While this system works, it has its limits. This is where a digital platform has the upper hand. With the ability to analyse a broad range of pricing and booking metrics almost instantaneously, shippers can get the most accurate price point and book in less time than it takes to pick up the phone," shares Vineet Chadha, Managing Director, Combined Logistics.
Role of the middleman
Huned Gandhi, Managing Director Air & Sea Logistics Indian Subcontinent, Dachser, says, "Technology, innovation and artificial intelligence can replace many tasks done by people in various industries, likewise in logistics and it's necessary in order to optimise the way companies are working and to remain competitive in future. However, every technology and every innovation has its own 'hype cycle'. Ideas and new technologies need to be checked and tested in terms of feasibility.
Furthermore, one must remember that the logistics industry is an intense service driven sector, it demands a personal touch, understanding and adaptability to totally new and unexpected situations arising from the complexity of global supply chains and a human intervention in managing these complexities plays a key role in managing, designing and optimising the supply chains. This expertise stems from years of experience, deep understanding of global markets, and customising cost-effective solutions for meeting the specific requirements of the customers and industries. Thus, the need for reliable logistics partners / freight forwarders will always remain and cannot be eliminated."
Sharing his views on digitalisation bringing airlines closer to shippers and eliminating the role of the middleman, Vijaykumar emphasises, "Unlike a passenger, cargo needs to be made ready for carriage prior despatch. Hence this function needs to be performed and is a physical activity; the role of the agents cannot be dispensed with. Consolidations can happen only when there are consolidations and break bulk agents and the majority of air/sea cargoes use consolidation services to save costs."
Echoing Vijaykumar's views, Asaf explains, "Digitisation shall bring all key stakeholders closer in terms of transparency and efficiency but not eliminate any stakeholder. As we are talking about international airfreight, many geographies and countries are involved in this domain, where the appetite to embrace the technology is not equal. Hence it may take more than another decade to have a global seamless digital platform or network, which may result in the redundancy of certain stakeholder roles and responsibilities. To a large extent, the proposition can be in the affirmative, and there is no doubt, it will bring system interfaces of two large corporations closer, but there are aspects to freight forwarding and custom clearance which cannot be done away with, like the role of a customs broker, etc."
Similarly, according to Chadha, "The freight forwarding industry is one of the crucial components for the world economy as they sit right on the driver's seat in the business of moving goods from one point on the globe to another. A freight forwarder not only helps the shipper with the movement of goods but also with customs clearance, export & import documentation, insurance, packing, warehousing and switching between different modes. So, it's not easy to eliminate the role of the middleman."
However, Chokhani believes that digitalisation can eliminate the role of the middleman. She says, "Though, it will take some time as middlemen also act as a safety cushion for the airlines when it comes to customer credibility. The airlines will need to deploy additional resources to do a KYC and establish a profile for every customer. The middlemen also are able to provide personalised services to every customer of theirs; if the airlines can establish that personalisation they can come closer to the shippers. Looking at the current scenario this will take a while as airlines are facing a severe cash crunch due to COVID and it may take some time for them to recover."
Human factor is important
Ever since the technology has come into play, the significance of freight forwarder gets questioned quite often. Stressing on the importance of human factor and experience, Chokhani says, "One cannot completely disregard the human factor in airfreight business. Customer service is the essence of any industry, especially when someone is dealing with bulk quantities. Every customer wants to feel special and wants a better rate for their volume of business. Moreover, they want an assurance that in case something goes wrong they can talk to a human. An IVR or a computer in that case will only respond with pre-fed answers which may not help in this business where every day is a new day."
Explaining how and why global seamless digital platform can be a decade away, Asaf says, "The overall commercial aviation boom in Asia & Africa has been stalled due to the grip on travel caused by the current pandemic, which in turn has affected the cash flow and also profitability or viability of many global carriers.  Without surplus funds from the basic operations, an investment on the technology front shall take some more years. Human factor cannot be completely ruled out even after a decade or more. It is always important to build human relations; there is no substitute for it."    
Vijaykumar says, "Technology is only an enabler and not a solution by itself. Technology needs to be harnessed by humans for achieving the desired results, especially in an activity involving physical movement of goods from across the globe."    
"Technology is transforming freight forwarding in multiple ways; from robotics and automated systems to augmented reality, drones, and the use of big data and artificial intelligence. All of these, if used correctly and cohesively, have the potential to make air freight forwarding cheaper, safer and easier. While technology is generally seen as a good thing, it also has the potential to be highly disruptive – especially to airfreight forwarders who run their systems traditionally. Technology will change the whole way that the industry is run, and if companies do not adapt, they may well be left out in the cold," Chadha adds.
What airlines have to say
Digitalisation could bring shippers close but wouldn't eliminate the role of forwarders. Tigist Eshetu, Regional Director – Indian Subcontinent, Ethiopian Airlines lists reasons why forwarders need to stay in between:
• Shippers are only at one end of the transaction, they almost always need freight forwarders to bridge with their buyers. One of such requirements is management of all stakeholders involved end to end up to delivery
• Knowledge related to customs clearance, transport planning and freight rate reduction via consolidation, end to end planning remains the core competence for the freight forwarders; digitalisation at the airline side wouldn't change these
• Shippers which usually operate via banks and with letter of credit still rely on forwarders to pull their cargo out of the expensive carrier warehouses till cash against document cycles are finalised
Rajesh Menon, Regional Head Cargo – South Asia, Middle East and Africa at Cathay Pacific Airways, says, "Digitalisation is an ongoing process for the cargo industry as a whole. At Cathay Pacific, we continue to develop and enhance our digitalisation initiatives that strengthen the overall productivity and efficiency for us and our trade partners. Over the last few years, we have introduced a number of digital enhancements including 100 per cent E-Airway bill, a digital payment platform that accepts a range of payment options like net wallets, NEFT, RTGS, RuPay debit cards and more. In the current circumstances of COVID-19, the digital payment options have been vital to eliminate the possibility of any human and surface virus transmissions. This option has been well received and supported by our trade community."
He adds, "Our freight forwarding partners have always played a crucial role in supporting our business with their expertise in handling shipments, managing logistics, custom clearances, etc. and we believe these initiatives will further help us work more efficiently together. In fact, we have also developed digital platforms for our forwarders that make their booking and allotment process a lot faster and convenient. The advent of technology and digitalisation is to not eliminate any roles, but to further simplify and improve our daily business operations.
At Cathay Pacific, our teams work very closely with our freight forwarding partners to provide end to end customised solutions to the shippers. As a freighter service with a core value to progress using technology, we have always encouraged and will continue to embrace automation in the cargo sector. Adapting to the changing technology is crucial in improving processes. However, the experience, skills and solutions offered by freight forwarders cannot be replaced by digitalisation. Our partners will continue to be instrumental to the success of our business."
Commenting on how important a freight forwarder is to an airline, Eshetu points out, "Airlines are more reliant on forwarders especially on those who own and operate consolidation stations. Carriers these days give out ULDs to forwarders which implies that the cargo management alongside space maximisation per ULD level is becoming an expert spot for forwarders rather than airliners. Airliners on the other end focus on route improvements on businesses where huge forwarders reside along with their big clients."
Liquidity crunch
Agents have faced liquidity crunch in the beginning of the pandemic and decided to handle shipment against 100 per cent advance payments by customers for six months. The six months are coming to an end. Commenting on whether the industry will go back to the earlier practice or it is going to stay for long, Asaf informs, "Cash is King, however the fraternity forgets the past easily. Hence credit is back in the market. A greater level of caution in extending the credit terms and credit quantum is the positive side from the pandemic driven crisis. The pandemic is here to stay unless there is a vaccine. Hence, recovery is going to get tougher because IBC stands suspended for any claim below 1 crore, normal courts are closed for any sort of adjudication and few of the civil courts have resumed citing urgency. COVID-19 has changed lot of things including doling out credit."
The pandemic has already negatively impacted the global economy as a whole. Chadha says, "Logistics agents will continue to handle shipment against advance payments by their customers."
"The industry has been facing the issue of credit since years. Previously, CHAs used to act like bankers and offer credit for the custom duty as well. Things changed and collectively they decided to support each other and today most CHAs don't offer credit on duty," enlightens Chokhani. She ponders if the agents collectively and consciously take the decision it can become an industry trend, but only time will tell how this will turn out.
"The pandemic has definitely caused enormous stress for companies and almost everyone has been adversely impacted. The economy is expected to contract, this is the first time in decades that we are faced with challenges of this magnitude. There is no denying that airlines, shipping lines, logistics players have all suffered loss of business due to the slowdown in trade and this has led to a massive strain on the cash flow which forced many players to withdraw or reduce their exposure in the markets.
At Dachser, we continued with our credit agreements with customers regardless of the market situation. We are constantly guided by our Dachser values and have always worked very closely with our customers to overcome the challenges in business as committed business partners. Our leadership teams even proposed to extend faster payment settlements to our small and medium sized suppliers to help them overcome the financial challenges and maintain quality and sustainability. This approach has helped in building greater partnerships with all our stakeholders and we are confident of successfully overcoming the challenges emerging out of this global pandemic," concludes Gandhi.