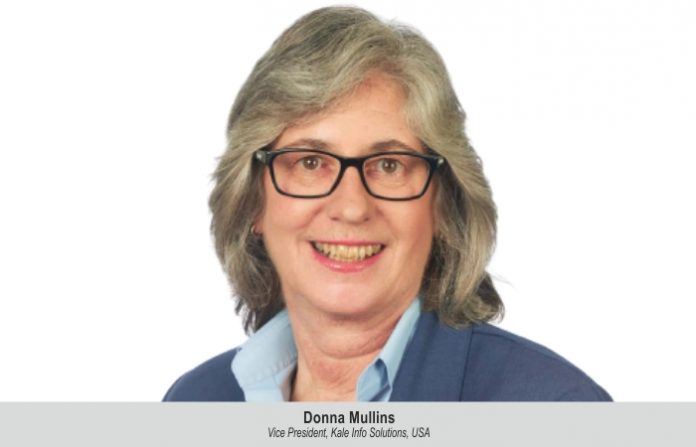 We are building a Sea-Air Corridor to facilitate faster movement of cargo by different modes of transport. Truck congestion outside airports is a major issue in North America and Asia Pacific, while in the Middle East adhering to regulatory compliance is a challenge. Cybersecurity needs attention, says Donna Mullins, VP, Kale Info Solutions, USA.
Ritika Arora Bhola
How do you ensure tech-enabled solutions and visibility, reliability, and efficiency to all the stakeholders involved in cross-border supply chain?
Our enterprise and community solutions offer complete automation and digitization of cargo opertations by linking multiple stakeholders along the air cargo value chain. They enable seamless cargo movement and facilitation of electronic communication between pertinent stakeholders including customs, redefining, and consolidating operations. Our platforms are used by importers, exporters, forwarders, customs brokers, cargo ground handlers, airlines, freight stations, customs, chambers of commerce, and transporters. They have several fulfilment mechanisms, including a web portal, system-to-system integration, and bureau service. Most Cargo Community System across the world are neutral. Their parentage is either carriers or airports or forwarder networks so there is an inherent conflict of interest. However, Kale's solutions have a neutral platform so there is no conflict of interest.
Share your advanced digital strategies to help customers take control of their supply chains and build maximum resilience to avoid business disruptions?
During COVID, when business continuity seemed a distant dream, our solutions—Cargo Community System and point solutions—were seen as a saviour. To empower them, we offered free trial of our PING solution for generation of electronic air waybills for air cargo that boosted the market confidence worldwide, enabling users to survive the most difficult times. Our PING product will be a game changer for the new EU ICS 2.0 as it will enable stakeholders to share transportation data in an upstream manner for timely submission of the details to various governments—for export FFM and import ICS.
Throw light on the key bottlenecks involved when it comes to deploying technology in different markets?
Bottlenecks and challenges vary from region to region. For example, truck congestion outside airports is a major issue in North America and Asia-Pacific region, while in the Middle East adhering to regulatory compliance is a challenge. Also, in most markets improving efficiency and productivity is of importance, and nowadays, along with addressing truck congestion, airports are keenly looking at automated systems to make the ecosystem automated and seamless. This brings environmental and economic benefits to the air cargo community.
While strategizing technology deployment, we look for areas where a mundane process can be automated, and human effort can be saved. Importantly, we look at the larger impact of automating the process. Another is to consider the landscape analysis. For example, in one of our projects in the Middle East, we are building a Sea-Air Corridor to facilitate faster cargo movement by different modes of transport. This will fast-track the operations and regularize the cargo movement.
Tell us about your recent advancements and investments done in technology and logistics sector?
We have developed North America's First Airport Cargo Community System (ACS) at Atlanta Airport (ATL), which is the busiest and most efficient airport in the world and the best in North America.  The Atlanta airport is the economic jewel of Georgia, generating US$34.8 billion in economic impact for metropolitan Atlanta and providing more than 63,000 jobs onsite, thus making it the state's largest employer.
Congestion flare-ups at Hartsfield-Jackson Atlanta International delaying air cargo shipments, underscore the broader USA challenge serving up higher transportation costs to shippers in addition to steeper fuel prices and higher trucking rates. The delays add up to wait time surcharges and, in some cases, storage expenses tacked on to steep transportation bills that can disrupt logistics budgets.
Average truck waiting time is four to eight hours and with the ACS the time is reduced to less than one hour. About 25 per cent of trucks return empty handed without picking up the cargo due to lack of shipment information visibility. This trend also saw significant reduction with the introduction the ACS.
Talking about this year, we see it is full of opportunities for those who inspire customer confidence. The outlook for the year is positive regarding fundamental trends such as digitalisation and sustainability. The year will not require a fundamental change in strategy but continue to drive measures underway and maintain a forward-looking willingness to learn.
Elaborate about your major expansion plans and projects in pipeline?
Currently, we have signed with the important airports, such as Chicago Rockford, Philadelphia, and several others in North America. Apart from that, we are developing critical solutions for the Anchorage airport. Our international footprint is expanding rapidly and so is our
team size.
Could you explain about the global best techniques and strategies you plan to infuse into the company ops for efficiency in business and network enhancement?
Empathy is a core value, and our company is built upon that. With a looming recession, we see a tough time and a slowdown in the market conditions. However, we are learning to evolve with our survival tactics.
How do you ensure supply chain ops and excellent customer service keeping in mind competitive pricing, safety, and quality of products?
If we empathize with our customers and understand their pain points, then we can achieve 100 per cent results. Some of our key clients include Atlanta International Airport and Chicago Rockford Airport for our Cargo Community System in North America. That apart, our software solutions are actively engaging in 100 airports globally.
What are the crucial areas that need immediate attention?
Cybersecurity is an aspect that must be addressed. Infusing sustainable operations is of importance, too. New customers are approaching us to improve their operational capabilities with any of these aspects. Efficiency improvement is looked at as an vital parameter. If a logistics IT solutions provider can address any of these areas, then they would survive well—Kale is here to do just that.