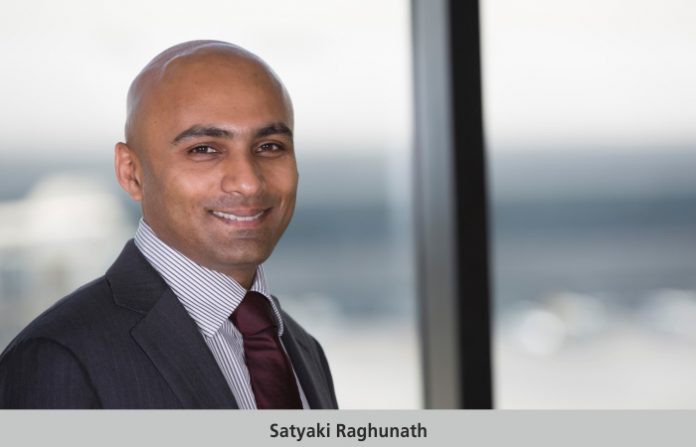 Facilitating shipment of essential commodities across India and the world, Bengaluru (BLR) Airport continued to operate round-the-clock during the lockdown and post the phased lifting of the lockdown. Satyaki Raghunath, Chief Strategy and Development Officer, Bangalore International Airport (BIAL) talks about the journey of the airport in the middle of the pandemic.
Challenges being faced by air cargo stakeholders
Airlines: In pre-COVID times, all BLR Airport's cargo capacities on airlines were distributed between freighter and passenger aircraft in the ratio of 40:60. However, following the lockdown, freighters have carried most of the cargo to/from BLR Airport.  In the current scenario, with increasing demand and lack of cargo capacity on scheduled passenger aircraft, especially across international markets, DGCA has given special approval for operation of passenger flights as charter for cargo handling. As a result, about 40 per cent of our capacity is currently being served by Passenger to Cargo (P2C) consignments. We have witnessed a significant increase in the number of Cargo ATMs in April and May 2020. During this period, we were able to record a total of more than 2,200 Cargo ATMs at BLR Airport.
Cargo Terminals: During the initial days of the lockdown, there was a shortage of manpower at both cargo terminals at BLR Airport. This was largely due to the lack of transport to/from the airport. However, BIAL worked closely with the Karnataka State Government and law enforcement agencies to ensure the safety of employees in transit to the airport, leading to the availability of requisite manpower to support cargo operations.
During the lockdown, BIAL was able to effectively manage capacities across cargo terminals with the support of Customs officials, who operated round-the-clock. On an average, between 100 to 200 metric tonnes (MT) was being cleared each day. During this time, BIAL also facilitated a meeting between perishable cargo agents and GoK's Minister for Horticulture to ensure smooth export of all perishables. Working with GoK, the movement of perishable cargo was tracked daily to ensure smooth flow of shipments. Due to these efforts during April and May 2020, BLR Airport processed ~3,000 MT of perishables to 31 international destinations, including Doha, London, Muscat and Singapore. This also included 315 MT of mango exports to key destinations such as Doha, London, Muscat, Singapore and Sydney. In addition, BIAL supported the local manpower movement of our partners by obtaining movement passes from the Police Department.
After a brief lull in cargo operations due to the lockdown, positive signs of demand emerged in May 2020. Cargo volumes have showed a week-on-week growth in May, as India emerged from the lockdown, in stages. BIAL has been able to gain approximately 44 per cent of the previous year's tonnage during the same month, including 60 per cent of international volumes and 20 per cent of domestic volumes. The key markets served during this period were the Asia, Europe, Middle East and North America.
BLR Airport's cargo market share in terms of tonnage in India improved to 17 per cent up from 11 per cent for the period April-May 2020 due to agility, efficiency, latest technology, processes and BIAL's solution-driven approach.
Apart from consignments of perishables and pharma, BLR Airport Cargo Terminals handled 1.5 million units of COVID-19-related cargo in March and April 2020. A brief summary is provided in the table below:
| | |
| --- | --- |
| ITEM | QTY (units) |
| Masks | 1,000,983 |
| Bodysuits (full PPE) | 166,000 |
| Gloves | 101,059 |
| Isolation Safety Goggles | 100,000 |
| Face Shields | 100,000 |
| Infra-Red Thermometers | 65,000 |
| COVID-19 Test Kits | 14,500 |
Innovations that benefit air cargo industry
To boost cargo movement, BIAL has strengthened connectivity to catchment areas with the introduction of a dedicated road feeder service under the brand name LOGI Connect by BLR. This service connects the South Indian cities of Tirupur, Coimbatore, Ambur, Salem, Erode, Hyderabad and Chennai to BLR Airport, establishing BLR Airport as South India's preferred cargo gateway. The airport aims to be a hub for cargo traffic and shippers aspiring to reach this fast-growing region.
BLR Airport is the first airport in India to have implemented a Variable Tariff Plan (VTP). Over the years, BIAL has worked with various domestic carriers to enable the setup of their primary or secondary hub at BLR Airport, which, in turn, supports the 'transit-hub' model. With the development of a D-D transshipment facility at BLR Airport, BIAL helps airlines to perform 'hub-and-spoke' operations at BLR Airport.
Developments under way at BLR Airport
To make BLR Airport a 'Smart Airport – digitalised and seamlessly connected', BIAL is set to introduce the Air Cargo Community System (ACS), to further streamline air logistics. This digital platform will enable seamless collaboration between all stakeholders in the supply chain to deliver superior and efficient cargo operations at BLR Airport.
In addition to existing operations, BIAL has opened a Public Bonded Warehouse within the Cargo facility. This is a first-of-its-kind 'on-Airport Public Bonded Wearhouse' in India, operational 24×7. This facility is expected to support the re-export of goods, long-term storage of bonded cargo, assist partial clearances, allow value added services by the supply chain, etc. from the Airport campus.
Additionally, to provide a dedicated handling facility for express courier shipments, the country's first dedicated Express Courier Terminal is under construction, and scheduled to be operational by the end of 2020. This terminal will house some of the world's best-known courier players such as DHL Express, UPS, EICI and FedEx at a dedicated facility, thereby offering additional benefits to the Bengaluru Metropolitan Region and our customers.
To facilitate the needs of the trucking community at BLR Airport, BIAL is developing India's first on-airport, dedicated truck management facility. This facility will provide various features like fueling, restaurant, medical, rest areas, etc.