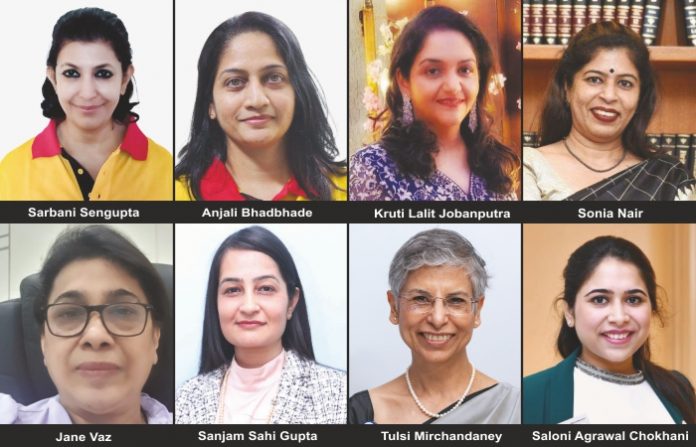 Despite having a global presence in various sectors, women, unfortunately, do not have an adequate presence in the male-dominated logistics industry. CARGOTALK speaks to a few women entrepreneurs who have made a mark in logistics industry.
Priyanshi Bana
The analysis of women's role in the male-dominated logistics sector remains largely uni-dimensional. However, the focus on diversity and inclusion in the last few decades, especially on gender diversity, has borne fruit with women being identified as a potent talent. Women are breaking through the glass ceiling and finding themselves playing an important role in areas which were hitherto considered male bastions. When one thinks of the logistics or the warehousing sector, the first image that comes to mind is of male truck drivers or labourers carrying heavy loads. It is not surprising, as the vast majority of people do not feel that women play a significant role in a male-dominated industry.
Globally, in 2010, women formed only eight per cent of the logistics workforce, which has steadily increased to the current global average of 20 per cent by 2022. Considering the focus and the concerted efforts that are being put in across the sector, women are today are taking up leadership roles at the senior and mid-management level, not to mention many women. In this excerpt, let's hear it from the ladies at the helm of affairs about their journey.
I have always felt valued and respected in the industry
Sarbani Sengupta, VP-CS, DHL Express India
My career in the logistics industry started in 2004, after over 10 years in the financial services industry. I have always been fascinated by this field because it connects the world and brings people closer. I have never faced any challenges in this industry, despite the fact that when I joined 17 years ago, the diversity ratio in the industry was quite low. I saw the opportunity presented by a lower diversity ratio as a motivation for me to perform as well as to motivate others to join. I am proud to share that today, there is a significant presence of women in logistics, across hierarchies.
Although our industry has been largely male-dominated, I have been privileged to experiment with varied solutions and learn to grow throughout the course of my career. One of my key milestones has been building customer service as the competitive differentiator, the secret sauce for the growth of an organization. As a woman leader, I have always felt valued and respected in the organisation and in the industry for the diversity of thought and approach that I bring to the table. With even our customers becoming more diverse, how can the female viewpoint and participation in logistics ever be ignored? If it is, then the organisation will not succeed in the long run.
The pandemic has created a disruption in the global economy, with e-Commerce, supply chain, and logistics witnessing exponential growth. On the other hand, the flexible work option has created a great opportunity for more women to join the logistics industry.
We transformed challenges into opportunities during COVID-19
Anjali Bhadbhade, CFO, DHL Express India
My journey in the logistics industry has been quite fascinating. The logistics industry happened to me by chance, but once I joined, I was glued in because the industry is transforming other businesses by adding immense value and contributing to the economy as a whole. With over two decades of experience in the courier and logistics industry, I consider myself fortunate to have built my career path and grow in what is traditionally considered a 'male-dominated' industry. I was awarded the 'CFO 100 Innovation Award' at the CFO 100 Forum and was conferred with the 'Women in Leadership Award' by Bloomberg UTV in 2012. In 2015, I was also awarded the 'League of Excellence Award' at the CFO 100 Forum.
As a woman leader, my challenges are no different from those of other women and men in the corporate workspace. In the sense that it relates to time management, work-life balance, prioritization and keeping oneself relevant in this ever changing world. However, my mantra in life has always been to maintain balance in everything I do. While my journey has been enriching throughout, it reached a different dimension during the pandemic.
Turning challenges into opportunities, we managed to transform the way we work, moving completely digital and paperless. I see this as a major milestone and an acceleration in the direction of the future of work.
If I had to give one message to young aspirants, I would say, pursue your goals, but do not forget to enjoy the journey.
Over period of time, I came know various aspects of business
Kruti Lalit Jobanputra, Director, JWC Logistics Park Pvt. Ltd. and India Cargo Awards Winner 2019
At the very outset, I would like to tell you that being a second-generation entrepreneur left me with little risk in embarking on a new business venture. I had the prerogative to be associated with my dad in his cargo and logistics business for over four decades.
As I made my foray into the family business as a trainee, I realised that back then it had been predominantly a "man's world". With changing times, it no longer remains the same. It is merit, not gender, that is important.
Over a period of time, I acquainted myself with all the facets of business, such as operations, finance, HR, business development, and marketing. The journey for second generation entrepreneurs is full of learning. It is important to remember that the space they enter is already functional and things operate a certain way, but with time and experience and learning, I was able to bring my own input and make changes that have created a difference.
Over the years, the family business grew to a new high as it diversified its business activities into container freight stations, warehousing, 3PL activities, and cold storage facilities while having its own fleet of trailers for transportation. These strategic developments called for huge investments in land, buildings, machinery, warehouses, transportation, and technology to create world-class state-of-the-art facilities, processes, and infrastructure to effectively and adequately serve our customers in an extremely competitive world. Our customised logistics solutions for our customers give us a competitive edge over others. In the coming years, the company plans to increase its market share and footprint in the logistics business. We plan to expand our operations within Navi Mumbai and across India, exploring uncharted territories.
In a welcome move, the government has been taking proactive steps to support and facilitate the logistics industry as a whole. But under the government's 'Ease of Doing Business' mantra, the list of permissions required for a new start-up should be reviewed and reduced to encourage more companies to venture into this business.
Not to mention that my father has been my mentor and guide throughout my journey. He has always taught me that there is no substitute for hard work, and today my brother and I are following in his footsteps.
I am proud about my work experience in the logistics industry
Sonia Nair, National Head, Customer Service, Blue Dart
My 23-year-old stint with the logistics industry (Blue Dart) continues to remain steadfast, and as I look back, the journey so far reflects a consistent balance between the highs and lows. The happiness that tided over as I successfully handled a customer, retaining his loyalty and business for my brand, the recognition I received for my work, and the responsibility of being the voice of the customer to the brand and the voice of the brand to the customer, is what made this journey extremely worthwhile.
Today, as a woman leading an integral function at the nation's most preferred trade facilitator, I proudly vouch for the wonderful experience I have had in the industry. The industry has been stereotyped as one that is 'male-dominated'. Early on, I understood that the industry does not differentiate; opportunity can be found, even in the most inopportune moments, if only one knows where to look for it and how to advance with it. With this in mind, I found opportunity galore with a wise set of mentors who embraced my diverse mindset. Logistics is the backbone of every industry across verticals and, as we put it at Blue Dart, 'We Move So Your World Can Move'.
The industry is experiencing growth across verticals today, especially given its adoption of tech-led solutions and its expansion into tier 2, 3, and 4 towns. With the recently introduced government policies as well as the adeptness in implementing them, the industry shows great promise and is resilient.
With each airline I worked in, I enhanced my experience
Jane Vaz, President, Air Cargo Club, Mumbai
My journey in the cargo industry has weighed me with an experience of twenty-six years since 199. I started my career in cargo with South African Airways, and have been able to play a vital role in introducing Etihad Airways Cargo into BOM in the year 2004.  My current profile as Deputy General Manager Sales for Turkish Cargo
hails primary responsibility of promoting Turkish Cargo in the market. Maintaining and developing new relations with customers, agents, and exporters.
My vast experience in the cargo industry earned me strong KRA to be able to achieve set targets, in addition to assisting and interacting with the organisation's business units worldwide. Each airline was a learning experience and has been a boon to enhancing my overall performance, which includes a constant check on competition plans, market share, and quality. The cargo industry has  affirmed in me the sense of integrity, accountability, empathy, humility, resilience, vision, inspiring, influence and positivity. Now heading the Air Cargo Club of Mumbai as President.
It is wonderful to do business along with sister
Sanjam Sahi Gupta, Sitara Shipping Ltd.
Ever thought about going into business with your sibling? When, as kids, the two were partners in crime, the two Sahi sisters never thought that one day they would be working together. Here is what Sumi Sahi and Sanjam Sahi Gupta have to convey. Both sisters are now directors for Sitara Shipping Ltd. and are heading the NVOCC business for the Indian Subcontinent and Middle East business. Having joined the family business as trainees in 1997 and 1999, respectively, they have helped establish Sitara as one of the key players in the ODC and project cargo market. They both draw inspiration from their father, who has taught them to excel with determination, hard work, and willpower. They have seen how he raised the company with his sweat, blood, and toil, and they will follow his vision to take Sitara from strength to strength.
Sanjam is a founder member of WISTA India, and was a board member of  WISTA International from 2014–2021, becoming the first Indian lady to be elected and helping set up WISTA associations in the APAC region. She is a member of the Executive Board of Directors of the World Maritime University, Malmo, Sweden. She is the first Indian to hold this position.  In February 2020 and 2021, she was named as one of the top 100 women in shipping by All About Shipping, UK for two consecutive years. She is also a member of the diversity committee of the International Chamber of Shipping.
To further her commitment to diversity in the maritime and logistics industry, she has launched Maritime SheEO to provide solutions to the industry. The first Maritime SheEO conference, held virtually in November 2020, was the world's biggest maritime gender equality conference ever held—a gathering of over 1550 participants from across 70 countries. Featuring the IMO Secretary General, India's Minister of Ports and Norway's Minister of Foreign Affairs, plus a strong line-up of leading executives. Sumi and Sanjam took the plunge into the family business over 15 years ago, and spent these years wisely fulfilling a childhood dream. Enthralled by the shipping industry since when they were two little girls in pigtails, they recall visiting all the ships that their father handled as a ship agent. They had wanted to follow in their father—Capt. Sahi's footsteps, him having instilled a love for the sea and a passion for the marine industry in his girls.  The sisters agree they have big shoes to fill for a father who's a stalwart, having been in the industry for the past 50 years and whose humility has kept them grounded. They chose to join him in the family business, which is operated under the name "Sitara Shipping Ltd." Sumi, who first contemplated taking up teaching as a profession, and Sanjam, having nursed a desire to foray into the field of education, finally followed their hearts and joined the family business in 1999 and 2001, respectively.
Sumi said, "Family get-togethers quickly turn into business brainstorming sessions, but it's great to work with someone who knows you so well and can offer the right support or a good kick in the right direction without offending you."It is wonderful to work with a sister; they always have each other while travelling for work and develop new ideas with time spent together. They know each other well enough to use their strengths to their advantage and peruse their passion for shipping together.
I'm proud to have helped launch the first domestic cargo airline
Tulsi Mirchandaney, Managing Director – Blue Dart Aviation
My fascination with and admiration for the aviation industry began decades ago. An unexpected turn in my career saw me working in the less stylish entrails of the aircraft, aiding in the effort to deal with stranded cargo – from issuing air waybills to loading freight. This was the beginning of a career-defining move with airlines and, subsequently, Blue Dart. It began with a phone call from the then-Managing Director and one of the founding fathers of Blue Dart on a fateful day in June 1995. He was planning on launching India's first domestic cargo airline and asked me if I would like to join him to help set it up – a job after my heart; and thus began my more than 25-year stint with this wonderful organisation. It was a great privilege to be part of the team that helped to launch India's first domestic cargo airline. Each day has brought an exciting challenge of the unpredictable environment, changing regulations, and our response in building capacity, capability, and a high performance, professional team to sustain the country's important lifeline and an enduring organisation. The hours have been long and hard, but the thrill of seeing an aircraft take off with a full load is still an unbeatable experience.
The general impression was that logistics was a masculine domain in which prospects for women were bleak. Yet, the reality is that opportunities abound. Blue Dart actively promoted gender equality at a time when the movement itself lacked impetus. Today, the initiatives are striding ahead. We have women in almost every department in Blue Dart Aviation that was known to be male-dominated – flight crew, engineering, quality, technical services, flight dispatch, flight operations, and materials. As part of the 'Women in Aviation' effort, we work closely with the Airports Authority of India each year, to familiarise young schoolgirls with various aspects of the aviation industry. We try to attract more women to our industry by encouraging them to visit our facilities and witness our operations.
Finally, it is up to the individual to take the first step toward realising her potential and fulfilling her dream. Air Express is a purposeful, dynamic, result-oriented, and fast-paced industry with a diverse range of functions, including aviation. The pandemic specifically highlighted its importance in keeping the global and domestic critical supply chains alive by moving essential and non-essential items when every other form of transport came to a grinding halt. Early adoption and innovation in technology, as well as changing customer demand, provide renewed momentum and make for a promising future.
My male colleagues have been supportive throughout
Saloni Agrawal Chokhani, Nagarkot Forwarders
It has been an amazing journey in this industry. Every day is a new day, and every day teaches something new. As a young woman, it was difficult to be taken seriously initially. It has done nothing but make me believe in myself. It has been a story of growth since then. The revenue of the company has multiplied manifold. For the majority of those years, the company's freight forwarding division was entirely made up of women. It feels proud to say that I attribute my success to my colleagues. Today we have a balance of 50:50. My male colleagues have also been super supportive and have played a major role in my career.
The Indian logistics industry is booming and on all fronts, be it technology or otherwise. a new day, and every day teaches something new. As a young woman, it was difficult to be taken seriously initially. It has done literally nothing but think of me and make me believe in myself. It has been a story of growth since then. The revenue of the company has multiplied manifold. For many years, the freight forwarding division in the company comprised of 100 per cent women. I feel proud to say that I attribute my success to my colleagues, comprising both men and women. Today we have a ratio of 50:50. My male colleagues have also been very supportive and have played a major role in my career.
The Indian logistics industry is booming and growing on all fronts, including technology, warehousing, inclusion, diversity, among others. This has also increased  its  popularity amongst young aspirants. I am proud to be part of this industry.  The opportunity to interact with people from all across the world attracted me to pursuing a career in this industry. Since childhood, I have seen my father in this business and it always fascinated me.
When I was 23 years old, I took over the freight forwarding division of the family business. The only challenge that I faced was during my initial years in the logistics industry, where it was difficult to be taken seriously because I was a young woman. I worked hard to accelerate my experience through learning, on-the-ground activities, and the mentorship of industry veterans. I met many people who did not believe in me, but also met a few who pushed me to achieve the success that I, along with my team, have achieved for the company today.