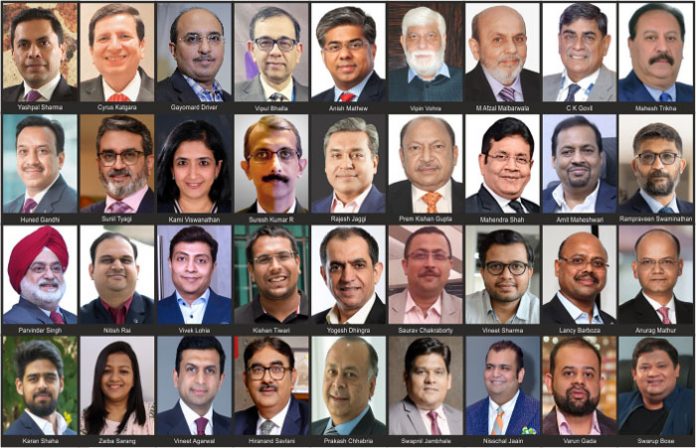 Nirmala Sitharaman, Hon'ble Union Minister of Finance and Corporate Affairs presented the path-breaking budget of 'Amrit Kaal,' i.e., next 25 years. Key highlights for cargo and logistics sector include 50 more airports, heliports, aerodromes, Rs. 75,000 crores for upgrading transportation infra. Nearly Rs. 2.4 lakh crores were earmarked for development of Indian Railways, a special package will be allotted for MSMEs and startups, three new AI centers, and new pharma research and storage centres. Other focus areas include multimodal infra development by creating more dedicated freight corridors, improving road, rail, and sea linkage, and enabling technology-driven solutions for improved visibility across the supply chain to accelerate GDP growth.
Yashpal Sharma, MD, Skyways Group
"The stakeholders in the logistics service providers segment are buoyant by the announcements of enhanced spendings in infrastructure projects and PLI schemes that will boost manufacturing and multimodal transportation activity. We hope a decent amount budgeted is spent on air cargo infra enhancement in India. Some wishlist points were forwarded through MoCA in the pre-budget survey pertaining to exemption of GST on airfreight, compliance difficulty under ITR online filing of (Form 10F), Linking benefits under other products such as Krishi Udaan would have lifted the spirits in the airfreight industry. ACFI is appreciative of the government's vision to launch Pradhan Mantri Kaushal Vikas Yojana 4.0. There is a need to skill the youth for global opportunities. Opening 30 Skill India International Centres across different states will be a big milestone."
Cyrus Katgara, industry veteran
"The Union Budget seems positive towards air cargo, and we have seen the due recognition given with 50 additional airports, aerodromes, and helipads, which will improve regional linkage across India resulting in seamless movement of air cargo. Further, the prioritization of 100 identified critical transport projects for last/first mile connectivity for ports and other sectors, will provide the necessary boost for the implementation of the National Logistics Policy. The increase in rebate and simplification of income tax slabs will go a long way in reducing the tax burden on individuals."
 Gayomard Driver, Group Chief Financial Officer and Board Member,
Jeena & Company
"It is a welcome budget as the focus on infrastructure development is apparent. Improvement through the revival of airports, helipads, water aerodromes, and advanced landing grounds will support quick and efficient logistics. It could also simplify and improve regional air connectivity, further increasing the growth across the logistics sector. The industry is poised to increase commitment towards developing green logistics infrastructure and an increase in green job avenues because of the government's focus on green energy and sustainability in the 2023 budget. Globally, supply chain networks are being improved using AI, and now, with the attention on 'Make AI for India' and 'Make AI work for India', the logistics sector will be able to do that as well. Sustainable practices paired with improved technology will improve the establishment of lean operations according top priority on process optimization, waste reduction, and raising customer value."
Vipul Bhalla, Chief Business Officer, Pradhaan Air Express
"The Budget reflects a continuation of the government's fiscal consolidation strategy. Pradhaan Air Express is buoyed by the increased effective capital expenditure of ₹ 13.7 lakh crores and expected growth of 7 per cent, reflecting a bigger positive sentiment as compared to other world economies. Among other things, continuing the tax exemption for start-ups, reduction in customs duties to spur domestic manufacturing, and allocation of ₹ 35,000 crores for achieving net zero and green growth are all welcome steps. Simplification in indirect taxes will also deliver higher exports and value addition in the economy. In related sectors, investments in aerodromes and tourism, a boost for electrical vehicles, semiconductors, and lithium-ion battery manufacturing will all have a positive impact on air cargo capabilities and infrastructure. We believe the budget supports our economic recovery with improvements also expected in global and domestic air cargo volumes as the policies and measures unfold in the coming days."
 Anish Mathew, Chief Financial Officer (CFO), Gati Ltd
"In line with the government's vision to build an integrated and efficient logistics ecosystem, the budget has proposed a slew of effective measures which will enhance the logistics competitiveness. With the development of transport infrastructure to build end-to-end connectivity, introduction of skill development programmes to build new-age skilled human resources and proposals to boost EV infra and green energy transition reflect an all-encompassing approach towards strengthening logistics efficiency and sustainability parameters. On the other hand, proposals to strengthen the MSME segment will drive demand for logistics service immensely, going forward."
 Vipin Vohra, Chairman, Continental Carriers
"This was the first normal budget after COVID and amid a global slowdown with 7 per cent growth rate along with ₹1.97 lakh per annum per capita income. The Hon'ble Finance Minister outlined seven priorities 'Sapt Rishis' for the 'first Budget in Amrit Kaal.'
Inclusive development
Reaching the last mile
Infra and investment
Unleashing the potential
Green growth
Youth power
Financial sector
It is a well-balanced budget that will create strong and stable macro-economic environment for growth and job creation. The budget is likely to enhance business, taxpayer sentiment and consolidate India's growth prospects during this fiscal year. It has every potential to bring out a broad-based revival in the Indian economy by providing opportunities for citizens with focus on Youth.
The Union Budget laid focus on the introduction of National Data Governance Policy, which will ease the KYC process and reduce privacy breaches by using the Aadhar and Digi Locker platforms to simplify individual address reconciliation and verification.
It will incentivize the investments in infrastructure which will have multiplier impact on rise in growth and employment.
Increased capital investment outlay by 33.4 per cent to ₹ 10 lakh crores.
Highest capital outlay of ₹ 2.4 lakh crore for the Indian Railways.
Simplifying tax benefits for MSMEs and startups.
The decision to scrap old polluting vehicles bodes immense growth for automobile manufacturers and will give a fillip to the electric vehicles industry which in turn will invigorate the components industry.
The Budget has laid emphasis on reviving of 50 additional airports under Regional Connectivity Scheme (RCS), which will ease movement of domestic cargo along with passengers and international cargo through nearest international airport.
To boost 'ease of doing business' (EODB), the budget has recommended reduction of 39,000 compliances for trust-based governance.
Reduction in customs duty on import of capital goods for li-ion batteries for more greener mobility
Import of raw material for manufacturing of electronic, electrical, and chemical products
Under 'Sabka Saath, Sabka Vikas' – Inclusive development program(s) new scheme(s) to promote pharma research will lead to more competitiveness in global market for pharma exports. Continuation of interest free loans to states by the Centre for capital expenditure will ensure further incentive schemes at state level for creation of logistics infrastructure. Capital investment outlay being increased by 33 per cent to ₹ 10 lakh crores, which would be 3.3 per cent of GDP:
Outlined seven priorities for the 'first Budget in Amrit Kaal'
Inclusive development
Reaching the last mile
Infra and investment
Unleashing the potential
Green growth
Youth power
Financial sector
The budgetary proposals are likely to enhance business, rural and taxpayer sentiment and consolidate India's growth prospects in a gloomy global setting National Data Governance Policy to encourage R&D across all regulators. The MSMEs will benefit from steps, including continued reduction of unnecessary compliances, to promote ease of doing business.
The government's focus on green and clean mobility, allocation of funds for replacing government vehicles will go a long way in transforming the automobile industry.
 M Afzal Malbarwala, President, ACAAI
The Union Budget is as expected pro-growth and we welcome the initiatives rolled out to MSME's. The salaried class and the growing count of Senior citizens are also well considered in this Budget. From a logistics and freight industry perspective we expected an improvement in the GST implications post the expiry of the Oct 2022 sunset clause which is missing. This remains as a key missing critical point.
C K Govil, Vice President, ACAAI
As expected, to promote local product of each district and to increase the buying power and provide skill training so that the youth of the country can get themselves skilled, according to their choice giving opportunity for more skilled labour. All-around development offering more employment and promoting tourism are the key features of this budget. The proposed initiatives to boost the development of logistics and transport infra and new airports will give a boost to the overall sector.
Mahesh Trikha, Managing Director, Aargus Global Logistics Pvt Ltd
The mere announcement that budget is about to be presented saw Indian Rupee improving vs US$, share market reporting upward trend shows the confidence of industry. The budget seems inclusive with special emphasis to cater to the needs of not only farmers but also poor, infrastructure, Aatamanirbhar Bharat, roads, and railways are well covered. The welcome move is on literacy, libraries, teachers teaching and on research relating to pharmaceutical products. We already are fifth largest economy and am sure that this budget will take us to the path of being number three very soon and accomplish goal to be US$5 trillion economy as well.
Huned Gandhi, Managing Director Air & Sea Logistics Indian Subcontinent, Dachser
The Union Budget has a comprehensive coverage with a robust capex investment and a high focus on infrastructure development, which will benefit the logistics industry overall. The Budget 2023 also takes a long-term view with Saptarishi (seven top priorities) to help India consolidate its position amongst the top economies of the world. These are certainly challenging times with the slowdown of most global economies and it's good to see India forecast a strong GDP growth in the years to come.
Sunil Tyagi, Secretary, Warehousing Association of India (WAI)
A hefty budget of ₹ 75,000 crores for investment in 100 critical transport infrastructure projects for improved connectivity for ports, coal, steel, fertilizer, and food grains, including ₹ 15,000 crores for private investors and the revival of 50 additional airports, heliports, water aerodromes and advance landing grounds with the intent of improving regional air connectivity, are all in alignment with National Logistics Policy. These measures will give a boost to the growth of economy. The Budget seeks to set up many mechanisms to ease the regulatory and compliance framework in India. The implementation of these proposals will go a long way in improving India's EODB rankings.
Kami Viswanathan, Senior VP, FedEx Express, MEISA
The Union Budget demonstrated the government's vision to expedite infrastructure development, with the announcement to increase capital expenditure. This will help put the economy on an accelerated growth path. The budget emphasizes the government's commitment towards the 'green growth' approach. The indirect tax proposals to boost green mobility will provide a further impetus to accelerate the adoption of EVs in India. This initiative resonates well with FedEx's own global goal of achieving carbon neutral global operations by 2040. The measures taken to support and enable MSMEs in India that play a pivotal role in burgeoning the Indian economy, will help accelerate the sector's growth trajectory.
Suresh Kumar R, Chief Executive Officer, Allcargo Logistics
"The budget is focused on continuity in the direction of macro policies and economic strategy. The seven priorities have a strong positive bias for infrastructure development. Developing national infrastructure and the government's thrust on capital expenditure of
₹ 10 lakh crores indicates that it is pushing forward with its transformative agenda. Furthermore, the first and last mile connectivity has been prioritized by identifying 100 critical transport infrastructure projects especially for ports, coal, steel, fertilizer, and foodgrains sectors with investment of ₹ 75,000 crores, including ₹ 15,000 crore from private sources. To encourage energy efficiency government will promote coastal shipping as low-cost mode of transport for passengers and freight, through PPP mode with viability gap funding. To further ease the movement of the cargo in the country expenditure on the Dedicated Freight Corridor has been raised for the financial year and is 75 per cent higher than the ₹ 15,710.44 crore allocated for FY23. Additionally, to boost regional connectivity government is looking to revive fifty additional airports, heliports, water aerodromes and advance landing grounds. All these provisions will help the country to bolster the strength of Indian manufacturing by assisting in seamless movement of goods and accelerate India's integration into the global supply chain by strengthening its necessary physical infrastructure and helping to boost imports from India by lowering the logistics cost. Focus on Green growth, and tax benefits for lower income slabs aimed at youngsters and senior citizens completes a wholesome budget."
Rajesh Jaggi, Vice Chairman, Real Estate, Everstone Group
"We welcome the announcement of the establishment of an Infrastructure Finance Secretariat, aimed at aiding all stakeholders for increased private investment in the space. The Finance Minister's proposal to identify 100 critical transport infrastructure projects to encourage cities and states to take up urban planning is something we expect to work in our favour. The focus on expanding infrastructure CapEx to 3.3 per cent of GDP will lead to the creation of seamless connectivity between manufacturing sites, consumption centres and ports – this will have a high likelihood of attracting more industrial investments, leading to an overall increase in domestic consumption and exports. Moreover, the Urban Infrastructure Development Fund that will be set up in tierII and III cities will add to an increased demand for Grade A warehousing for this market. Further, the allocation of ₹ 16, 549.04 crore for the Ministry of Electronics and Information Technology means more investments in the already thriving electronics sector and spells good news. This, combined with the reduced import duty of Li-ion battery manufacturing and mobile camera lens, will drive more localised investments in the EV and mobile phone manufacturing space. Additionally, the government's focus on green growth in the infrastructure and mobility sectors, among others, will help us meet our larger sustainability goals. Overall, we think that the budget, rightly dubbed the Amrit Kaal Budget, is a wholesome one that combines green growth with infrastructural progress and provides equal impetus to both sectors."
Prem Kishan Gupta, Chairman & Managing Director, Gateway Distriparks Ltd.
"The budget presented by the Hon'ble Union Finance Minister announced a positive outlook for the Indian logistics sector, with the Union Government focusing on modernizing and upgrading the sector to improve its competitiveness and efficiency. In a big positive, the government has identified 100 critical transport infrastructure projects for last and first mile connectivity for ports, coal, steel, fertilizer, and food grain sectors. They will be taken up on priority with an investment of ₹ 75,000 crore, including ₹ 15,000 crore from private sources. Additionally, ₹ 2.40 lakh crore have been allocated for the Indian Railways' capital expenditure. This expenditure is the highest ever, and the remaining works of WDFC will be completed in fiscal 2024. It will boost the movement of goods from roads to railways. Small businesses in the logistics sector can avail themselves of tax benefits and subsidies, which will help them grow and expand. Moreover, the government has announced measures to promote domestic manufacturing in certain sectors, which is set to offer the logistics sector the much-needed impetus to exponentially expand the demand for goods transportation and warehousing services within the nation."
Mahendra Shah, Chairman, and Group Managing Director, V-Trans (India) Ltd.
"The significant progress with many sustainable development goals has increased the Indian economy size from 10th biggest to fifth biggest in last nine years. The government has taken several encouraging steps to boost the infrastructure and transportation industry. Logistics, infrastructure, and transportation is the future of our country. This year's budget has shown the government's commitment to the logistics and infrastructure sector. This highlights India's futuristic growth and commitment to elements such as the Data Governance Policy, Centres of Excellence on AI, Green Growth, and the conventional thrust areas of infrastructure have also received a big boost. Though the Union Budget 2023 did not provide much specific attention to the logistics and transportation sector. However, the government did announce various initiatives aimed at improving the overall infrastructure of the country, which could have a positive impact on the logistics industry. These initiatives include the allocation of ₹ 1.97 trillion for infrastructure development, plans to build new airports and modernize existing ones, and investments in the development of the NH network. The government's focus on increasing the use of technology in various sectors, including transportation, could benefit the logistics industry. However, the industry has called for specific measures, such as tax incentives and investment in technology, to boost its growth and competitiveness."
Amit Maheshwari, Founder & MD, Softlink Global
"The budget holds promise for the logistics industry with its focus on revitalizing infrastructure and boosting the movement of goods. The emphasis on 50 additional airports, heliports, water aerodromes, and critical transport projects will improve connectivity and bring in efficiency thereby reducing costs. The promotion of coastal shipping in a PPP model for both passengers and freight will further the cause of a cost-effective transportation system. Budgetary announcements will future-proof the logistics sector also include setting up labs for 5G enabled applications development for intelligent transport systems and thrust on 'Green Growth' in transport that will push India's goal to become net-zero.  The logistics sector is largely driven by MSMEs and the government's announcements on less stringent contract execution and credit guarantee schemes for MSMEs will help businesses affected by the pandemic. The DigiLocker service will facilitate secure online storage and sharing of documents, further improving efficiency in the business ecosystem. The reduction of taxes for entry and middle-income group will also encourage the industries across. By improving connectivity and reducing costs, businesses will have greater opportunities to reach new markets, spur innovation, and create jobs. The budget signals a commitment to a better future for the logistics industry and its positive impact on the economy and the lives of citizens."
Rampraveen Swaminathan, CEO, Mahindra Logistics
"We welcome the budget as it focuses on sustainable growth and infrastructure development. The announcement of setting up Urban Investment Development Fund (UIDF) for tier II and tier III cities will provide a much-needed boost for smoother and faster logistics transportation and will ensure greater connectivity in tier II and III cities. Identifying 100 critical transport infrastructure projects will have a positive impact on nation's last and first mile connectivity. Additionally, the announcement of 50 new airports, helipads, and aerodromes will enhance the regional air connectivity. The highest ever allocated capital outlay to Indian Railways will add to the smooth connectivity between different points of country and easy and faster freight movement."
 Swarup Bose, Founder & CEO of Celcius Logistics
"The budget announced today is a strategic one, with a clear focus on infrastructure development, agriculture, and farmer empowerment, as well as inclusive growth and upskilling. Specifically, the push for building transport infra projects with 50 additional airports, heliports, water aerodromes, and advanced landing zones which will be revitalised along with 100 critical transport infra projects with an investment of ₹ 75,000 crore including ₹ 15,000 crore from private sources, are commendable and will strengthen the sector, and are in alignment with the goals of the NLP. Another aspect of the budget that focused on the support for agriculture and farmer empowerment, setting up of food co-operatives and decentralised storage facilities, are all vital factors that will go a long way in enabling smoother food supply chains that can benefit farmers and drive effective food distribution. Further, the revamped credit guarantee scheme through the infusion of
₹ 9,000 crore in the corpus, will help strengthen the start-up and MSME sector, enabling them to gain access to additional collateral-free credit. Overall, the push for greener practices, including the transition to green energy and lithium-ion battery-based sources will further accelerate EV manufacturing and adoption, boosting greener supply chains, which is a commendable step. Apart from helping India move towards its goals for india@100, these initiatives will also help put the logistic and cold supply chain in the forefront, at par with international economies."
 Nitish Rai, CEO and Co-Founder, FreightFox.
"The Union Budget is poised to have a significant impact on the logistics sector. With a focus on modernizing infrastructure and incorporating cutting-edge technology, the budget aims to improve the efficiency and competitiveness of the industry. The allocation of resources toward the development of ports, highways, and other transportation networks will enhance connectivity and promote the seamless movement of goods. Furthermore, the government has increased spending on dedicated freight corridors and logistics infrastructure, which in turn will revolutionize the way goods are moved, tracked, and managed. Also, with decreased excise on compressed biogas (CBG) we can expect to see an increase in CBG production, making transport a lot greener. The 2023 budget, thus presents a unique opportunity for the logistics sector to grow and thrive, positioning it for long-term success."
 Vivek Lohia, Managing Director, Jupiter Wagons Group
"With today's budget, we welcome the government's initiative to outlay a substantial boost in all sectors, especially infrastructure, innovation, and employment. The budget rolled out this year shows a significant step in the right direction with an increase in the capital investment to ₹ 10 lac crores, an increase of 33 per cent, i.e., approximately 3.3 per cent of GDP. This highlights the importance of investments in high-quality infrastructure for accelerating economic growth and sustaining it in the long run. I believe that with a capital outlay of ₹ 2.40 Lakh crore for the Railway, there will be a dynamic change in strengthening the infrastructure of the entire railway system. The pro-EV budget satisfied the industry's expectations from the government to accelerate the growth of EVs segment in the country. Furthermore, reduction in the Customs Duty from 21 per cent to 13 per cent on Lithium Batteries and an extension of the subsidies on EV batteries will ease the production and help make it cost-effective."
Kishan Tiwari, Co-Founder and CEO, TSAW Drones
"The Hon'ble Finance Minister's announcement in the Union Budget 23-24 to revitalize 50 additional airports, heliports, aerodromes, and advanced landing zones is a landmark decision. This will jumpstart the fourth industrialization by effectively utilizing drone technology for automation in logistics, transportation, infrastructure, and rural development, as well as create new-age jobs for the nation's youngsters. TSAW is committed to supporting the government's mission by assembling state-of-the-art 'Made in India' drones and DRONECO is committed to providing end-to-end drone services for internal sovereignty, last-mile connectivity, agriculture, healthcare, and others. The announcement of the Agri Accelerator Fund by the government will encourage more entrepreneurs to serve Indian rich and heritage agriculture Industry. Being a drone manufacturer, TSAW sees a big opportunity of collaborating with agri startups to serve and show a real case of drones in the agriculture industry."
 Yogesh Dhingra, Founder, MD & CEO of Smartr Logistics
"We support the government's vision to increase infrastructure development and the multiplier effect this has on productive capacity and creating growth and employment opportunities in the country. The 33 per cent hike in capital investment includes provisions to construct new airports and expand railways as well as incentivising private investments in infrastructure. These will be effective in terms of ensuring better connectivity, increasing capacity, and better efficiency for the system thereby reducing overall logistics costs. The provision for the railways is the highest it has ever been. This is a welcomed move to increase overall freight capacity and allow for more efficient connectivity options. Rail, being one of the most efficient modes of transportation, will help in reduction cost reduction as well as reducing greenhouse emissions by decreasing reliance on road and air connectivity only. The budget highlights enhanced regional air connectivity through additional airports and heliports which is imperative to connect a larger share of the population to faster connectivity through direct flights for travel as well as cargo movement thereby bridging the distance gap and bringing them closer. Through the establishment of the Urban Infrastructure Development Fund (UIDF), the government emphasizes development in tier II and III cities. We support this initiative as these cities have become major consumption centres for demand and producing manufacturing output in recent years with digitization. Better infrastructure is increasingly critical to support these population centres. We are pleased to see capital allocation highlighted for critical transport infrastructure projects for last and first-mile connectivity. Moreover, provisions towards the use of electric vehicles will help promote more sustainable operations. The introduction of the Infrastructure Finance Secretariat will provide broader access to private funds and incentivise infrastructure development benefitting all stakeholders within the manufacturing and logistics ecosystem. This Budget meets our expectations, and we are confident that it will be conducive to robust growth and development of the sector, reducing overall costs, increasing productivity, and positively contributing to the economy."
 Saurav Chakraborty, COO, Lords Freight India
"The Union Budget for us become extremely positive towards infrastructure development and due recognition given to logistics industry , Specially in air cargo industry with 50 additional airports which will help all our exporters to have regional connectivity within India, equal focus given for specific 100 critical transport projects – port infrastructure for last / 1st mile connectivity. The Government promoting costal shipping as an energy efficient mode of transport also and alternative mode of transportation. Overall, this initiative will compliment and create great synergy of existing scheme of PM Gati Shakti Masterplan and most importantly the National Logistics Policy."
Vineet Sharma, CEO & Co-Founder, FleetX 
"The budget's outline for the logistics industry seems positive for now. Initiatives such as a focus on last-mile connectivity, smoother process for establishing manufacturing and logistics hubs, and improving multi-modal logistics, coupled with digitization under the National Logistics Policy can be game-changing and result in healthy growth of the logistics sector soon. The allocation of ₹ 1,10,055 crore towards dedicated freight corridors will reduce the logistic costs."
 Lancy Barboza, MD, Flomic Global Logistics Ltd
"The budget is aligned with India Inc's vision of inclusive and sustainable growth and will provide much needed impetus to the fastest growing economy in the emerging markets. The budget's focus on capex and infrastructure spending by enhancing the outlay to ₹ 10 lakh crores will give a huge boost to enhancing infrastructure which forms the backbone of any economy. By proposing to focus on enhancing regional connectivity by building 50 airports, heliports, and aerodromes; developing 100 critical transport and infrastructure projects the FM has ensured greater connectivity to rural India. The budget also focuses on development of coastal shipping for energy-efficient transportation of passengers and freight. All these initiatives will make the Indian logistics industry more efficient and cost efficient. Reduction in customs and excise duty and various products will also encourage trade and further the government's mission of 'Make in India'.  With policy push on green growth this budget puts India on the trajectory of rapid and sustainable growth."
Anurag Mathur, CEO, Savills India
"The budget is a testament to the government's commitment to inclusive growth, with a focus on strengthening the country's infrastructure, empowering the rural sector, and driving innovation for a better tomorrow. Although the real estate sector did not feature prominently in the budget, derived benefits are likely to give further boost to the sector especially in these times of a 'Robust Growth Phase' post the pandemic affected years of 2020 and 2021. A steep rise in Capex to 3.3 per cent of GDP continues to be the guiding force of the budget, providing a strong impetus to infrastructure and allied sectors. Commercial real estate and manufacturing sector will get derived benefits with focus on green technologies in automotive sector. Furthermore, with an annual allotment of ₹ 10,000 crores towards Urban Infrastructure Development Fund, real estate growth in tier II and III cities of the country is expected to pick up pace. In our recent discourses and publications, we have repeatedly highlighted India's need for creating a large pool of urban centres. Similarly, Life sciences sector, key to India's future economic growth, stands to benefit from a new program for pharmaceuticals, as research gains greater attention. The Budget has also focused on the development of GIFT City, which will boost the growth of the financial sector, creating job opportunities and promoting economic development. Direct real estate announcements, although scant this time, included enhanced allocation to the PM Awas Yojana. With a 66 per cent increase in allocation, the total fund outlay touches ₹ 79,000 crores. The much-awaited direct tax benefits and changes to the income tax slabs are likely to put more money in the hands of middle-class households, positively impacting spending capacity and savings. This should bode well for the residential segment, especially affordable housing."
 Karan Shaha, Co-founder, and CEO, Vahak
"It is a commendable Budget. In line with our expectations, Budget2023 has focused on incentivising state governments for infrastructure development. The Centre's support with enhanced outlay of ₹ 1.3 lakh crores will act as an accelerator toward logistics policy creation at the state level. With this in place, we are hoping to see good traction in transportation infra creation, especially related to top freight routes, logistics parks and highways development. Additionally, opening opportunities for private investments in infra will pump in efforts toward roads, urban infrastructure, and power sector developments, which are critical for efficient transportation and transition to green mobility. We also welcome the decision to extend the income tax benefits for start-ups and the formation of the National Data Governance Policy. These were much needed given the market dynamics and the fast-emerging start-up ecosystem."
 Zaiba Sarang, Co-founder, iThink Logistics
"Adopting green and sustainable practices is the way toward future, which has been acknowledged by the government quite profusely in today's budget. The budget places a strong emphasis on environmental responsibility. The 'Panchamrit' initiative is aimed specifically at achieving net zero carbon emissions by 2070, thus contributing to the green growth of the nation. Continuing to provide impetus for EV adoption in India, the government has taken robust steps through exemptions on customs duty levied upon the machinery imported for the manufacture of lithium-ion cells for EV batteries. The budget has also adequately covered infrastructure development by allocating ₹ 75,000 crores, including private investment, towards improving first and last-mile delivery. As a part of the logistics sector, we are extremely elated at the announcement of these provisions, since they will help solve the current connectivity issues facing the industry while building a more sustainable future for logistics, where efficiency and environmental responsibility come together to form a sustainable ecosystem."
Vineet Agarwal, MD at Transport Corporation of India Ltd.
"The budget's 'Saptarishi' guiding-priorities are holistic, optimistic and it beautifully fleshes out the ambitious schemes announced by the government to boost all critical segments. For the logistics sector, a committed focus on all tenets under NLP, will lead India from recovery to resurgence. The increased Capital Outlay for critical Infra projects under the 'Inclusive Development' priority will further boost sectoral development. The steep investment increment in digitization and automation to develop smart warehousing, and an announcement of 100 critical transport infra projects for steel, ports, rail, and road will strengthen the much-needed multimodal connectivity. Provisions like coastal shipping with Viability Gap Funding (VGF) for people and freight movement will further facilitate seamless cargo movement while reducing logistics costs. The Government's Green Growth Priority outlines a relentless sustainability vision. 'National Green Hydrogen Mission' targets the transition from fuels to green energy. This movement will enable a smooth shift toward the Net Zero Carbon Emission goal. Moreover, the PM Gati Shakti Vishwavidhyalaya facilitates the 'Youth Power Priority', emphasizing on upskilling and creating opportunities for industry partnership. Overall, the 2023 budget outlines a very futuristic glide-path for improving the supply chain ecosystem in India. It will further enhance the export of networked products, thereby indicating a world-class infrastructure and synergy across the logistics value chain."
Hiranand Savlani, Chief Financial Officer, Astral Limited
"We welcome the budget as it presents a roadmap for further strengthening of the infrastructure development in this new age of India. The increase in Capex in the infrastructure segment by 33% will boost key players involved in segments such as water and urban development. This announcement also augurs well for the demand of building and construction materials.  Additionally, allocation of ₹ 79000 crores towards PM Awas Yojana will be a great support to the construction and allied industries. We are pleased with the measures taken to promote sustainable cities, as the finance minister said infrastructure growth has been offering multiplier effects in the economy benefitted. Also, the reforms in indirect taxes were straightforward which promote exports, encourage green growth, and most importantly boost domestic manufacturing. The initiatives introduced in the agricultural sector are remarkable and will help in adding value to the segment and overall economy."
 Prakash Chhabria, Executive Chairman – Finolex Industries ltd.
"We appreciate the budget's emphasis on promoting consumption and reviving the economy. The augmented focus on the agriculture sector will facilitate the farmers in smoothening of their operations, get more funds for inclusive rural development. The creation of agriculture infrastructure funds along with separate allocation for high-value horticulture will give the industry a much-needed boost. The industry would also gain from the 11 per cent increase in the agriculture credit objective from ₹ 18-₹ 20 lakh crores. We eagerly await the implementation of these measures and their impact on agriculture and farmer profitability. This budget also highlights separate focus on providing water connections & toilet facility to households. This will spur demand in the plumbing and sanitation segment. Additionally, a hike in capital expenditure by 33 per cent to ₹ 10 lakh crore for infrastructure development and the allocation of ₹ 79,000 crores to affordable housing will act as a catalyst for building, construction materials and allied sectors."
 Swapnil Jambhale, Co-founder & COO, Safexpay
"The Budget announcement on modification of KYC procedure, is a much-needed move to simplify the digital spending and investment processes. It is imperative because the risk-return angle for customers undertaking KYC is crucial and different customers have different requirements. By switching from a one-size-fits-all strategy to a risk-based one, the KYC process will be made simpler. Additionally, it will push the financial sector's regulators to develop a KYC system that can fully support 'Digital India's' requirements. The continued fiscal support for digital public infrastructure in 2023-24, is a welcome move. To promote innovative fintech services, the scope of documents available in DigiLocker for individuals has been expanded. Entity DigiLocker will also be set up for businesses and MSMEs, which will help businesses streamline and securely store their official documents and the same can be shared with banks, regulators, authorities, and other business entities when needed. The National Financial Information Registry has the potential to be a game changer in the coming months. It will facilitate efficient flow of credit, promote financial inclusion, and foster financial stability. We await the draft legislative framework on this to get better clarity on its use-cases. Also, the access to anonymized data under the national data governance strategy, will promote innovation and research by universities and start-ups."
Nisschal Jaain, Cofounder and CEO, Shypmax
"Budget 2023 has proposed a sustainable roadmap for the logistics industry by prioritising the improvement of logistics infrastructure across roads, warehouses, and airports. The proposed initiative for the revival of 50 additional airports, helipads, water aero drones, and advanced landing grounds will establish comprehensive air connectivity. This will also enhance the fiscal output while lowering the logistical costs and timeframes. The suggested advancements, like promoting coastal shipping, will strengthen multimodal logistics, thereby giving end users more options for international trade through affordable logistical options. Understanding the ever-increasing global demand for Indian handicrafts and artisanal products, the newly conceptualised Pradhan Mantri Vishwakarma Kaushal Samman (PM-VIKAS) will create a global stage for Indian small-scale manufacturers, thus increasing their contribution to India's EXIM dynamics. The onset of 100 critical transport infrastructure projects with an infusion of ₹ 75,000 through public-private partnership in priority sectors, will provide a much-needed momentum to India's inclusive development by speeding up the manufacturing segment. The reduction in basic customs duty for goods from 21-13 per cent will bolster foreign trade while creating global acceptance for Indian brands. However, the industry was expecting increase in the de minimis for all e-commerce imports as India looks to become a global marketplace, it needs to also give credence to the world that India is creative a level playing field for its exporters as well as global retailers. Furthermore, this will also channel the growth of Indian MSMEs by increasing their global leverage while curbing increased tariffs on Indian products. Also, increasing bracket of three years tax-free profits from seven to 10 years would prove instrumental in encouraging start-ups."
 Varun Gada, Director, LP LogiScience – A Liladhar  Pasoo Company
"The Union Budget presented today by the FM is a well-defined one with a clear focus on infrastructure development, green initiatives, inclusivity, and upskilling. The government's initiative to strengthen transport infra projects by revitalizing 50 additional airports, heliports, water aerodromes, and advanced landing zones, along with 100 critical transport infra projects with an investment of ₹ 75,000 crore, including ₹ 15,000 crore from private sources, are all massive steps in enabling the logistics sector. For players like us, who are looking at growth into tier III and IV regions, this infrastructure push will be instrumental in creating cost-effective supply chains as well as drive overall market growth. The focus on agriculture and food co-operatives with decentralized storage facilities, green operations, and energy transition to hydrogen power, are further aspects that will positively push the warehousing sector to adopt sustainable practices. Reduction in import duties for the lithium-ion battery will further help faster EV adoption, boosting greener supply chains. Overall, the union budget is a strong step towards helping India to become a global economy with industry best practices that will put the logistic and cold supply chain in the forefront, at par with international economies."
Parvinder Singh, MD, Hans Infomatic
"It is satisfying to see long-term investments with increase in capital expenditure and the focus on expediting technology. The government is taking technology adoption and usage gravely, and looking at the ways technology can benefit all. The spending and focus on technology-related initiatives, including training and skill development is a good way forward. The Union Budget rightly lays emphasis on innovation, job creation and skilling, with continued push towards a Digital India. Moreover, rolling out a host of initiatives to support domestic industries, the budget also aims to put India in a resilient position amidst a global slowdown.  Inclusion of digital infrastructure such as data centres, energy storage systems in harmonized list of infrastructure would add new avenues to already growing sector. Skilling is another emphasis of the budget with 30 Skill India International Centres announced in line with the National Education Policy. The launch of new-age courses like coding, AI, IoT and the move to set up 3 Centres of Excellence for AI will have long term benefits. With an aim to further improve regional air connectivity, the government will revive 50 additional airports, helipads, water aerodromes and advanced landing grounds. This will increase the overall cargo connectivity for efficient logistics and will also help facilitate the trade from hinterland. We also see increase in our role in supporting with the software requirement of the aviation industry."