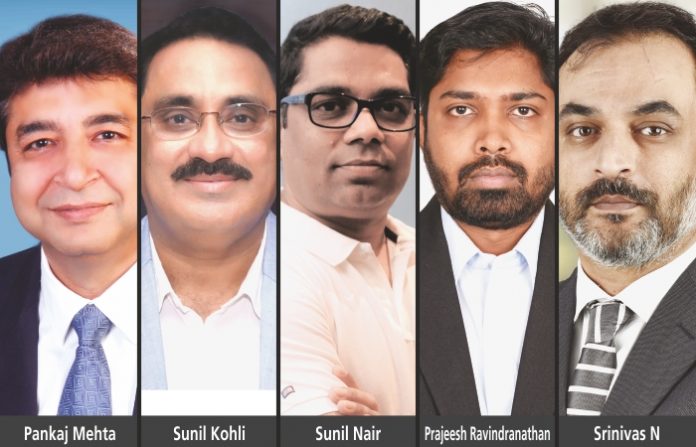 In the rapidly evolving logistics, cold is the new hot. The demand of refrigeration has never been so high and the industry is grappling to keep up and to evolve in order to meet the newest developments. CARGOTALK explore the trends that will continue to shape the ever-changing requirement for the refrigerated and cold chain markets. 
Kalpana Lohumi
Certainly, the pandemic has brought a dramatic change in the cold chain industry. With or without the vaccine, the demand for refrigerated services was and will continue to be high. Moreover, with the second wave of COVID-19 the pandemic will further drive the need of efficient cold chain transportation and warehouses. Considering the fact that the pandemic has propelled growth opportunities in the sector, CARGOTALK discovers the trends to look forward in the cold chain transportation. Has the pandemic made the cold chain trends more transformative than before? Let's hear out from the industry.
"The Indian cold chain landscape is witnessing a significant paradigm shift as the government has unveiled various measures to bridge the cold chain gap in the country. The two main sectors where the cold chain can play a pivotal role are pharmaceuticals and agriculture. The pharmaceuticals industry has been one of the fastest adapters of the cold chain in recent years. An efficient supply chain network to carry pharmaceutical products and vaccines across the country was a crucial part of the fight against the COVID-19 pandemic," says, Pankaj Mehta, Managing Director, Carrier Transicold, India & South Asia. He continues, "We have been supporting pharmaceutical logistics companies around the clock to establish formidable cold chains. Even though these are challenging times for the agricultural sector, there is huge opportunity to reduce food loss and improve food distribution by expanding the usage of cold chain technology. With a focus on the agri-logistics sector, we are working closely with several stakeholders to help plug the identified gaps by offering Carrier cold chain solutions. These interventions have helped growers of strawberries, cherries, mangoes and other commodities achieve better returns on their investments, and it has resulted in benefits to traders and transporters as well."
To overcome any disruptions in the supply chain during the national lockdown and to reduce wastage at farms, commodities are also now being temporarily stored in cold storage units to be shipped later.
According to Sunil Kohli, Managing Director, Rahat Cargo, "The pandemic has created enormous growth opportunities within the cold chain industry, resulting in its enhanced demand for outsourcing, transportation in reefer vehicles, warehousing and many other areas that quickly became amplified immediately following the pandemic lockdowns. This shift also impacted the supply chain planning process for ensuring that delays in the supply chain could be absorbed by higher demand for cold chain storage and longer dwell times for source to shelf cycle times."
Pandemic has affected the industry big time. You can never get benefited when your customers are affected. Not seeing much positives during the pandemic for cold chain industry, Sunil Nair, CEO, Snowman Logistics finds the following major impacts across industry segments:
Ice Cream Industry: Their major sales happen during March to July.  And this period last year has completely been washed out by lockdown and restrictions.  Thus, affecting sales big time.  Now again this year we see similar trend due to increase in covid cases.
Quick Service Restaurants: Same is the case here.  With lockdown most of the outlets were closed except for some stores who were doing door-step delivery sales.  The impact has been big.  Now this year, at least stores will be open for deliveries.  However, the impact will still be felt.
Seafood & Meat: This business is largely export oriented.  Since international trade has come down considerably, container availability is scarce, thus affecting production and export in this category.
E-commerce industry: This industry had a better performance, as most of the buying by consumers were online.  However, this is not sufficient to compensate the overall impact to the customer segments we serve.
Technology enabled cold storage facilities
"The cold chain industry in India has been shunned for a long time due to the requirement of high initial and operating costs and lack of adequate infrastructure.  As a result of the pandemic, the stakeholder sentiment towards the cold chain sector changed. The cold chain sector is being termed as the sunrise sector gauging its indispensability in an industry's growth and the investment potential in this sector.
Cold chain industry in India is fragmented and it will require heavy investment in building technology enabled cold storage facilities to cover entire value chain from procurement to transportation in refrigerated trucks. India being the second largest country in the world in terms of population and with the second highest number of COVID cases in the world, it requires about 2-3 years for complete immunisation against COVID-19. This will create sustained business opportunities for private cold chain players in storing, transportation and distribution of COVID-19 vaccine products," says Srinivas N, Managing Director, Industrial and Logistics, Savills India.
Explaining the importance of technology, Mehta notes, "The key to success in the cold chain business in India is the creation of technology-based, tailor-made solutions that address the unique challenges that exist across the cold chain. The concept of 'one size fits all' does not work in the Indian landscape, which means innovation and reliability are essential for meeting the diverse demands of the cold chain in this environment."
Beyond the movement and storage requirements in cold chain logistics, there was also an increased interest in technology that offered higher visibility and transparency on the movement of cargo owing to the longer transit times and delays arising out of lockdowns. More and more customers were keen on taking additional services that included products based on Remote Container Management such as the mobile app Captain Peter provided by Maersk which gives full visibility to customer on the position of their cargo, temperature, humidity and similar parameters inside the container during the transit etc. When restrictions came down strictly on flights, customers also turned towards ocean transportation in all possible cases by prioritising only the most critical cargo on airfreight."
Explaining the IOT's role in providing end-to-end visibility within the cold chain ecosystem, Mehta informs, "Data transparency and traceability also ensure product quality and process efficiency. Carrier Lynx Fleet solutions empower our customers to remotely monitor and control refrigeration units and help track their consignments with a strict watch over temperature integrity. The digital platform which developed in collaboration with AWS will apply advanced IoT, machine learning and analytics technology to connect the cold chain in the cloud, automate key processes and deliver real-time visibility and insights throughout the cargo's journey."
Explaining how the pandemic has brought to the fore the importance of global supply chains and, in particular, the cold chain side of logistics, Prajeesh Ravindranathan, Sales Manager – Cold Chain Logistics, Maersk South Asia, says, "There has also been an increase in the retail consumption of packaged food for the fear of losing access to essential food items during strict lockdowns. The increased demand for such perishable and frozen items has accelerated the growth of cold chain logistics as these items need effective cold storage system to keep the chemical composition intact even after several months."
"Cargo safety, efficiency and reliable temperature control are key to effective cold chain transportation," adds Mehta, "Carrier equipment offers technology, advance control, remote monitoring, safety devices and automation. The most basic technology interface mounted on the truck dashboard for the drivers called as the 'Cab Command' is made extremely simple to operate and understand. While at the wheel and at all times, the driver can easily monitor box temperature and change the set point temperature based on the product being carried. It also checks the health of the machine and signals any alarms, which the drivers need to be notified. The same controller enables the driver to run a pre-trip inspection of the refrigeration system to ensure readiness and avoid breakdowns en route."
Hot trend in cold chain logistics
"The pandemic definitely accelerated cold chain logistics with certain trends particularly growing faster than other. With increased consumption of chilled fruits, vegetables and protein, several initiatives have been taken by Government as well as private sector for the development of cold chain facilities to increase the shelf life of perishable cargo and thus improve the reach of such items to the end user," informs Ravindranathan.
On the contrary, Nair tells, "Pandemic has not accelerated the cold chain growth trends, at least not for short term.  May be, in the long run it will raise the overall standard of cold chain requirement and organised players like us would score there.  However, from overall demand side of it, we don't see pandemic as an accelerator to the demand."
"Another area that can be counted as the hot trend in cold chain logistics is that of pharmaceuticals which is a highly developed industry with respect to infrastructure and has stayed ahead of the trend due to regulatory requirements at destinations. For us, in logistics it is now important how we tackle and partner with pharmaceutical companies to identify each of their unique needs and provide a solution to ensure highest levels of reliability. With end-to-end solution being made available by Maersk in cold chain logistics, we have better control over availability of refrigerated containers (reefers), availability of space on vessels, provision of rail or road connectivity and so on at pharmaceutical hotspots like Goa, Hyderabad, Bangalore, Ahmedabad, Aurangabad etc," Ravindranathan adds.
Re-work on marketing strategies
"The onslaught of the pandemic has compelled the cold chain industry to re-work and re-shape their marketing strategy since it had to encounter a situation which was never witnessed before. Thus, the stakeholders resorted to new methods of innovations, high road networking and asset stabilisation to keep their logistics moving forward. Whether warehousing, automation or freight, the business leaders needed to evaluate and address many or all in order to maintain their supply chains and keep up with the demand, which in turn, was drastically altered by the pandemic," emphasises Kohli.
Cold chain, a safe bet for capital investment
Sharing his views on investment in cold chain industry, Srinivas notes, "Investors are confident that cold chain is a safe bet for their capital investment. The domestic and offshore funds are expected to diversify their portfolios and continue to invest in high yielding cold chain assets and many foreign institutions are exploring opportunities to invest in this growth sector. Investors remain focused on facilities supporting 'First mile delivery', the growing middle class and young age population in India have become accustomed to e-commerce and door-to-door deliveries, which is furthering the demand for refrigerated deliveries.
Financial institutions are likely to play a major role to encourage the investment in cold chain industry in terms of term loan sanctioning, nominal interest rates and disbursement.
Developers likely to adopt more effective, efficient, and well-thought-out cold storage infrastructure in order meet the rapid growing demand for cold storage facilities. The technology of construction has undergone a phenomenal change from conventional brick wall construction to sandwich insulated panel and reinforced concrete (RCC) structures to pre-engineered buildings (PEB) steel structures."
Challenges faced and overcame
The logistics industry in general was faced with a lot of challenges during the pandemic and a lot of those were also in case of cold chain supply chains. Sharing few of them, Ravindranathan says, "Container and space availability were the biggest challenges faced by this sector. Maersk ensured that containers and space was provided on priority to all our regular strategic, long-time partners and providers of critical supplies. Major impact was felt in the protein segment that includes seafood and meat as well as in the fresh produce segment as these were on a slightly lower priority as compared to pharmaceuticals which fell under essential commodities."
Srinivas segregated sector's challenges into two categories; general and challenges came during the crisis. He says, "Operating costs for the cold storage business in India are approximately US$ 8.0-9.5 per pallet per month as compared to around US$ 3.0 per pallet per month in the West. Electricity expenses alone make up about 25-30 per cent of the total expenses for the cold storage industry in India compared to around 10 per cent in the West. These factors along with high land rentals make the business of setting up of cold storages a high entry barrier.
A fully integrated multi commodity cold storage facility with 5,000 pallets will require cost around US$ 3.4 million, excluding the cost of land thus constituting 10-12 per cent of the project cost.
Cooling units are not mobile units; hence, location becomes a key factor, and with India's small land holdings, getting large tract of land to build a cold storage unit becomes a major constraint."
Now coming to the challenges happen during the crisis, he adds, "With the COVID-19 vaccine roll out in January 2021, the Indian government and cold chain private operators are gearing up for storage and delivery of vaccine product. The safe delivery of vaccines for mass immunisation against COVID-19 requires huge cold chain facilities in the country as the vaccine product requires refrigeration or frozen condition for storage.
In the beginning, cold chain industry faced some challenges like lack of adequate cold chain infrastructure, demand for more skilled workforce in various realms such as drivers, forklift/reach truck operators, refrigeration technicians etc. The government of India has taken proactive measures to address these challenges."
"Several bottlenecks in transport and logistics have disrupted the movement of products along supply chains. The airfreight has been severely disrupted. Global air cargo capacity has been adversely affected because of pandemic, with the largest decline in capacity on routes between India and various countries abroad. The disruption is caused by the steep decline in passenger air travel, which normally accounts for the majority of air cargo capacity. Transport and logistics problems have thus been most pronounced for perishable high-value products, such as fruits and vegetables. The fruits and vegetables sector was also affected by quarantine measures and delays in border inspections (including as the number of import/export inspectors has fallen). However, the trade had started limping back to near normalcy but the fresh Covid wave seems to be disrupting its recovery," says Kohli.
Nair elaborates major challenges faced by the industry are:
Shortage of labour:  As you have to maintain a lot of precautionary measures at the work place, the overall productivity of work force has come down.  In addition to that, the overall availability also has come down, as people don't want to take risk by moving out of their homes.  Most of the migrant labourers went back to their natives. At Snowman, we could address this by engaging our labour force right from the day the lockdown was declared last year.  We have been taking care of their needs.  We have been assuring that their job is not at risk if the business is affected.  Overall, we could do fairly well.
Increased operating cost: The operating cost has considerably gone up due to the hygiene and security requirements at the facility.  Not just the personal hygiene, the facility hygiene also attracts a lot of cost.  Security controls to ensure overall discipline in the premises are costing additional.  And we don't want to compromise on them. Most of our costs are regulated prices e.g., Fuel, Power, Labour, etc.  Thus, during such time, it is not possible for us to negotiate the rates with suppliers.  So, we could hardly do anything on cost side. However, we have installed Solar Panel on the roof top of all our cold storages, which helped, to some extent, in power cost.  We also worked on other smaller operational activities to be more efficient and control cost.