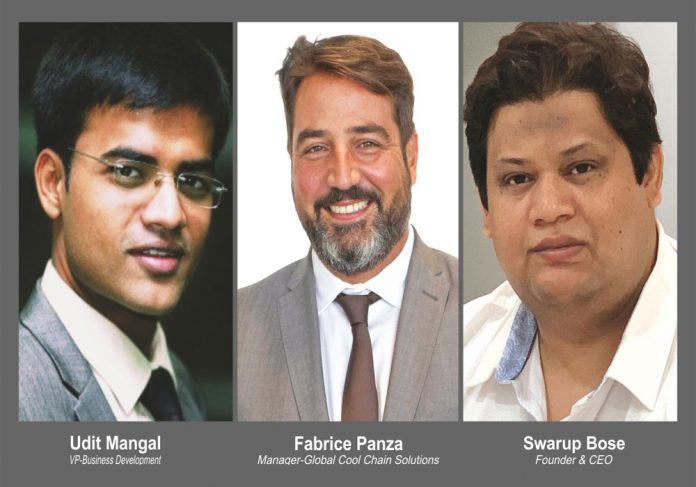 The pandemic has accelerated technical advancements by 4-5 years. Whether it is AI or IoT, technology is now perceived as an enabler rather than an expense. The CARGOTALK Cold Chain Conclave was a huge success, with distinguished panellists outlining the growing relevance of cold chain.
Priyanshi Bana
While most of the focus on cold chain logistics has been primarily on pharma and medical goods during the ongoing pandemic, the need for sizeable investment coupled with a well-defined strategy to capture volumes has made cold chain business a tough one.
Keeping in mind the growing importance of cold chain, CargoTalk's conclave on the cold chain sector was a big success with eminent panellist, such as Fabrice Panza, Manager-Global Cool Chain Solutions, Etihad Cargo; Swarup Bose, Founder and CEO, Celcius; and Udit Mangal, VP, Business Development, Pluss Technologies. They spoke at length about the significant rise of cold chain and crucial role played by it in the recent difficult times.
Industry officials are of the view that pharma cold chain alone has grown by about 20 per cent compound annual growth rate (CAGR), while the non-pharma segment by 15 per cent CAGR. The cold chain industry in India, however, is fragmented and has only a few organised players catering to both pharma and non-pharma segments, such as confectionaries, fruits and vegetables, among others. Says Udit Mangal, VP-Business Development, Pluss Technologies, "Five years ago, the entire chain of supply chain, logistics and cold chain was quite fragmented. Suddenly, a paradigm shift occurs, and the cold chain sector is no longer seen as a cost centre, but rather as a differentiator. The cold chain has now entered the mainstream, as a result of the current pandemic. Comparatively, the requirements have changed drastically. Earlier, there were not as many temperature differences as we see today during pandemic times while transporting vaccines at varied temperatures."
According to Fabrice Panza, Manager-Global Cool Chain Solutions, Etihad Cargo, "Both pharma and agriculture sectors induced a real soar on cargo business and flows, requiring airlines to continue extending cold capabilities from the onset of the pandemic. The advances across the cold chain landscape from key players has fostered a greater collaborative between manufactures and producers, and logistic stakeholders, which has benefitted not only customers, but end consumers also, especially from a pharmaceutical perspective. On the perishables side, we saw an increase of volumes partly due to global lockdowns where online orders for fresh food climbed. To support flows and demand we optimised our freighter fleet and have worked directly with our customers to ensure our available capacity met their requirements. Part of this included operating a dedicated cargo service between Abu Dhabi and Australia, leveraging belly hold capacity to deliver essential supplies into the Australian market. Our partnership with AusTrade facilitated bi-directional trade to further ensure continuity of fresh imports to the UAE from Australia including meat, fish and seafood, fruits, and vegetables which accelerated delivery of agricultural and fisheries exports."
Expounding further on the importance of cool chain amidst the pandemic, Swarup Bose, Founder and CEO, Celcius, says, "The cold chain sector has gained a lot of traction in the past 7-8 years and has grown tremendously. During this pandemic it has just highlighted the importance of the robust cold chain supply chain, which is required in India. Not only for the pharma and agriculture goods, but also for all kind of perishable goods. India is fast becoming the pharmaceuticals hub of the world and the capital for the vaccine production. Cold chain has to keep up to all of this. Keeping this in mind, we are working towards bringing the latest technology to this sector. Cold chain has suddenly gained the limelight due to the pandemic, because everyone realised that it is not only the pharma and vaccine that has to move, but also almost everything from agriculture produce to fresh fruits and other daily requirements that needs to move through the cold chain. When the world came to a standstill, it was only the cold chain and few other sectors which were functioning."
Maintaining temperature: A challenge task
The entire cold chain revolves around maintaining temperatures, not only for pharma but also for all other perishable goods. Adds Panza, "One of the main risks are those which have a negative impact on product integrity, including weather and extended waiting periods on the tarmac or outside a cool room. In addition to maintaining IATA CEIV Fresh and Pharma certification for our FreshForward and PharmaLife products, we continue to review our processes and work with strategic partners to provide enhanced and innovative solutions to maintain quality throughout the supply chain. This being said, there are still multiple technical factors involved in shipping vaccines which present risk. Each vaccine manufacturer issues specific temperature-control requirements, which must be adhered to throughout the shipment journey to maintain product integrity. Some vaccines have required –80°C, which when announced required carriers to work with industry leaders to develop new solutions capable of handling such temperatures on scale. At Etihad Cargo, we worked with a number of ULD manufacturers to develop containers which maintained temperature parameters while providing ourselves and our customers real-time monitoring and tracking. We have also secured UAE GCAA approval to expand dry ice carrying capabilities across our Boeing Dreamliner and Boeing 777 fleet, which further supports our capacity to carry these doses. As a recognised industry leader with dedicated cold chain solutions within our hub and on our aircraft, we have worked closely with our supply chain partners to maintain service delivery across the full journey. This sharing of knowledge and expertise extends beyond our own execution and as a member of associations, such as pharma.aero, the Cool Chain Association and IATA, we have worked to ensure that we share best practices across with all stakeholders to mitigate risks."
Further adding to the strict maintenance of temperature, Mangal says, "Transportation plays a very critical role in the cold chain sector. With the advent of phase-change material technology, it is possible to operate at specific temperatures, and has made it possible to do away with the dangerous goods like dry ice which releases carbon dioxide, thus endangering environment. People are far more aware both at the material level and the digital level. Today people and companies are looking at various other options other than the dry ice, which cannot be carried in the belly due to its hazardous nature."
According to Bose, "Pharmaceuticals always required a very robust cold chain. Maintaining temperatures for essential drugs has always been their main concern. The pharma companies have always been worried about transporting and storing their products at the correct temperature since it directly effects the efficacy of the drug, inadvertently leading to wastage."
Technology as the Driving force
Pandemic pushed forward the technological innovations by almost 4-5 years. Be it AI, IoT and others, technology is today seen as an enabler rather than a cost. According to Panza, "Technology continues to play a vital role in air cargo and logistics and has become a pillar of support throughout the pandemic. We have worked closely with strategic technology partners to support our digitalisation ambitions, whether it is through connectivity, enhanced data sharing, or streamlining processes. The innovation of active and hybrid container suppliers is providing a valuable data tool, which has provided enhanced monitoring and tracking capabilities, while recording important temperature and location data throughout the supply chain. Other advancements have included online lane risk assessment, online SOP and online tracking, each of which has contributed to our ability as a carrier to create and enhance our compliant and transparent pharma corridors across our network.
Panza adds, "Real-time technology is now providing increased sensitive and detailed data, such as geolocation, temperature environment, internal temperature, humidity level and more. These types of technologies reduce wasted costs and increase our quality levels. During less than 10 years, the air cargo industry has taken great strides in transparency, largely driven by data loggers' expansion and GDP certifications. The pandemic has presented an opportunity to escalate digitalisation plans and collaborate with key partners to introduce initiatives ahead of scheduled timeframes. The key focus for us at Etihad Cargo has been to streamline processes and provide an enhanced user experience, which includes access to real-time monitoring and tracking. Key partnerships have fuelled our achievements during the past 18 months. Working with E2open our compliance screening processes were streamlined, CargoAi provided API accessibility for messaging, and automated customs compliance checks of all MAWB and HAWB. Etihad Cargo also became a premium member of Validaide to co-manage and co-share station facilities to more than 500 global customers. Through Validaide, we provide our customers with additional transparency on key information on our stations, including new SOP and lane risk assessment features, while reducing the time to collect and manage this information by 95 per cent."
Emphasising on the importance of technology, Mangal says, "Getting to technology and keeping it cost effective is the key. There is no point of bloating the price. With the help of passive packaging, one can move the much smaller cargo with the same temperature precision at much lower cost. The phase change material technology has enabled giving out the quality of an active system at much lower cost, enabling distribution of cargo. In short, pandemic has certainly impacted on the demand of technology in a big way and is no longer considered a cost rather termed as a product differentiator."
Investment: An expensive affair
According to Bose, "Talking from the investment point of view, cold storage trucks cost 2-2.5 times more than the dry trucks and similar goes for the warehouses to convert themselves to cold storages. The cost is pretty high. The answer to this is asset utilisation. Because cold storages are not filled for a good part of the year. Though the government is providing numerous subsidies for setting up cold storages, but due to fragmented network of information, it remains under-utilised. That is where Celcius created a marketplace, wherein the transporters and manufacturers could connect with each other. We leveraged the already existing cold storages to be utilised to the maximum. This is where the role of technology becomes important. With real-time traceability, from the point of manufacturing to consumption, accountability too rises which leads to greater efficiency."
Certainly, an expensive affair to invest in, but cold storage sector is growing rapidly. Thanks to the pandemic, every adversity leads to innovation, the cold chain industry is undergoing a paradigm shift, and people have already begun investing in anticipation of the industry's bright future in the next 10 years or so, revolutionising global supply chains.