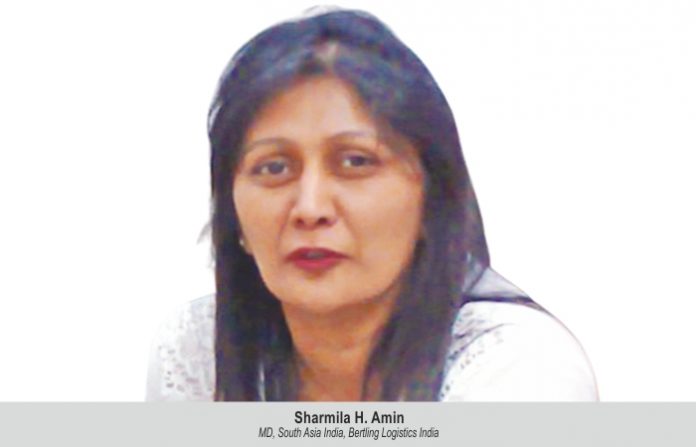 In the coming years, the logistics sector must be made 100 per cent digitalized, agile, multifunctional, spread across geographies, and truly open, says, Sharmila H. Amin, MD, South Asia India, Bertling Logistics India. She stresses on need to reduce technology and logistics cost, which are higher presently.
Ritika Arora Bhola
How do you foresee the future of logistics and air cargo industry?
The sector is critical for India's economic growth as it connects various elements of the economy comprising transportation, air cargo, warehousing, and other supply-chain solutions ranging from suppliers to customers. The logistics and air cargo markets are large and projected to grow sustainably over the next five years. The future of logistics will certainly be digitized, but also agile, multifunctional, spread across geographies, among others. That is exactly what the global economy needs.
What, according to you, are the key growth drivers?
In my view among the many growth drivers, these four are significant:
a) Customer expectation and demand: Quality products and services drive this in any business, particularly so in our industry.
b) Growth of e-commerce: e-commerce has been successful in providing freight companies and customers options that fuel the growth of its economy. It has influenced the success of every transportation business and continues to be the lead growth driver in the industry. The e-commerce growth will be significant for all freight and retail companies
c) Globalization: Globalization is the result of rapid expansion of companies worldwide, technological integration in infrastructure of companies, proliferation of different products, and logistics cost pressures. Different trends that are being harnessed by globalization and the industry will be complicated by its rapid growth
d) Cloud: Cloud-based ops have simplified supply chain management from small-scale to comprehensive businesses. It refines control and visibility in the supply chain. It is a powerful solution as supply chain involves big data to operate efficient management and tracking. It has made small to medium sized companies compete in the industry without any hassle of on-premises servers and applications. In addition, companies are upgrading services such as cloud-based solutions, which enable customers to use various options and functionalities they need to order from multi-channel services.
The crucial areas of concern include:
a) Cost savings: Critical to this are the fuel prices as they account for most of the increase in transportation costs. Increased fuel prices impose an additional surcharge on customers, increasing the total shipping cost or freight charge for products, affecting revenue, and earnings when fuel prices fall.
b) Enhancing business procedures and processes: Keeping up with new advances in business procedures is another challenge. As new opportunities arise, it is in the best interest to adapt and adopt these changes to improve service and operational efficiency.
c) Govt regulations: Logistics companies should adhere to stringent laws set by federal, state, and local governments. Transportation legislation and security measures differ from region to region, and educating all company staff about these guidelines can be a burden. These laws constrain the scope and autonomy of logistics firms and their ability to seek alternative viable options and prospects.
d) Technological barriers: The cost of logistics technology is relatively high, with only the largest logistics organizations able to afford top-notch technology.
How to do you think PMGS and NLP will boost growth?
Logistics firms are the backbone of every industry in a country. Whether it is agriculture, manufacturing, or simply moving things, it is hard to imagine an economy without adequate logistics and transportation. Logistics play a critical role in promoting trade and ensuring smooth operations. The boost that PM Gati Shakti National Masterplan and the National Logistics Policy receive with heavy infrastructure spending is tremendous. It will boost growth and efficiency. The PMGS, a 100 lakh crore national infrastructure master plan, will lay the foundation for holistic infrastructure and lay an integrated pathway to our economy. A single platform was launched for ministries to monitor the progress of various infrastructure projects under this plan.