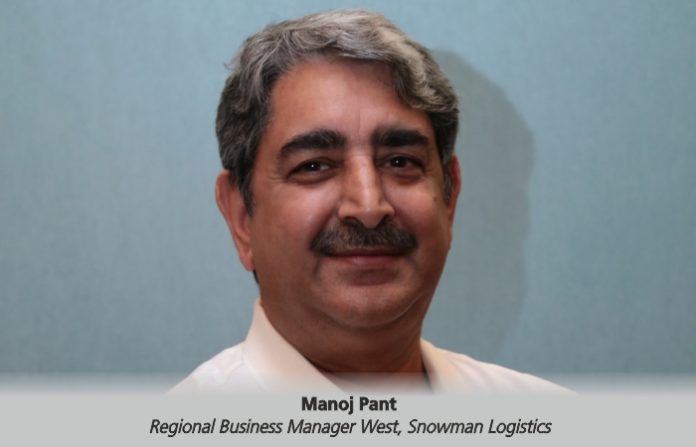 The hiccups experienced by the food storage and supply chain due to the pandemic are raising concerns on the food security of India. Manoj Pant, Regional Business Manager West, Snowman Logistics, highlights the need for a robust cold chain infrastructure to strengthen the supply and storage of perishables to suffice India's population. 
The outbreak of Coronavirus has brought global turmoil causing businesses to come up with disruptive models, owing to the changing customer emotions and buying preferences. As the demand for buying essentials surges, the cold chain supply in India plays a pivotal role in the storage of food perishables. As India is taking baby steps for unlocking business activities, here are a few growth pointers that will lead to growth of the cold chain industry post-COVID 19.
Government initiatives for expanding the cold chain supply – To boost the food processing infrastructure and streamline the agricultural supply chain, 27 cold chain projects are approved for integrated cold chain and value infrastructure under PM Kisan Sampada Yojana (PMKSY). India's report card on food wastage has always seen red marks. Even though the farm output has been setting new records year after year, a high proportion of the agricultural produce never reaches the consumers. According to the World Economic Forum, food worth $8.3 billion or nearly 40 per cent of the total value of annual produce is wasted. The wastage of perishables can be largely attributed to the absence of modern food distribution chains, too few cold-storage centres and refrigerated trucks, poor transportation facilities, and erratic electricity supply.
The cold chain projects will aid in establishing an integrated and seamless network of robust chain supply for the uninterrupted transfer of perishables, right from its production to consumption. The fisheries and seafood industry has experienced a halt in exports due to the pandemic, that led to an accumulation of surplus fisheries and seafood inventory. Fisheries and seafood being highly perishable in nature added with inadequate meat storage facilities meant huge losses.  To address such production and supply chain gaps in the fisheries sector, government has announced a ` 20,000-crore scheme under Pradhan Mantri Matsya Sampada Yojana. Out of this ` 9,000 crore is allocated to build infrastructure, like fishing harbours and cold chain, which will lead to a growth in meat cold chain storage.
E-commerce boom
Cold chain warehousing is an integral part of food e-commerce companies. With apprehension amongst the people to venture out for grocery shopping, buying essentials and grocery from e-commerce food platforms has seen a spurt during the pandemic. It is speculated that post-COVID might bring a behavioural change where the consumers might adapt to buying of groceries and daily essentials online. With people avoiding buying physically from the shops, many small and mid-sized shops are partnering with food e-commerce companies like Swiggy, Zomato, and non-food e-commerce companies like No Broker and Meesho to strengthen their home delivery infrastructure. The farm to fork model of the businesses requires fresh fruits, vegetables, and meat to be delivered to the consumers.
Rise of online pharmaceuticals retail and vaccine storage – Efforts to maximise social distancing has led to many e-commerce companies to enter the online pharmaceuticals retail in India. Owing to shorter shelf-life and stricter temperature requirements for storing, cold chain storage for online pharma is of paramount concern.  According to Frost and Sullivan, e-pharmacies in India are estimated to grow at a CAGR of 63 per cent to reach US $3,657 million (` 25,000 crore) by 2022. Cold chain storage facilities for pharmaceuticals are still at a nascent stage in India. But with the emergence of the pandemic, vaccine production, trials, storage, and distribution has pressed the need for developing cold chain storage for the pharmaceuticals. An efficient cold chain warehousing will reduce transportation costs since one-third of the revenue generated is spent on its logistics.
Rise of agri-tech companies and startups
Agri-tech startups use technology and innovation to enhance the efficiency and output of agriculture. India is home to 535 agri-tech startups that use technology to bolster agricultural productivity. Food security in India has been immensely impacted by the pandemic in four main aspects – availability, accessibility, stability, and utilisation of food. Disruption in supply chains and a decline in demand have caused a loss of production and income to the farmers and traders. Closure of mandis and QSRs due to the lockdown led to a surplus accumulation of perishables. Since post-harvest losses are highest in the fruit and vegetable sector, agri-tech startups can bridge the gap with demand-driven cold chains, warehouse monitoring solutions, and market linkages that can significantly boost farmer income. With innovations in technology like storage monitoring based on the Internet of Things (IoT), image sensing for quality grading and digitisation of mandis will prevent the wastage of perishables.
Organised meat and seafood retail
Online buying of meat and seafood has seen a spurt in the lockdown with benefits of last-mile delivery and contactless retail. People were apprehensive buying from the local butchers due to heightened concerns of hygiene and to maintain social distancing.  As per an analysis of the national health data by IndiaSpend and FactChecker, 70 per cent of Indian women and 80 per cent of men consume non-vegetarian food. The Indian meat industry is currently at US$31 billion and is expected to reach US$65 billion by 2022 at a CAGR of 20 per cent. The factors driving the online meat category are the rising disposable income, hectic schedule, and shift towards hygienic food urban consumers.