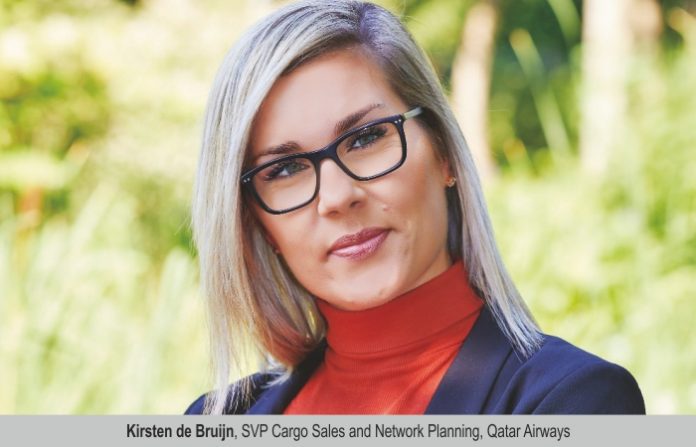 Focussing on end-to-end supply chain visibility and addressing air transportation issues and challenges faced, Pharma.Aero is a powerful international cross-industry collaboration platform for the Life Sciences and MedTech shippers. Kirsten de Bruijn, SVP Cargo Sales and Network Planning, Qatar Airways sheds more light on the same.
Priyanshi Bana
What are the advantages as a member of Pharma.Aero?
The main advantages are data sharing, lane certification and direct collaboration with other stakeholders in the air cargo supply chain and the opportunity to make impactful contributions that improve the cool chain of pharma and healthcare products which ultimately benefits the end user.
How will the pharma supply chain become stronger?
Pharma.Aero is a powerful international cross-industry collaboration platform for the Life Sciences and MedTech shippers, IATA CEIV certified cargo communities, airport operators and other air cargo industry stakeholders. With other members, we can contribute to ideas and projects that focus on end-to-end supply chain visibility and address air transportation issues and challenges faced by the Life Science and MedTech industry. This will ultimately benefit the end user of the product. Developing agility and resilience in the life science supply chain can create a stronger sector for all partners involved.
The demand for life science products is expected to grow in the next two decades and would represent a long-term opportunity for the Life Science and MedTech and air cargo industry. In order to capture and maximise the opportunity, the entire network right from manufacturing to the global distribution will need to come together and work collaboratively to ensure that the sector remains strong and agile, providing quality products to patients in a timely manner. In these uncertain and unprecedented times, the air cargo industry is facing more risks than ever before.  The key success factors are community collaboration, flexibility, transparency and harmonisation of standards. Through connection and collaboration, trust, transparent communication and interaction with all members and industry partners, Pharma.Aero tries to grow awareness in the industry and all new collaborations help strengthen this awareness in the pharma supply chain. With our expertise and experience in pharma transport, we have a lot to contribute as part of this membership and also learn from other stakeholders.
What are the challenges in pharma essentials?
Keeping cool chain products at the required temperature range is a colossal task that needs to be addressed by the shipper, the forwarder and the airline together. Through risk assessments and, as mentioned earlier, close collaboration between stakeholders, it is possible to ensure that the right route, the right solution, the right packaging is chosen to ensure the ultimate goal of patient safety through product integrity.
To address all such challenges, earlier this year, we signed an agreement with Validaide to provide customers detailed station capabilities and lane risk assessments on key routes at the click of a button. We are investing in advanced temperature monitoring systems at our hub to enhance visibility and control of temperature regimes across our facilities.
Is pharma the new future for air cargo?
Transportation of pharmaceuticals and healthcare products is already a key focus area for airlines and forwarders around the globe. As the demand for pharma transport increases year over year in order to reach all parts of the world, several companies are focusing on temperature management solutions to attract the high yield pharma transportation. Life sciences and healthcare will definitely be a focus area for air cargo in the coming years.