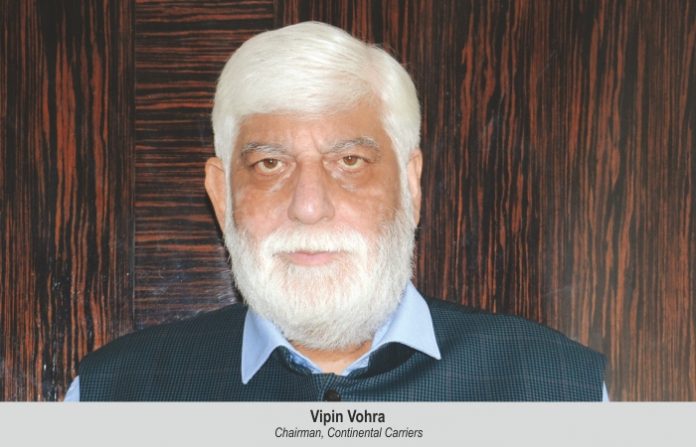 AFS Policy was announced in 2014 to increase air cargo volumes by decongesting air cargo terminals at global gateway airports to slash air logistics costs. Lack of Air Freight Stations will result in overloading of cargo at the terminals, says Vipin Vohra, Chairman, Continental Carriers. 
Ritika Arora Bhola
How are things shaping up in the new normal for air cargo and logistics industry?
The way things are changing, everybody must think about going digital. Logistics companies are investing huge amounts in digitalization. We at Continental Carriers are planning to invest in new technologies and software to enhance efficiency. Else, we will be left behind. We should highlight this on various platforms such as ACCAI or FFFAI. IT is overtaking everything.
Has COVID made the industry realize the importance of air cargo?
Yes, absolutely. The air cargo industry, over the past two years, has reshaped. Due to the pandemic outbreak, the industry faced a downfall and later shifted to the ferrying vaccines and perishables. Over the years, the industry has evolved, and its importance has increased manifold. The effect of COVID also led to the industry's transformation into digital modes. The air cargo ecosystem promises to grow in diverse ways and become environmentally conscious in the upcoming years.
With the onset of the pandemic, there has been a shift in shopping habits of consumers. With rise of e-commerce, companies have realised the importance of increasing the number of fleets and capacity.
The Union government has started putting so much emphasis on the cargo and logistics industry and NLP is a result of it. However, AFS is a big issue.  On 28 October 2014, the Union Ministry of Civil Aviation (MoCA) announced the policy norms on air freight stations (AFSs) to strengthen air cargo logistics infra in the country. This is a government policy and a project of 'Make in India' campaign; still, we wonder why MoCA is not starting AFSs in India. The AFS policy was announced to increase air cargo volumes by decongesting the air cargo terminals at the international gateway airports, thereby reducing air logistics costs for companies engaged in foreign trade.
Continental Carriers is the first company that made huge investment in the AFS, believing the Union government would respect the value of AFS Policy appreciating the idea of boosting the economy and bringing supply chain management on par with global standards. This has been a disappointing journey since the first Greenfield AFS of Continental Carriers was approved by the government on 8 August 2016. It has been so many years. We have been struggling with all the government departments but have so far failed since terminal operators have more say in MoCA/AERA/Logistics Departments of the Union Commerce Ministry and they are not interested that this concept gets started. I have been addressing the issue of developing and building AFSs at various conventions in the last few years, nothing has been done to resolve the issues. I have approached all the government bodies, but this issue is yet to be resolved. It was my father's dream to build a greenfield AFS in India and I will continue to fight for this.
How would you rate infra for cargo in India today? Is it good enough to move cargo or is there need for improvement?
The problem we all are facing is the space for warehouses closer to the airports. There are not many legal warehouses. It is a village land or aggravated land. It is difficult to get CLU done or chain land used. Every state has got its own policy. At all the airports the government has given ample land to these terminal operators, and they charge high rates. DIAL has built the warehouses, but the charges are so high that it is to get better space in a five-star hotel than in these warehouses. So, the Union government must look at all these things, because all these things are increasing the logistic costs.
PM Gati Shakti National Masterplan for multimodal connectivity infrastructure to various economic zones, has been launched by the government. It is a transformative approach for improving logistics efficiency and reducing logistics cost, with focus on integrating existing and proposed infrastructure development initiatives of different agencies, to ensure first and last mile connectivity, for seamless movement of people and goods. PMGS provides a comprehensive agenda for development of entire logistics eco-system in the country.
I have been giving suggestions for so many years that whenever you are given land to any private airports, you should earmark 10 per cent to 15 per cent of land just for cargo that will have agents and warehouse. They should give land on lease on the same terms on which they get it to the freight forwarders. Let them build their own warehouse, let them build their own infrastructure the way they want. This will help to enhance the trade.
I am happy that the government has supported for the establishment of AFSs to reduce costs involved in air cargo operations. AFS Policy will address various problems faced by the industry players by transferring many functions related to air cargo operations offsite since space at airports is expensive.
Also, if AFSs do not started running on time, the time is not far off when our airports will not be able to handle the EXIM trade. There be cargo lying outside the airports. Therefore, the government should look seriously and encourage AFS development.
There are issues related to the traffic rules where trucks are not allowed during peak hours. This leads to bundling of cargo in very few hours. During the daytime, the airports are empty, cargo is present only during the evening hours.
Do you think India needs more dedicated freighters to carry cargo from remote locations?
If you see the country's point of view, it is good to have more freighters. In India, having more dedicated freighters will create competition, which will reduce the prices. Today, there is a monopoly with one or two cargo airlines and cargo rates have not been fixed. But if there is competition, then if there will be more space, less cargo, and rates will come down thus reducing logistics costs. It is not feasible with high freight rates during the pandemic and for transit cargo, trans-shipment charges combined with terminal operator charges are high. This increases the product costs, and it becomes uncompetitive. We need more and more freighters because there is lot of air freight, which lays at the terminal for days and gets spoiled, especially perishables and food items. The government, in fact, suggested using defense aircraft to move cargo from Northeast and other far-off locations such as Andamans, but nothing has been done so far in this regard.
What are the crucial areas of concern now?
High 'logistics rate' is one of the major concerns. Also, there is a need to develop warehouses near the airports. We need more AFSs and 100 per cent digitalization of operations in India. India has the potential to become a global cargo hub in the coming years, but until and unless these issues are resolved, how can India move ahead? Launching new plans and policies will not help, but implementation and execution is important. Other developed nations have gone paperless completely. Other than going paperless, privatization of airports has impacted the trade in a big way. The industry needs to collaborate and work towards achieving growth.
Another area of concern, which is a hurdle to the air cargo industry, is complicated procedure and tariffs associated with these processes. There is no standard rate across the Indian airports for processing and handling of cargo at the air cargo terminals, which prove to be counterproductive to the competitiveness of the country's exports and imports and to the cost of air cargo logistics, as a whole.
In my opinion, Airports Economic Regulatory Authority (AERA) should fix processing and handling charges, which will be applicable across all airports and ensure that these charges are comparable to other airports around the world so that our export competitiveness is not impacted due to high terminal charges.
Tell us about your expansion plans or projects in pipeline?
CCPL is a company, which provides unparalleled logistics services that focuses on the changes that are impacting the logistics industry. It has 65 years' experience in air freight logistics, and relationships with many airlines and logistics integrators. CCPL is well placed and provides nothing but the best service. There is no denying the fact that the future of air freight logistics is changing and evolving with the times. With rapid growth in technology and expectation of delivery of goods, CCPL has plans to invest in cost-effective and beneficial solutions. These solutions, as and when implemented, are expected to increase revenue, reduce manual labour, and simplify the process. We are dabbling a lot of sea and air freight these days. During the pandemic, sea freight rates were very high, but now, sea freight has gained momentum and it has become feasible to move cargo via sea. I feel, with sea freight back in action, it is impacting air cargo as the air freight rates are still high. It is good that more airlines are coming up with freighters, there will be a competition, which will reduce the rates. More freighters will boost Indian EXIM trade.
Do you think India has the right skillset to use the advanced technologies?
We have the right talent. The only thing is that the talent is not being used in the proper channels—logistic industry. They are looking at different industries for better career options. We must make sure they are attracted towards logistics industry. The only worry I have got is if we will be able to implement digitalization fully. In the case of passenger plane, it is different. In a passenger plane, you buy a ticket, pay for the ticket by your credit card and fly and forget about it. Whereas in cargo there are too many formalities. Plus, the EXIM trade. They are used to getting credit for 30 days, 60 days and 90 days, among others. So, nobody is prepared to pay through their credit card upfront. There are other formalities such as custom clearance, pickup of cargo and taking it to the airport. If there are any issues the agent will solve them on their behalf. So that is my worry how successful we are going to be in this digitalization world. But we have the central government's support.