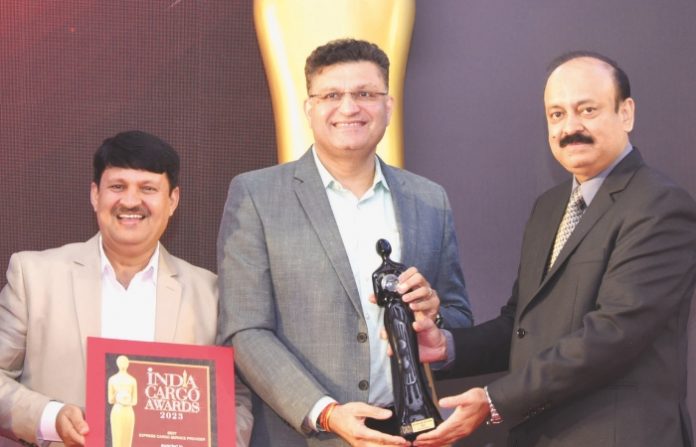 Blue Dart won the Best Express Cargo Service Provider Award at the recently held India Cargo Awards 2023 in New Delhi. Ketan Kulkarni, Chief Commercial Officer, says, e-commerce, FMCG, retail, chemicals, pharmaceuticals, automotive among others are likely to drive this growth.
Sara Haque
What is your vision for the air cargo industry? Where do you see the growth chart moving forward?
Given the progress in cargo infrastructure and technological advancements unfolding such as the emergence of specialized freight corridors, refrigerated storage facilities for movement of pharma, agri products, and perishables, transhipment hubs, top-tier warehouses, regional cargo centres, terminals, and extensive national highways, stakeholders in the industry are actively advancing toward realizing the Union government's goal of achieving 10 million tonnes by 2030. e-commerce, FMCG, retail, chemicals, pharma, automotive, and other industrial products are expected to drive this growth. Dedicated freight carriers are anticipated to play a pivotal role in achieving maximum capacity and cargo volume.
Growth of e-commerce and evolving consumer preferences are projected to fuel the expansion of the domestic cargo sector by increasing the demand for faster and reliable deliveries. As a trailblazer in India's express logistics sector, Blue Dart is positioned to leverage these growth opportunities. Our strengths encompass unparalleled coverage of 55,000 locations nationwide, cutting-edge technological integration, and a well-established brand reputation, all of which foster trust among customers seeking punctual and dependable logistics solutions. Our multimodal network, proprietary aviation fleet, and extensive ground infrastructure are poised for expansion. As an integral part of the DHL Group's DHL eCommerce division, Blue Dart gains access to the world's largest and comprehensive logistics network, spanning across 220 countries and territories.
What are the crucial pain points of the industry players at the moment?
For years, a persistent challenge has been the volatile price of ATF coupled with the devaluation of the Indian Rupee, which adversely affected lease and inventory expenses. The escalation of infra levies further compounds the cost burden. Ahead, the impending hurdle involves establishing efficient and economical logistics systems at tier II and III airports to feed into domestic hubs and global gateways, supporting the market reach of the hinterland, and extending the catchment area.
Tell us about your ongoing projects and expansion plans?
Blue Dart holds a first-mover advantage in technology innovations space. As a tech-driven company, we have plans to amplify our technological pursuits through generative Artificial Intelligence (AI). This enhancement aims to boost operational efficiency, provide revenue insights, and enhance our network. Blue Dart has introduced Digital Prepaid Cards. This addition streamlines booking management by offering real-time payment visibility, balance tracking, and instant recharge with highly secure OTP. The user-centric Blue Dart portal ensures seamless navigation, same-day shipping, and eliminates the need for a minimum balance.
Strategic investments this year have paved the way for a promising future. Our focus on capacity expansion is exemplified by introducing two new aircrafts. We have embraced automation and digitalisation to enhance our infrastructure and extend our market reach through retail expansion. With these initiatives, we are well positioned for sustained growth and remain steadfast in our commitment to harnessing technology and exploring novel opportunities. Our dedication to investing in Capex plans anchored in ROI remains unwavering.
Vipin Vohra, Chairman, Continental Carriers was felicitated with Best Innovation for  Greenfield  AFS Award at India Cargo Awards 2023 in New Delhi. AFSs can facilitate EODB, provide  additional capacity, streamline cargo handling processes, improve turnaround times, reduce costs.