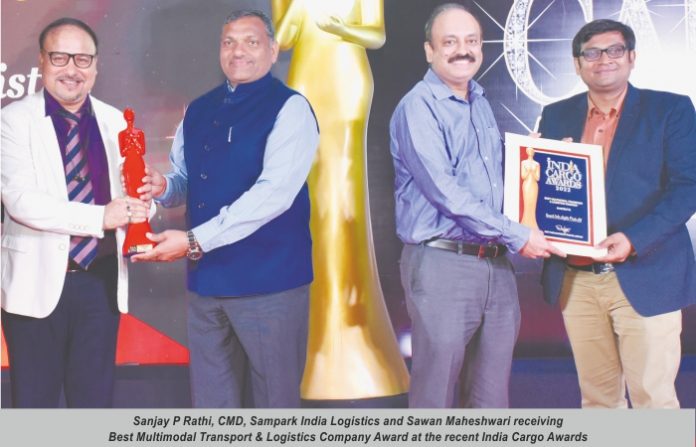 Despite pandemic-induced disruptions, Sampark India has recorded growth in its business activities in last two years in terms of network expansion, scaled up transportation business and ventured into contract manufacturing, says Sanjay P Rathi, Chairman and Managing Director in an exclusive interview with CARGOTALK.
Ritika Arora Bhola
Please share with us the growth strategies adopted by Sampark Logistics for 2022 and beyond?
Sampark India has been able to register growth in all categories of services. Our growth strategies for 2022 include targeting growth in the warehousing sector, scaling up the transportation business for Eastern India from different parts of the country and vice versa, network expansion across India has been accorded prioritiy and venturing into contract manufacturing would also play a major role.
What, according to you, will be the major growth drivers?
We are looking at digitalised operations and the role of data analytics. The sector combines AI, IoT, and data analytics, to improve its performance. Rapid infrastructure development by the Government of India would be the major growth driver.
What are the emerging trends in logistics sector globally and what are the areas which need immediate attention?
Some of the emerging trends in the global industry include growth of autonomous vehicles, 3D printing to produce products on demand, companies can change their business model to do just in time production instead of mass production and AI applications. Another trend is multichannel logistics, omni channel logistics and integrated 3PL services.
How important has it become for firms to design the supply chains of the future which are cost-effective, resilient and are able to meet ever evolving customer requirements?
It is inevitable. One needs to move with the pace, improvise, innovate, and digitalize. After COVID-19 impact has lessened, the companies are looking at LSPs who could help them optimise on their logistics cost, by offering them the fastest and the most innovative supply chain solutions.
How challenging has it become for LSPs to meet the customers' expectations considering the nature of the Indian market and existing bottlenecks?
Experts must take quick decisions and take quick action to sustain business operations to serve their customers, clients, and communities, as well as protect and support their workers. The reshaped supply chains of the future will need to be characterised by resilience and responsibility. These will help communities manage the short-term crisis and enable businesses to build around their customers and help economies rebound.
Could you elaborate on the strategies you are planning to devise to perk up the company's operations for efficiency in business and network enhancement?
Planning ahead minimises the scope of any problems and helps provide enough time to plan every detail, leaving nothing to chance. Few of the strategies which we have devised and will infuse in our company's operations. They are: creating robust network in east with the support of leading Regional LSP, thus making Sampark India equally strong across India—this is going to be a game changer.