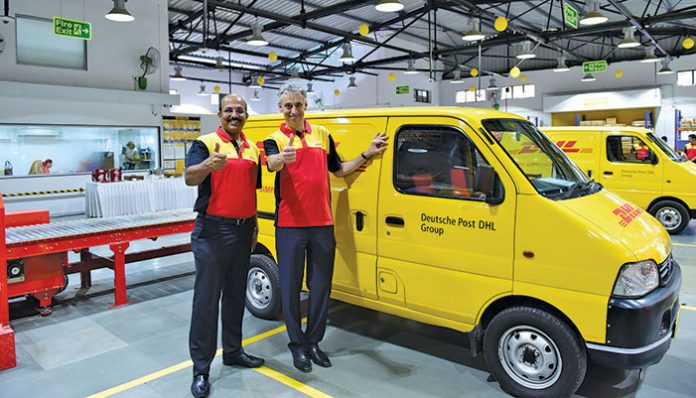 The Goregaon Service Centre is in line with DPDHL Group's climate protection goal of reducing emissions to net zero by the year 2050.
CT Bureau
Frank Appel, CEO, Deutsche Post DHL Group has inaugurated in India the first DHL Express Service Centre in the Asia Pacific region powered by solar energy. Located in Goregaon, Mumbai, the 25,000 sqft facility uses solar-powered panels that reduce the consumption of grid electricity by 30 per cent. To further support growth in the country, over the next three years, the company also plans to invest close to €45 million in new upcountry developments, upgrading and expanding its infrastructure and bolstering its retail presence.
The centre is the company's 45th service centre in the country, and the sixth in Mumbai, in addition to the existing centers in Andheri, Byculla, Thane, Vashi and Vidyavihar. The facility, which will enhance pickup and delivery network capabilities for DHL in Mumbai, continues the ongoing DHL Express commitment to invest in infrastructure, fleet, technology and people, to deliver high quality time definite delivery services to its customers.
Setting the benchmark
Globally, DHL Express has actively adopted green initiatives as part of DPDHL Group's GoGreen environmental protection programme. These initiatives are built on two basic principles of 'burn less' and 'burn clean'. "As our previous commitment to improve carbon efficiency by 30 per cent over the 2007 baseline by 2020 was achieved last year, four years ahead of schedule. This new facility in Mumbai is a great example of how we're improving business efficiency by enhancing our reach, and adopting green technologies across our network," Appel added. RS Subramanian, Senior Vice President & Country Manager, DHL Express India, said, "Over the years, DHL Express has undertaken strategic investments to strengthen our network capabilities to provide high quality time definite services to our customers. The Goregaon Service Centre is the first solar powered DHL Express Service Centre in the region, and can pave the way for increased use of solar."
Highlights:
• Company's 45th Service Center in India reduces grid electricity consumption by 30 per cent.
• Plans to invest approximately €45 million to further support growth in India with upcountry expansions, upgrades and bolstering of retail presence.