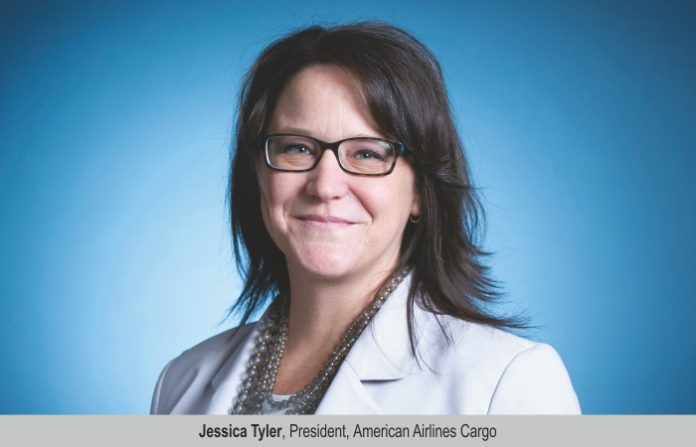 With accessibility and visibility playing a significant role, implementing technologies is proving to be challenging to become more nimble, adaptable, and efficient to meet customers' needs and expectations. Focussing on a customer-centric approach, Jessica Tyler, President, American Airlines Cargo shares details about the recent partnership with cargo.one
Priyanshi Bana
Do tell us about the recent partnership with cargo.one. What are the services being offered?
On June 16, we announced that American Airlines and cargo.one have entered into a strategic partnership. The partnership allows us to expand our network offering onto cargo.one's industry-leading e-booking platform for air cargo. Booking on American via the cargo.one platform will first be accessible starting in Europe later this summer, with global expansion following. Freight forwarders will be able to access our cargo capacity in real-time and book with instant confirmation.
cargo.one is an excellent strategic partner because of their state-of-the-art technology, customer-oriented interface, and modern product development that keeps up with the rapidly increasing number of freight forwarding customers using the platform. cargo.one's extensive data insights will enable us at American to regularly fine-tune the capacity we offer on the platform as needed.  Overall, the partnership with cargo.one marks another step in our modernisation journey and another way we are offering customers flexible and innovative solutions. And that's really our main priority, always looking for new ways to meet our customers' needs.
What makes cargo.one different?
I'm a strong believer that the cargo industry must continue to innovate to enable us to engage with our customers in a more personal, and definitely a far more efficient way. Flexibility and speed are more important than ever, and the industry needs to continue to find ways to quickly adapt. cargo.one's customer-centric approach puts us in an even better position to match those requirements. We've seen our customer base expand and demand for a digital booking experience has increased with the global pandemic, as well as ever-changing flight schedules. This has created an increased need for reliable, real-time capacity information and a clear overview of routes and services available. cargo.one meets these customer requirements, proven by its 700% growth rate in 2020, and also provides a fast, first-class booking experience and offers its partners like us a greater customer reach.
What major challenges do you see in the air cargo industry?
I think we still have progress to make when it comes to collective modernisation. It takes all of us, not just one player, to push the industry forward. We adapted to the challenges of the pandemic, but we never know what is around the corner. We have to be prepared to meet the world's needs, and that means working the way the world works. Our technology and tools need to match those of other industries if we want to continue to evolve. So I think the challenge is that we have work to do implementing technologies that can make us more nimble, adaptable, and efficient in the way we work together along the supply chain.
What are the plans and initiatives for the year 2021?
I believe that 5-year plans are things of the past. The pandemic has reminded us that we have no idea what may be around the corner – be it a challenge or a benefit. The best way to prepare for the unknown is staying agile and adaptable, and we MUST continue to look forward and evolve. We are at a pivotal time in our industry. I have used the term 'Adapt or Die' many times with my teams. We all may have paused on our future plans during the pandemic, but we can't stop now. We need to keep our continuous improvement mindset and look for ways we can adapt, grow and move forward.
We will continue to use modern technology and tools to provide our customers with an improved shipping experience. Our partnership with cargo.one is an example of that, as well as the automation and machine learning tools we are using in conjunction with our iCargo platform to create efficiencies for our team members and customers.
Do you think technology integration has become crucial?
Absolutely. I've said before that sometimes there's a sense of fear around technology change – and I love that. Change is good, and it's the only way to grow. The way we work might change, but part of the learning is learning to let the technology work for us. These technology integrations are aimed at doing just that.