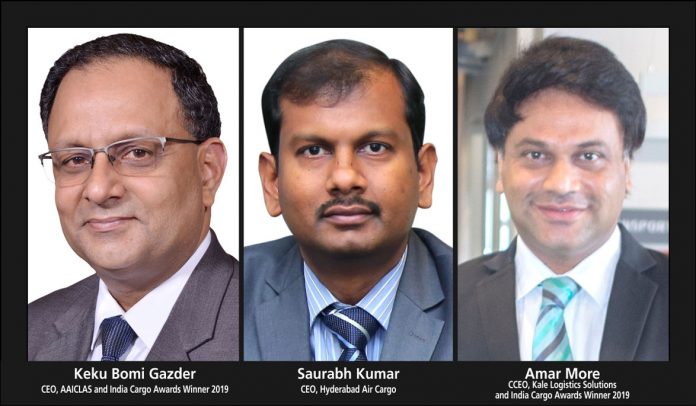 With a focus on 'how digitalisation is building and enabling confidence in the air cargo industry', CARGOTALK's digital conclave looked at how this pandemic has enhanced the use of technology in business. The industry has achieved more in the last four months as compared to the last four to five decades.
Kalpana Lohumi
Although the world's biggest lockdown brought every sector to nearly a standstill but air cargo is one of the few sectors that has not stopped working even for a day. With technology being its saviour, the industry has proved itself to be more resilient and agile to deal with the crisis within no time.
The first session of the third CargoTalk's digital conclave aimed at decoding how technology has come into play with this pandemic going on. The session was led by Keku Bomi Gazder, CEO, AAICLAS; Saurabh Kumar, CEO, Hyderabad Air Cargo; and Amar More, CEO, Kale Logistics Solutions.
COVID-19; an opportunity to take digitisation seriously
According to Gazder, digitisation is an enabler and not a revenue generator. He said, "It is a value-add to our industry which is long due. We are the land of IT professionals and yet we are not 100 per cent digitised. It seems to be a bit of a challenge to understand why we are not moving at least into an e-airway bill mode. We need to think even beyond paperless or digitisation which is to do with being contactless. It means less interaction in the physical world."
With a belief that the pandemic is an opportunity for us to look at digitisation seriously, Gazder said, "We have data, but we don't have big data; we have technology, what we don't have is adaptability to technology; we have the way, what we don't have is a will. The entire world is facing this problem but what distinguishes us from the rest of the world is the fact that they have moved at a much faster pace as far as digitisation is concerned. Leave the rest, look at how much the shipping industry and road industry have gone into technology. There is a huge gap between what we should be doing and what we are doing at this moment."
"Thirdly, this pandemic has given us the time to experiment with new technologies and relook at various processes. Let's not waste this crisis," stressed Gazder.
Adding to this, Kumar said, "The last four months have been a great time for us to think, rethink and innovate. Air cargo is a multi-decade industry but what we have achieved in last four months is many times of what we have achieved in the last four to five decades."
He added, "If we look at digitalisation, air cargo industry had started talking about new initiatives to reduce paper and to digitalise the processes, four to five years back. However, the process of adoption has been slow. If we compare ourselves with other industries as well, air cargo has been slightly slow in terms of adopting technologies. We started thinking about digitisation in the last four months when confinement has not left us with any other option."
He continued, "We started challenging ourselves to process the same amount of cargo with minimal number of people. The pandemic has led us to challenge the existing way and leverage all the existing technologies. The busiest people in the industry are the people who are giving solutions to the emerging needs. The pandemic has set a clear roadmap in front of airports and air cargo complexes to become more sustainable and resilient in the future in case of any such pandemic."
Technology, no less than a business driver
Taking about the role of technology in the crisis, More said, "Nobody could have envisaged a situation like this. However, an extraordinary crisis always leads to extraordinary opportunities. If we look at the attitude towards digitisation, technology has moved from a nice to have thing to a necessary evil to now a business driver. The role of technology is increasing in the industry; those who had the right technology could operate in those pandemic days."
Sharing facts right from 1978, he said, "In 1978, IATA found that average time to move an air cargo shipment anywhere across the world is 6.3 days. The association did that study in the first decade of the century also and the average time was still 6 to 6.1 days. Hence, nothing much has changed in 20-25 years. An average air cargo shipment accompanies 30 types of documents, 104 copies of paper because there are so many parties involved in it."
India should be leading, not following the world
Sharing the perils associated with paper, More calls paper just not a piece, it means delays, environmental damage and in some places it means corruption. He continued, "India is a big success story, we have come to sixth rank globally from 116. Our country is the world's IT backbone and we should not be following the world; however, we should be leading the world. In our industry, the time is now and we shouldn't be wasting this opportunity considering paper not only delays and damages but with COVID-19 it is a death threat because the virus stays on paper for three to four days. So, if we are handling more paper, we are putting our own staff and industry at more risk. Hence, we should use technology not just for paperless operations but contactless."
"If we leverage this opportunity, we will be at a different level of automation and this has happened in the past as well. After the 9/11 incident, most of the electronic communications got a major boost when US customs and border protections wanted information in advance. Our industry woke up and suddenly there was EDI flowing all around. Then the Yemen incident happened, and then there is big rush on providing a date before the aircraft is loaded. This kind of crisis has always created the pleading ground for higher technology adoption, and I am extremely confident it will take our industry, especially India to a new level," he added.
Government is ahead of the game
Talking about what government has done or what can we expect from the government to do, Gazder stressed on how CBIC has enabled the faceless and paperless evaluation of our shipments. Considering the two portals that the Ministry of Civil Aviation has rolled out almost two years ago and how ICEDASH has improved the monitoring of customs clearance of imported goods, the government is faster than the private sector in digitisation. He believes, "It is more for us in the industry to keep up with the government rather than asking what the government can do."
"The government is ahead of the game now, at least in India," said More. Government is used to issuing guidelines, however More believes, "They should move towards making rules and laws. Digitisation shouldn't be a guideline anymore; it should get translated into rules and laws."
Air cargo emerges with COVID-19
Commenting on how COVID-19 has changed the metrics, Kumar noted, "Airfreight was growing at a very fast pace in Asia-Pacific and particularly in India before COVID-19 happened. Another important thing to note is that in India the bulk of cargo goes via the belly of passenger aircraft and not via dedicated freighter aircrafts. When international flights stopped in the end of the March, we have missed out in the entire belly capacity and the only capacity which was available was freighter. However, in the last three months we have grown significantly as an industry. The freighter capacity which used to be a miniscule 25-30 per cent across the country has more than doubled, primarily on account of several passenger aircrafts getting converted into cargo (P2C) as well more special charters and additional freighters that started coming into India to facilitate the trade. The air cargo industry has seen a very encouraging recovery in the last three months. Having said that, if we compare air cargo with other segments of the industry, we are in a position where we are at least able to see the dreams of complete recovery. The recovery is few quarters away."
Speaking on the size of the new market, once the recovery happens in few quarters, Kumar highlighted, "In the last three months we have fundamentally realised that air cargo is a very significant component. It used to be an add-on ancillary, however, today the significance of air cargo is much high. The focus is on ensuring that supply lines are efficient and adequate capacity is available and people believe that air cargo is the most reliable and fastest mode of transportation that would still be available to the economy even if a similar pandemic hits in the future. There will be better growth after we overcome the threshold recovery in the next few quarters."
More highlighted the kinds of technologies that require navigating through this pandemic. He said, "Going back to pre-COVID and post-COVID, to understand that how can the industry be safer and more efficient, we have to understand the behaviour of the virus. This virus spreads through paper and social interaction."
He added that one has to consider the following facts.
The virus stays on paper for three to four days, thus, we have a war on paper. We have to strongly consider how we can eliminate paper in today's age when electronic data can be moved. Hence, first we have to ponder on any technology that eliminates paper.
Secondly, the virus can be stopped with social distancing so anything that causes congestion is damaging. Our air cargo complexes, around peak time, are crowded with many people at the terminal, at the documentation counter or queue of trucks; that also doesn't help social distancing. So, technologies that can reduce congestion are very important.
More emphasised on community systems or common platforms for the industry where no one needs to share paper anywhere. He said, "The exchange of data through these community platforms replaces paper. Secondly, to avoid congestion, one needs to inform the airport in advance about the time of truck arrival and do the documentation beforehand and not at the airport. This will not only help in avoiding congestion but also help in operating in a safer and efficient manner. Finally, for the industry to come out of this shock, we definitely need technologies that can help them reduce cost or earn more revenues."
On available technologies, he said, "The most pertinent technology is community platforms where we are replacing human interaction and paper with digital interaction. And, once we adopt them, the benefits are tremendous in terms of cost saving, customer satisfaction and transparency. I believe the time has come to adopt these technologies and to declare this war on paper."
Will P2C stay for long?
"P2C is here to stay but not for a long time. We should realise one underlined fact that there is huge amount of cargo to be handled. We were waiting for capacities to come and take the cargo. To address the demand of the market, the airlines quickly converted their passenger aircrafts into freighters. Hence, from the airline perspective, P2C is an opportunity to utilise aircrafts which were anyway there on the ground but can still be utilised effectively for carrying double or three times of typical cargo which it used to carry in a belly," shared More.
"P2C operates under a regulatory framework in India but people cannot stay away from travelling for long. Once it will bounce back, the same aircrafts will re-deployed and there will be less of P2Cs but still the overall cargo keeps increasing," he added.
Can technology replace manpower?
"Almost all the sectors have taken a beating but in cargo and logistics more manpower is still required. Today the industry is looking to consolidate and focusing its resources in critical areas. Some people may perceive this as a slowdown in cargo and logistics industry but it's very momentary. It is one of the industries which always requires more manpower, in spite of technology adoption in the future," pointed Kumar.
Bridge the gap
"Let's work towards everything that the government can do rather than what it is doing. While coming up with issues in front of the government, the industry should suggest a probable solution so that the gap between the problem and the solution can be minimised," opined Gazder.
UPDATES
We have data, but we don't have big data; we have technology, what we don't have is adaptability to technology; we have the way, what we don't have is a will. — Keku Bomi Gazder
In the last three months we have grown significantly as an industry. The freighter capacity which used to be a miniscule 25-30 per cent across the country has more than doubled. — Saurabh Kumar
The government is ahead of the game now, at least in India. They should move towards making rules and laws. Digitisation shouldn't be a guideline anymore; it should get translated into rules and laws. — Amar More