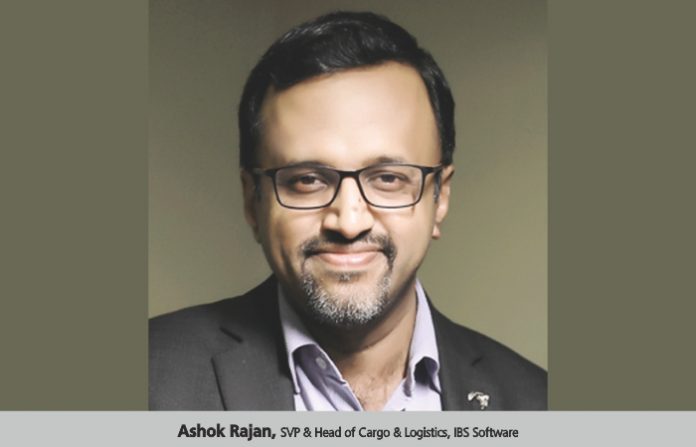 Air cargo is comfortably the most suitable mode for transportation of sensitive vaccine shipments because it can reduce transit time to a bare minimum. Ashok Rajan, SVP & Head of Cargo & Logistics, IBS Software, talks about the transformative role of digitisation in last-mile delivery of the COVID-19 vaccine.
The vaccine airfreight supply chain needs to overcome some critical challenges. Not only must shipments conform to pharmaceutical grade handling requirements, but the industry must be able to guarantee delivery of shipments urgently and completely reliably to every corner of the world – the all-important 'last-mile' of delivery. Global vaccine shipment is consequently a vast logistical puzzle.
Fortunately, air cargo has a secret weapon available that makes this puzzle surmountable; data. Digitising every step of the supply chain provides the ability to socialise mission-critical data with all relevant parties so that it can be used in real time to enable informed decision making. Embedding data collection in all process steps and distributing and analysing data efficiently will be a vital element of the industry's response to arguably its greatest challenge in a generation.
Digitisation will improve last-mile distribution in three major ways:
Extending the reach of airline networks – In the wake of the pandemic, most carriers are operating with smaller fleets and networks. This is a major impediment in their ability to deliver the vaccine across the world. However, the problem can be tackled if carriers could leverage each other's networks to create a system of large conduits between their hubs, and then serve locations throughout this enlarged global network.
The digital platforms that allow such complex networks to operate seamlessly will not only improve the reach of individual carriers, but also provide huge savings in terms of better capacity utilisation – which can help offset the cost of distribution of the vaccine.
Extending digital processes to third party handlers and small GHAs – Embracing digitised workflows that are driven by configurable rules that can guide processes through electronic work orders, electronic check sheets and process validations will ensure a much more efficient and effective supply chain. Plus they will unlock a huge treasure trove of data which can be used to fine tune the process, identify bottlenecks and drive further improvements in service quality. Digitisation will not only add value in the short-term, it will be a valuable asset for the future. Additionally, for airlines without established third party handler relationships, it can be challenging to establish partnerships and agree to processes and SLAs, which can cause delays. In some markets, smaller GHAs may have limited digital offerings. Extending digitisation to small GHAs lowers the bar for them to access latest digital tools to deliver superior quality of service.
Equipping the supply chain with the flexibility needed to cope with issues – Even the most carefully created transportation plans and standard operational procedure are only fit for purpose if the delivery system is resilient enough to understand deviations in the supply chain and react quickly to get it back on track. Smart digital systems can collate and make sense of data to identify potential issues which can be resolved before it results in catastrophic failure in the last mile.
A 'control tower' system can constantly monitor progress of critical shipments across the network and identify issues such as flight delays or missed milestones which can potentially derail the itinerary and put a huge risk on maintaining the integrity of the vaccine shipments. By working together as an industry to operationalise a progressive approach to air cargo digitisation, every party in the transportation chain can fulfil their responsibilities and the challenge of global last-mile vaccine distribution can be cracked.