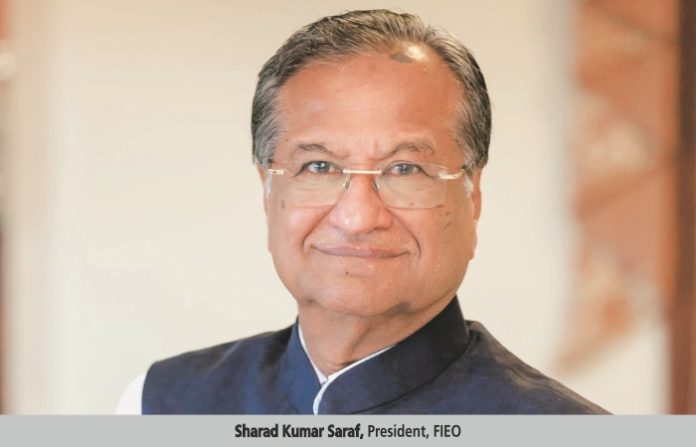 With pharma and agro sectors already doing exceptionally well, labour-intensive industries such as handicrafts, leather goods, garments etc. are following closely in its contribution to exports. Sharad Kumar Saraf, President, FIEO speaks on the comfortable position of exports in 2021.
Priyanshi Bana
Q With such a positive start this month, can we expect exports to return to pre-COVID levels for the full year? What is the order booking position for 2021?
For 2021, the order booking position is quite comfortable. Orders required by the exporters are well in place and the overall situation is quite good since our agriculture is doing great. We have excellent agro production and agro exports which will only go up. Another point helping us is that due to the slump in domestic demand, the export capacity is in a comfortable position. Most important is that the prices of all the raw materials have gone up, the cost of freight has risen, so in terms of valuation, it is on the rise. Thus, there are enough reasons to say that exports should do well in the coming year comparatively.
Q Will the state-wise lockdowns impact the growth trajectory? What is the solution to this?
It gives me immense pleasure to share that most of the states have exempted the exports production houses and all other services required by the exporters from the lockdown. For example, states like Maharashtra, Tamil Nadu, Rajasthan and others, have exempted the export units, big or small, and their offices are allowed to work without any disruption. Regarding the support from the government, for the first time we are seeing a very helpful and considerate approach by allowing the exporters to operate even during the lockdown. Once the present lockdowns begin to loosen up, I see things improving. Also, there has been a lot of learning from the pandemic such as the factories have learnt to follow the COVID protocols of social distancing and maintaining hygiene standards.
Q Beyond medical exports, which other industries do you feel will do well this year? Are medical exports a short-term growth or will this have a long-term impact as well?
Medical growth is not short-term, since there is a brand loyalty attached as far as the medical usage is concerned. Wherever our medical exporters have dug in, they are going to retain their customers. So I see no reason for the shortfall in terms of exports, rather I feel it is sustainable as far as this sector is concerned. Another sector close to pharma is the agro sector in terms of growth. In agro sector alone there are commodities such as pulses, rice, wheat etc. apart from fruits and vegetables for which the exports are already taking place.
Apart from agro and pharma, labour-intensive sectors like handicrafts, leather goods and garments will also do quite well since their hands are full on orders.  The only sector which has some challenges is engineering where the price of steel has gone above the roof and is creating problems in competition with other countries. Therefore, it is unable to register the growth like other sectors. By and large we are in a strong position.
Q A lot of airlines have doubled the air cargo fleet and are offering quick solutions. What is your take on this trend?
There is a phenomenal rise in demand for goods to reach fast, especially in the pharma sector. With perishable items, airlines have increased their cargo fleet. At the same time the logistics sector has become very efficient, offering some very innovative services and solutions. Apart from increasing the air cargo, the shipping and surface transport are doing equally well.
The only hurdle faced is the container problem. My suggestion would be to be self-sufficient to have container manufacturing in the country under Atmanirbhar Bharat. Secondly, we need to have our own Indian flag vessel. It is sad that we do not have that. We are remitting all the freight abroad which is a big drain on our foreign currency.
Q Should exporters explore new markets? Will the traditional markets continue to grow?
Traditional markets will continue to grow. As far as the new markets are concerned, there are hardly any left. Countries like Japan where our penetration is quite low and others like Kazakhstan, Uzbekistan are still out of our reach due to a pending freight corridor which was to come up through Iran. Apart from this our exporters are well connected to maximum countries.
Q Is there a change in the customer behaviour under the new normal, what has influenced this change?
Yes, there is certainly a new normal behaviour. Earlier, a customer would insist a lot on the visits or physical interactions, which no longer persist. The customers are now able to take decisions much faster as compared to early times. Also, it is a result of our reputation as a stable supplier which has gone up. We are now a preferred source rather than a secondary source. There is also an anti-China sentiment which is prevalent even now due to which we have seen an increase in enquiries from Europe and US in particular.
Q What is your take on last-mile connectivity in the country currently?
There is nothing in particular which is holding us back. One thing I would like to point out is the clarity on RoDTEP (Remission of Duties and Taxes on Exported Products) rate. In these times, profits have disappeared completely. The exporters are exporting with scrapings on their profitability. We are running exports just to keep the wheel moving. That cannot last long. If we want sustainable exports, then RoDTEP rates would have to be declared without any further delay.
Q How do you recommend accelerating the digital transformation in the export sector?
Digital transformation is the most happening thing today. It is happening out of necessity since the exporters are also working from home. At FIEO, we have created digital trade fairs which used to be physical events earlier.
It is so convenient watching the same from home. Similarly, we are working on our export-import documentation to become fully digital, leaving few areas which need to be addressed. Offices of Customs and DGFT are almost fully digital. A digital revolution is taking place out of necessity.
Q What best practices have exporters adopted and what can other industries learn from them?
The most important practice our exporters have adopted is COVID compliance. Second is technology upgradation. The exporters have realised that technology upgradation is the key to improve productivity and quality. With that said, it is a surprise to see that exporters have been able to produce the same quantity with 25% less workforce who have either migrated or is unable to come to work for unknown reasons.
From my experience, I can say that earlier our industry shied away from spending on technology, but I can say with full confidence, 'money spent on technology earns much more returns than anything alse'. By technology, I mean both digital and on the production front since we now have very sophisticated tools and a lot of automation happening which the industry needs to adopt. Our exporters are showing keen interest on this.