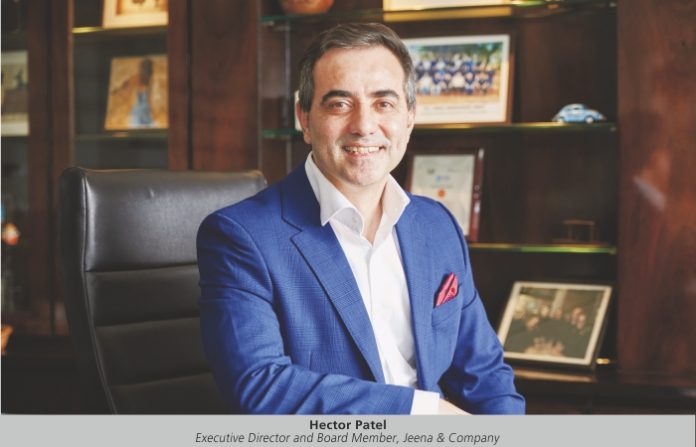 An efficient and optimized supply chain is significant for companies to keep face challenges and improve efficiency. New technologies, Hector Patel, Executive Director and Board Member, Jeena & Company, believes will not only make operations smoother but also hassle-free.
Logistics sector is witnessing transformation owing to rapid change in consumer habits and preferences. Businesses are investing in supply chain technologies more than ever as crises like the pandemic have exposed the loopholes, which are yet to be addressed by the logistics industry. According to a recent report, 50 per cent of global product-centric enterprises will have invested in real-time transportation visibility platforms by 2023.
The e-Commerce industry in India is flourishing and much of its success can be attributed to the logistics companies' ability to keep pace with modern day demands. An efficient and optimized supply chain is the key to success for most businesses and automation is imperative today to combat challenges and increase efficiency. Going forward, new technologies will make supply chain operations smoother and hassle free.
Listed below are a few of the logistics and supply chain trends that highlight the significant areas of change in the sector going forward in the New Year.
Digitisation will gain more prominence
Digitization enables supply chains to be faster and granular. There is an increased need for end-to-end transparency throughout the supply chain so that stakeholders can make decisions based on real-time insights. In the coming years, the companies will invest heavily in cloud technology and leverage data to optimize processes and sense disruptions in the supply chain. While until recently data silos were a problem, digitization can eliminate the risks associated with data silos and integrate processes. It keeps things cohesive and connected, aggregating information from across the entire supply chain, improving forecasting accuracy and enhancing cash flow.
Drone deliveries could be a game changer
Drone deliveries is a new trend with the potential to change the logistics landscape forever. Drones can escape the traffic menace and reduce carbon emissions, promoting a sustainable transportation practice. The Drone Liberalization Policy introduced this year would be a major catalyst in boosting the drone delivery service, paving the way for innovation and widespread adoption of drones by the logistics companies in the future. In this backdrop, the drone logistics and transportation market is poised to become a  US$ 11.20 billion market in 2022. Apart from vaccines and pharma supply chains, in the coming years, drones would be largely used for food, grocery and medicine delivery.
Last mile services will assume greater importance
Consumers today want quicker and speedy delivery and the companies are striving to develop new technologies that can help them resolve the last mile delivery problem. Crowdsource technology is a key trend to watch out for as it facilitates on-demand deliveries. With retail giants such as Amazon catering to customers with their lightning speed delivery, it has raised the benchmark for other companies. Logistics companies that are lagging behind in terms of last mile delivery are at the risk of losing their business to their tech-driven rivals. With the consumer's reliance on online shopping and want for instant gratification, last mile delivery has become a prerequisite to survive in this competitive market. Drone deliveries are picking up in congested urban areas and the global last mile delivery market is expected to reach US$200.42 billion in 2027.
Green vehicles will gain more traction
With rising concerns about carbon emissions owing to increased demand for logistics services on account of expanding ecommerce, there is a shift towards greener transportation alternatives. The global electric truck market is projected to reach $1,893.1 million by 2027 and this growth can be partly attributed to logistics companies replacing their fleet with greener vehicles. Not just trucks, electric two-wheelers, three wheelers and light commercial vehicles are also in demand as adopting such sustainable practices provides with remarkable benefits such as lots of torque, low levels of pollution, reduced maintenance cost among others.
Reverse logistics operations will become more optimized
Customer product returns, failed delivery attempts and damaged product returns necessitate optimization of reverse logistics. The return experience matters just as much as the delivery experience and companies are leaving no stone unturned in enhancing customer satisfaction. Companies will invest in big data and blockchain technology to achieve efficient, customer-centric reverse logistics. Companies are focused on reducing fleet costs arising from reverse logistics (both planned and on-demand) with data reporting enabled on every node in the supply chain.
In a nutshell
With digitization leading the way and the supply chain companies resorting to automation and new transport concepts for menial and repetitive tasks, it is safe to say that there will be transformation in all facets of the logistics industry in the coming years. The key trends mentioned above will play a pivotal role in addressing new customer requirements and proactively resolve supply chain challenges with advanced forecasting approaches aided by technology.