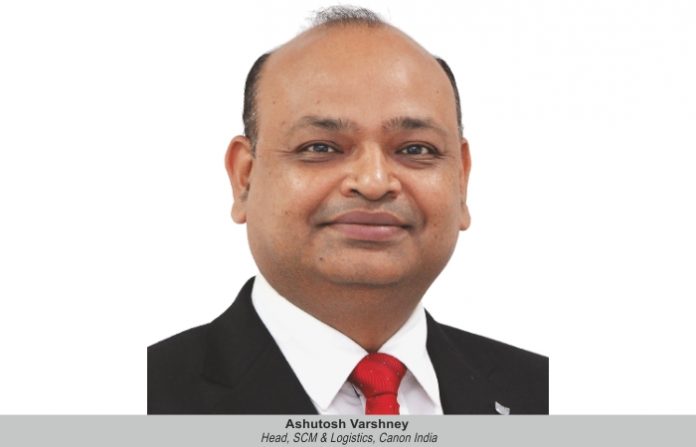 We have kept our supply chain up and running by adapting to changes and being responsive to needs of our customers. We have continued to operate with agility and are ensuring product availability to our customers, says Ashutosh Varshney, Head, SCM & Logistics, Canon India.
Bryan
How has digitization of business processes become more of a necessity than a value-added proposition?
With a rising focus on technical innovations and changing consumer preferences, the need for integrated supply management has become important than ever before. Digitization and automation of business processes has become more of a requirement than a value-addition for product companies looking to develop their customer base. We have implemented an Integrated Information System (IIS) through systems such as Electronic Data Interchange System (EDIS), through which order data can be transferred between Canon and suppliers. We have an online application for our esteemed partners to books orders and track their deliveries. At Canon, we believe in innovation and the best use of technology, which has assisted us in improving the demand forecasting of our supply chain ecosystem.
How has supply chain management evolved to be considered as a prime driver for any business in India?
Supply chain management has indeed moved from playing a 'behind the scenes' organizational role to being a 'prime driver' of the company business. As the world adapts to post-COVID reality, with heightened levels of economic, political, and climatic uncertainty, organizations need to focus on building a supply chain model that is truly agile to remain profitable. Adding to this woe is the current supply disruptions due to semiconductor shortage, which has cascading effect on finished products availability.  In the time of crisis, we, at Canon, evolved our supply chain and shifted focus to cater to all our customers in managing their delivery expectations. So far, we have been able efficiently tackling the disruptions arising within the supply chain with determination and
service innovation.
We have kept our supply chain up and running by adapting to the changes and being responsive to customer requirements. We have continued to operate with agility and are ensuring product availability to our customers. With a robust business continuity plan (BCP) in place, we have adapted to customer demands. We have been adapting to the various scenarios and prioritizing the availability of our products in the shortest possible time.
How is Canon leveraging emerging technologies such as Artificial Intelligence, Machine Learning, Big Data in your supply chain process?
Technology advancement is playing a key game changer in supply chain management. In the era of digital transformation, several technologies have come together to create powerful tools that are reshaping industries across the globe. As the world changes, innovations such as Internet of Things will bring about unique transformation and empower India's logistics ecosystem.
At Canon, our guiding principle is Customer Delight and hence we use best-in-class technology for our supply chain management. Our integrated information system (IIS) has supported us in delighting our customers. Visibility of the customer needs, incoming supplies, transit flow and the like enables us to provide accurate updates to our sales team as well as customers. It also helps us plan the required infrastructure well in advance to execute the deliveries to the customers.
Our logistics partners are some of the leading names in the industry and the coordination we have established with them is more of a technology aspect. Like us, their systems are updated to the recent requirements—IoT sensors, vehicle telematics, and other collaborative tools, enabling better transparency and visibility on the supplies and shipments through a securely integrated end-to-end ecosystem.
Automated information exchange with suppliers and vendors, deliveries as per customer preferred schedule, world-class warehouses, advanced MHEs in warehouses, and same-day delivery, are some of the examples of the best-in-class innovations we use in this domain.
What role does data play in supply chain management?
Data management plays a significant role in resolving supply chain pain points at strategic and operational levels. Data analysis has become the key to keep up with supply and demand. For instance, cloud computing is an effective technology in today's scenario that helped organizations in optimizing asset utilization and enabling easy access to data. The use of technology can bring the much-needed transparency into the supply chain process. It allows the manufacturing companies to have better control over product flow and information flow across the journey.
Data management and analysis can help supply chain managers determine optimal inventory levels and optimize their critical resources. In this fast- paced world, data management allows to gather accurate product information, which improves traceability and streamlines distribution as Data is the new currency.
How is digital transformation bringing unique transitions and enabling logistic ecosystem in India?
The digital transformation has increased the opportunities in India and made everything easier for business to function. Also, the shift towards e-commerce amid the pandemic has created a fertile ground for logistics ecosystem. India is at the cusp of a digital revolution and the logistics segment has been an active adapter of digital transformation.