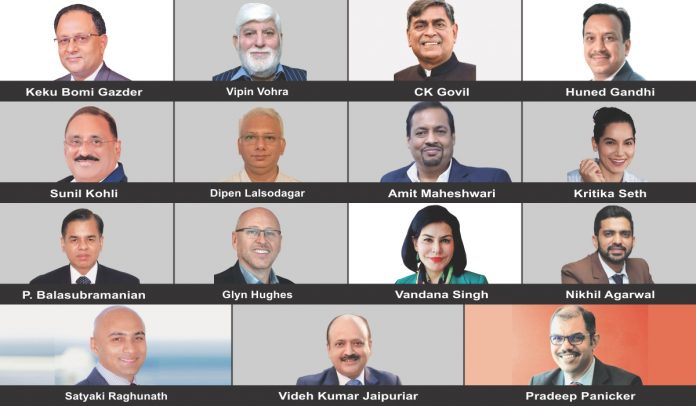 The industry must enhance airport facilities during the Amit Kaal, ensuring efficient operations and faster TAT. Developing dedicated transshipment hubs will allow better utilization of belly and freight capacities. India's location between trade routes positions it as a prime transshipment hub for global cargo.
Ritika Arora Bhola
India possesses the potential to transform into a global cargo hub due to its geographical location, growing economy, and improving infrastructure. Experts said to achieve this vision, the logistics and cargo industry should focus on several key strategies.
Firstly, leveraging its geographical advantage is crucial. India's location between major trade routes of the East and West positions it as a prime transshipment hub for global cargo flows. The industry should enhance its airport facilities, ensuring efficient operations and faster turnaround time for airports. Developing dedicated transshipment hubs would allow better utilization of belly and freight capacities.
Secondly, infrastructure development is paramount. Expansion and modernization of transportation networks, including roads, railways, and airports, are essential to facilitate seamless cargo movement. Developing intermodal transportation hubs would enhance connectivity, efficiency, and cost-effectiveness. Simplified customs procedures reduced bureaucratic hurdles, and digitization of documentation would accelerate cargo processing. This would not only enhance the EoDB, but also reduce delays and associated costs. Investing in technology and innovation is vital. Implementing Artificial Intelligence, Internet of Things (IoT) solutions, Blockchain, and Data Analytics can improve supply chain visibility, enabling real-time tracking and monitoring of cargo. Automation and robotics could expedite cargo handling, ensuring quicker TAT.
Skill development and training play a significant role. A well-trained workforce equipped with the latest industry know-how can improve operational efficiency, safety, and customer satisfaction. Fostering partnerships and collaborations is key. PPPs can expedite infrastructure development, while collaborations between logistics companies and e-commerce platforms can create synergies and tap into the growing e-commerce market.
Finally, sustainability should be a core focus. Implementing green technologies, optimizing routes, and reducing carbon emissions would align the industry with global sustainability goals and attract environmentally conscious clients. takes opinions of industry stalwarts.
Transhipment hubs for utilization of belly capacity
The Union government is taking different measures to promote growth of the air cargo industry. Initiatives such as the National Civil Aviation Policy, establishment of dedicated Air Freight Stations (AFSs), development of integrated logistics parks and the National Logistics Policy. These reforms will help India achieve 10 million MT by 2030.
The Union government's vision of achieving 10 million MT of cargo by the year 2030 is an ambitious target. The air cargo industry is experiencing a steady growth, however, there are many challenges to overcome to achieve the central government's vision, such as inadequate infrastructure, lack of skilled manpower, high costs and inadequate dedicated freighters among others.
The air cargo industry is trying to serve as many stakeholders as possible. However, with time, the industry will realize that the key was to pre-prepare for any obstacle. Creating cargo hubs will help in optimizing operational efficiency and cutting costs by consolidating cargo in larger hubs before ferrying it to smaller spokes. This will allow linkage between different locations and improve overall logistics and transportation. The Union government, through its subsidiary AAICLAS and private airports, will continue to invest in and develop more retail airports. With the cargo flow coming from tier II and III cities, this is going to be a major move forward.
How the airports are going to develop will depend on how much business is going to come. Regional airports will play a vital role in ferrying cargo from distribution points. New airports are being developed as MMCHs, with air/ports/sea/road/rail linkage. Improving infrastructure, streamlining paperless process and enhancing ease of doing business are ongoing efforts. As technology advances, emphasis is placed on digitization, automation, and use of electronic documentation to simplify processes and reduce paperwork.
CARGO HANDLING PAIN POINTS
To realize India's dream of becoming a global cargo hub, the industry should adopt the following key strategies:
Infrastructure development: investing in expanding cargo handling processing facilities of global standards, integrating technology for efficient cargo handling, and reducing touraround time. Introduction of new globally accepted cargo handling facilities, such as air freight stations at off-airport locations to reduce the congestion at the cargo terminals.
Multimodal connectivity: enhancing connectivity between ports, rail, road, and air transport networks to facilitate seamless cargo movement across various modes of transportation.
Digitalisation: embracing digital technologies in order to optimize supply chain operations, reduce paperwork, and enhance transparency.
Customs and regulatory reforms: simplification of cargo clearance procedures and reduction in bureaucratic hurdles to improve ease of doing business.
HINDRANCES
Infrastructure bottlenecks: inadequate port and road capacities coupled with congestion issues, hinder smooth cargo movement and cause delays.
High transportation service provider charges for transhipment cargo: high transportation service provider charges reduce the movement of transhipment cargo. Reduction in logistics costs will bolster competition, leading to increased transhipment cargo movement, aligning with the cargo hub vision.
Lack of technology adoption: limited implementation of advanced technologies leads to inefficiencies, lack of transparency, and data fragmentation.
Skilled labour shortage: shortage of skilled workforce and specialized talent in the logistics sector hampers efficient operations.
Inconsistent policy implementation: Fluctuating policies and inconsistent enforcement create uncertainty for businesses and investors.
Environmental concerns: environmental regulations and sustainability initiatives impact cargo handling practices, necessitating investments in greener logistics solutions.
Intermodal connectivity: insufficient integration between various modes of transportation results in disruptions and increases costs.
DIGITAL FREIGHT CORRIDORS MUST
The world looks up to India for supply of pharma and crucial consumables such as rice. A focus on infrastructure and air cargo-related policies can help make the country a global air cargo hub. For instance, Open Skies Policy, lower taxes on air exports, focus on reducing ATF prices to improve air logistics costs, pushing digitalisation, and embracing Artificial Intelligence in processes are some of the steps that can work wonders for the air cargo industry.
Besides, the idea of digital freight corridors has been floating in the industry for quite a while now. These digital pathways optimize flow of large volumes of cargo data between two nations or air cargo authorities. This idea can promote a real-time exchange of information on shipment visibility between two parties. A step was taken in this direction when Kale Logistics signed an Memorandum of Understanding with Cargonaut in 2018 to facilitate a digital air corridor between Mumbai and Schiphol airports.
Inadequate government support and infra to handle transhipments and perishables, and Goods and Service Tax imposition on export freight are detrimental for air cargo growth and impact the industry's momentum for achieving 10 million tonnes by 2030. The breakdown of ICEGATE results in goods are not being cleared/missing deadlines/additional terminal charges and air freight rates.
Slowdown impacts cargo growth
India has the potential to become a global cargo hub. Growing steadily, we have been on the map for local and global airlines who continue to express a deep interest in the Indian growth story. We have the right focus on significant topics such as digitalisation, automation, efficient process and are also making significant advances on road and airport infrastructure, these are the key components to facilitate a global cargo hub. Indian flag carriers are rapidly increasing their fleet size to be formidable soon. The only pain point as of now is the slowdown of economic pace, especially in the European markets that are impacting the volume growth globally.
Achieve improved air cargo vision
India has the potential to become a global cargo hub to facilitate a seamless air cargo movement. However, to achieve this, certain vital initiatives must be taken by the government and supported by the industry. At the outset, we need to develop infrastructure and technology at many strategic airports, apart from infusing seachanges in the existing ones. Such airports must be equipped with warehouses to store high volume of cargo coupled with cooling and dangerous goods centres.
The state of the art equipment also needs to be stationed at the said airports in a bid to encounter any eventuality. All efforts must be made to achieve paperless transactions entailing the formalities, thereby making an optimal usage of digital platforms. The staff positioned at the airports should also have the adequate knowledge of the jobs and must be competent enough to handle any situation arising out from time to time.
Though the government has introduced Prime Minister's Gati Shakti and National Logistics Policy, many more actions are required. Cooling centres, required to store perishables such as vegetables and pharmaceuticals at the desired temperature, are not found at a few Indian airports handling the flights on global routes.
Coordination is required among the agencies involved at the airports for smooth handling of cargo. Any improvement regarding paperless transactions is still awaited. The government thus needs to evolve a comprehensive plan after assessing the infrastructural and technological requirements at every airport in consultation with all stakeholders, including the cargo trade functionaries and the few airports, to begin with, which are designated as global hub, should be improved to achieve the desirables.
Liberalization of customs rules
India can provide the best connectivity between Europe and the Far East geographically. India can convert several airports into numerous freight hubs because it has the most airports in Southasia and a constantly changing infrastructure. Multimodal operations can connect several seaports. To achieve this vision, we need the following:
Liberalised aviation policy for seamless connectivity
Bigger cargo terminals, which are technologically advanced and with skilled manpower to handle huge volumes
Good infrastructure for multimodal connectivity
Liberalized customs regulations for global cargo transfer and single window documentation between sea and air links
Airport infrastructure requires bigger and modern infrastructure and skilled manpower
Implementing paperless process is the need of the hour
Liberalised customs regulations to handle international transfers between airports and seaports.
Single-window customs clearance vital
Infrastructure development is vital. Enhancing the cargo capacity and efficiency of the major ports and airports to handle increased cargo traffic is very important. A strategic investment in rail, road, and waterways to improve multimodal connectivity to these ports and airports is the need of the hour. We need policy reforms that are in step with international best practices.
Regulations need to be simplified and standardized to make cross-border trading more efficient. A single-window customs clearance system needs to be created expediting imports and exports. We must invest in the latest logistics software solutions to ensure real-time tracking, efficient operations, and compliance management.
At Softlink Global, we have seen first-hand how digital solutions can reduce costs and bring in consistency and predictability in forwarding operations, revolutionizing the cargo landscape. Limited technology adoption is a major hindrance in the industry today. The absence of uniform and advanced technological systems for tracking, compliance, and operation management results in inefficiencies.
On the other hand, adoption of technology necessitates robust cybersecurity measures, which might not always be in one place. Now, envisioning grand ports and a digitalised logistics network is fantastic, but the reality check is in the financing. High costs and a fluctuating international economy make consistent funding a concern. Heavy investments are needed for infrastructure development, technology adoption, and training, which might not always be readily available. We need a workforce equipped with the nuances of modern logistics management.
As industry leaders in enterprise software technology, Softlink Global itself has taken the initiative to upskill logistics professionals by creating a Logi-Sys Certification Programme. We are looking to make it independently available soon, after a successful collaboration with Mumbai University and Garware Institute of Career Education and Development that saw the first batch of students receive their certificates. Other pain points such as high interest rates, high taxation, inconsistent laws and guidelines across India, labour issues, slower TAT in freight forwarding operations across ports and airports also need to be attended to, as a part of India's endeavour to become a global cargo hub.
Streamline border cargo movement
India has the potential to become a international cargo hub due to its strategic geographical location, growing economy, and a vast consumer market. To make this happen, some strategies that the industry should adopt and are in the process of adopting, have been mentioned below.
Firstly, infrastructure development should be prioritized. This entails modernizing and expanding airports and ports to handle large cargo volumes, while also improving road and rail connectivity between major cargo hubs. Next, it should proactively invest in advanced technologies such as Artificial Intelligence (AI) and IoT for efficient real-time tracking, analysis, and automation.
Concurrently, implementing policy reforms to simplify customs processes, reduce bureaucracy, and offer tax incentives to boost the logistics and cargo sectors.
Another important idea is skill development through dedicated training centres for the industry workforce. Additionally, focus should be laid on promoting environmental sustainability by encouraging the use of green fuels and technologies in transportation practices.
Finally, in its pursuit of becoming an international cargo hub, India should strengthen domestic manufacturing through 'Make in India' initiative, expected to lead to a rise in export cargo. India is also proactively seeking partnerships with international cargo players and logistics companies, while participating in agreements that aim to streamline cross border cargo movement.
All these strategic actions are aimed at strengthening India's role in the worldwide cargo and trade arena. India's journey to become a global cargo hub is hindered by several challenges. Inadequate infrastructure leading to congestion, complex regulations and customs clearances causing delays, and high operational costs.
The lack of modern technology and unskilled labour impact efficiency. Additionally, the absence of integrated logistics solutions results in fragmentation within the cargo supply chain. Addressing these issues requires strategies involving infrastructure enhancement, regulatory reforms, technology adoption, skill development, and integrated logistics frameworks. Overcoming these challenges is essential for India to realize its ambitions in the global cargo arena.
Digitization, reduction of dwell time must
Mindset change is required of those in the government apparatus who find it difficult to look at the requirements afresh without compromising basic safety and security principles and national interest. Industry must not focus on the interests of their little sphere alone and ignore the larger picture of country's interest.
We have reached a stage where the industry stakeholders are expected to follow the best practices and raise the bar by ushering them through a paradigm shift.
To cite a few examples, adoption of digitalisation from customer service to service recovery to operations instead of relying on paper, innovation in reducing dwell time at the cargo terminals with support from other stakeholders, facilitate effective utilization of resources at the air cargo terminals through forwarders utilizing 24×7 operations.
The crucial pain points include requirement for a comprehensive transhipment centre facilitating regulatory framework, effective utilization of scarce air cargo terminal real estate through breaking of barriers mandating segregation of export and import cargo, reversing the decision to stipulate maximum age for instructors of dangerous goods, which is not prevalent anywhere internationally, to ensure the country to meet the expected huge demand for training in that critical air safety related subject.
Screening, taxation on moving freight
Provided the conditions are conducive for growth and expansion, India is ready to become a global cargo hub. There are many factors, which support the establishment of cargo hubs—connectivity, facilities, regulations, manufacturing base, consumer base and workforce availability are some of the significant aspects.
Trade pacts and open skies arrangements will encourage enhanced trade activity. Free trade zones are another tool to increase volumes of cargo moved. The key to success is the collaboration and dialogue between the Union government and the industry. Trade curbs and protectionist measures place additional obstacles to free and open trade.
Recent introduction of a requirement to apply for import permits for laptops may impact inbound cargo movement and we may see other states applying similar curbs in retaliation. Screening is another area that needs to be probed to align with the global best practices, which facilitate efficient trade movements. Taxation complexity is another area, which places additional administrative burden on smooth freight movement. Connectivity, combining a balance of domestic, international, main deck and belly cargo capacity will need to be in better balance, although recent aircraft orders are encouraging. India has improved its World Bank's logistics performance index overall ranking to 38, it ranks 51st in customs procedures. India should be targeting to be in the top 20 to support its ambitions.
Simplify customs, cut trade barriers
The geographical location of India, especially Delhi, has the potential to become a air cargo global hub. This coupled with the global trade India is now engaged in makes it the perfect spot for transformation into a global hub. In order to achieve this vision, the industry should adopt following strategies:
Infrastructure development: India must invest in development of airports, seaports, road and rail networks, and warehousing facilities. This will enhance connectivity and improve logistics efficiency. (IGAI transhipment centre, upcoming Noida International Airport at Jewar and nearby hinterland are few examples).
Technology integration: Embracing Intert of Things, Artificial Intelligence and Blockchain can optimize supply chain processes. Automation and digitalisation should enable real-time tracking and efficient handling of cargo, resulting in improved speed, accuracy, and cost-effectiveness
Skill development: Ensuring a skilled workforce is a must for the success of the industry. Institutes should be set up and training programmes be created to provide specialized education and training in freight forwarding, logistics, and supply chain management
Government policies: A conducive environment must be created for cargo growth by implementing supportive policies and regulations. Streamlining customs procedures, reducing trade barriers, and providing incentives for investments can attract domestic and foreign players to the industry
However, customs procedures, regulations, and fragmented policies make the industry challenging. Simplified procedures can facilitate smoother operations. The government is taking measures to provide ease of doing business. At the same time, this work is presently in progress. There are various cost-related issues such as high transportation costs, multiple documentation needs, and varying taxation structures across different states. Reducing these costs can improve the competitiveness of the cargo industry.
TAKE STEPS TO LIBERALIZE INDUSTRY
To achieve the goal of becoming an international cargo hub, the air cargo industry needs to:
Improve infrastructure at the airports, cargo terminals, and handling facilities in a bid to accommodate large volumes of cargo and improve efficiency
By reducing paperwork processes, logistics industries can streamline customs and regulatory processes, which can ease doing business
Technologies can be adopted for improving transparency, real-time tracking, and visibility across the supply chain
To establish multimodal connectivity across air, coastal, rail, and road in order to enhance efficiency
Embrace sustainable practices in order to minimize carbon emissions and maximize proficiency
Companies need to train their workforce to enhance and modify their skills
To develop and implement strategies for cargo growth, industries must foster collaboration between the government, industry associations, and key stakeholders
By undertaking these strategies, India can capitalize on the opportunity of becoming a global cargo hub by accelerating efficiency and seamless movement of goods. Despite growth, the industry continues to grapple with hindrances that impede its potential to evolve into a global cargo hub. These obstacles encompass inadequately developed infrastructure, utilization of obsolete equipment, and lack of digital integration.
A shortfall in supply chain automation results in delays, transparency concerning shipments, and hampers decision-making and process management. Another predicament is customer satisfaction, as lack of digitization affects real-time cargo tracking.
To fast-track these changes, the central government has taken several steps by launching the National Logistics Policy, with an aim to strengthen transportation, multimodal connectivity and implement technology to unlock efficiency, among other things, to boost the industrial growth.
MOVING CARGO FROM TIER II, III CITIES
The industry's evolution, with a consistent annual growth rate of 13 per cent, highlights the opportunities that lie ahead. It is crucial for Indian businesses to recognise the potential growth opportunities presented by the air cargo industry and take proactive steps to leverage emerging trends.
The focus on transporting smaller cargo loads from tier II and III cities to major cities will contribute to a comprehensive cargo network. India presently has 35 domestic cargo terminals. For instance, at BLR Airport, to enhance connectivity to catchment areas, we have a dedicated road feeder service 'LOGI Connect by BLR', which extends the reach and accessibility of cargo movement.
Linking South India's urban centres of Tirupur, Coimbatore, Ambur, Salem, Erode, Hyderabad and Chennai, 'LOGI Connect by BLR' solidifies BLR Airport's position as the favoured cargo hub of South and Central India.
Digitization and automation: The emphasis on streamlining processes and adopting automation and digitalization is crucial to enhance cargo processing speed and efficiency. Modernizing cargo terminals, introducing advanced tracking systems, and implementing digital platforms such as the Airport Community System for seamless documentation and communication will accelerate cargo operations.
Collaborative partnerships: Encourage collaborative initiatives between industry stakeholders, including shippers, forwarders, airlines, and logistics providers. Foster partnerships to develop cost-effective solutions such as shared logistics infrastructure or streamlined customs processes that benefit all stakeholders.
Sustainable practices: It is vital to prioritize sustainable practices to minimize environmental impact. Implementing green initiatives, such as eco-friendly packaging, energy-efficient operations and reducing carbon emissions will align the industry with global sustainability goals.
Skilled workforce: Developing a skilled workforce capable of handling modern cargo operations is crucial. Investing in training programmes and fostering talent within the sector will ensure a competent workforce that can drive the industry's growth sustainably.
Global connectivity: Enhancing its integration into global supply chains demands that India enhance its connectivity, forge improved trade agreements, and foster a favourable business environment. Achieving this entails liberalizing trade, engaging in favourable negotiations for trade pacts with various nations and regions and enticing foreign investment. These efforts empower India to augment its participation in global value chains.
Ease of doing business (from the gfovt's perspective): Governments play a pivotal role in nurturing a thriving air cargo culture among businesses. By streamlining regulations, simplifying customs procedures, and providing financial incentives for selecting air transport, they can cultivate an environment conducive to growth of air cargo. Collaborating with air cargo industry associations to impart knowledge and guidance to businesses regarding the benefits and potential of air cargo is another way they can contribute.