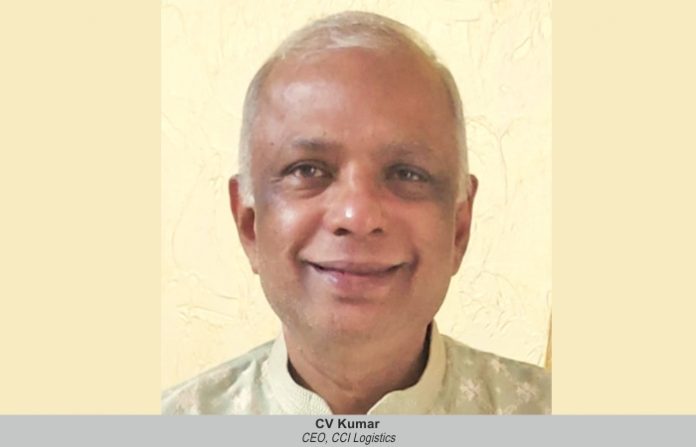 CV Kumar, Chief Executive Officer, CCI Logistics in an exclusive interview shares, demand for warehousing will continue to grow due to rise in e-commerce activity and they have plans to build 4.5 million square feet additional Grade A+ warehouse facility across India.
Bryan
What are the key emerging trends in the sector?
The demand for warehousing is at an all-time high due to the rise in e-commerce as well as the transition from disorganized warehousing to expertly structured, higher-quality, and better-equipped warehouses. For the next five to six years, this trend is likely to persist. This transition and expansion story is mirrored by road freight. Many institutions, authorized by the Logistics Skill Council, get skilled labourers employed in organizations.
What are the key bottlenecks?
The obstacle to the development of storage infrastructure is the length of time required for land conversion and the approvals needed for it. Each state has a different procedure and time frame. The largest problem for the transportation sector is the skyrocketing fuel prices, followed by the rise in toll, insurance, and other costs.
Could tell us about some state-level initiatives for infrastructure development?
PM Gati Shakti Master Plan has the potential to transform the entire logistics industry. Recently, a small number of states have developed their own logistics policies with a focus on building infrastructure, particularly for multimodal logistics. This is a positive move that would improve connectivity and cut costs.
How do you strategize your plans for future growth?
We are focusing on developing into an integrated logistics service provider and bolstering our strategic business unit (SBU) for the same. It does not matter if it is transportation and distribution, 3PL/4PL business, global freight forwarding, or customs clearance. In the next two years, we have plans to build 4.5 million square feet of additional Grade A+ warehouse space across numerous locations. Most facilities are projected to begin ops within the next 12 months as construction on these logistics and industrial parks is moving forward at full speed.
How do you foresee the future of the Indian logistics industry?
Our focus will be on becoming Atmanirbar. In the next decade, the logistics industry will expand thanks to Atmanirbhar Bharat initiative and rising domestic demand. Additionally, ground-breaking government programmes like Gati Shakti will shorten transit times and eliminate bottlenecks to ensure seamless, effective logistical operations.
What challenges do you think tier II and III cities will face in addressing customer demands such as fast deliveries and one day deliveries, among others?
The primary obstacles to be addressed are the lack of quality warehousing and sufficient staff to meet the demand in tier II and III cities.
What are the risks and the costs in infrastructure projects?
Infrastructure projects are capital-intensive in nature, and any delay in obtaining approval from any state government can lead to a significant cost and schedule overruns. If the project is not finished on time and under budget, it would be financially impossible.