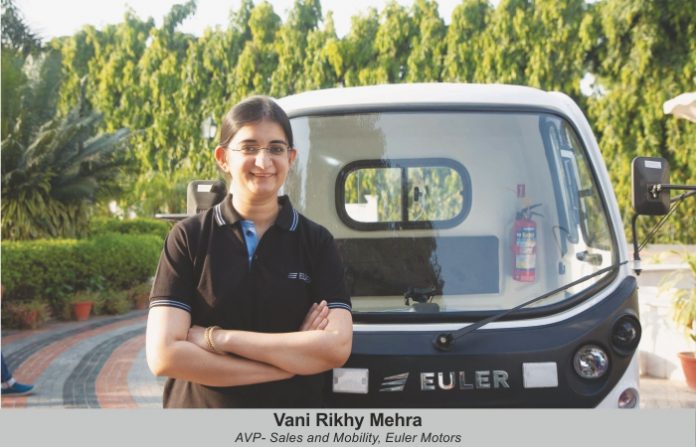 India India is moving towards electrification, and the recent Union Budget echoes this sentiment. Electric vehicles are set to play a much larger role as customers and businesses move towards electric mobility, says Vani Rikhy Mehra, AVP-Sales and Mobility, Euler Motors.
Priyanshi Bana
What are the challenges associated with charging infrastructure and components in India?
Electric mobility is still upcoming in India, where a lack of charging infrastructure for EVs hinders mass adoption. The industry, currently, needs to work together to achieve this rather than rely on other players to build charging infrastructure. For OEMs and solution providers, the entire industry must work together to solve the problem of getting customers to adopt EVs.The high cost of setting up charging stations is a concern. Multiple parties should come together to set it up. Finding the right location and making those chargers accessible is the next step, where OEMs could begin with a set of customers in a particular area, and then expand the vehicle and charger network. As charging points require maintenance checks, this approach should aid in addressing technical issues and not impact charging input.
Furthermore, software and technology will play a key role in this regard as chargers come with different outputs — fast, medium, and normal. The right The software and tech will not only help make the charging experience better and faster, but it will also help customers' book stations reduce lead times. At Euler Motors, we understand and are working to solve the issue. With a full stack model, we are providing EVs along with 200 charging infra points to support EVs on the ground, with multiple charging variants and charge on wheels options across Delhi-NCR. We plan to add more charging points as we expand our vehicle footprint.
Elaborate on industry trends and growth opportunities for EVs in ecommerce and delivery markets.
EVs have become the preferred choice in the two and three-wheeler segments providing customers with a better value proposition. EVs have progressed from complicated and unreliable charging and low-power vehicles to simple-to-charge and high-performance transport solutions — especially for first, and last mile operations. The market is buoyant with massive EV demand in this space, as some of the largest e-Commerce businesses such as Amazon, Flipkart, Zomato and BigBasket, have committed to electrifying their delivery fleets in the coming years. As India moves towards sustainable mobility, EVs are taking centre stage, led by a thriving EV ecosystem led by start-ups as well as the government support and incentivization in the sector. EVs are a US$ 8 billion market opportunity in India, where legacy players and VCs are investing heavily on powerful
vehicles, battery manufacturing, and electronics for EVs.
How do EVs fare against ICE vehicles in terms of performance and cost?
Till now, the industry has looked at EVs the same way it looks at ICEs. Therefore, in terms of the cost of acquisition, the focus was to build vehicles in the same price bracket. However, the EVs are different in design from the ICEs, and given the high cost of batteries, expecting the same performance at the same price point is implausible. In matching the price, earlier EV models compromised performance. The customer also views EVs through the same lens, in terms of performance and price parity.
The industry and EV OEMs should now understand this factor and shift focus to EV performance rather than price. The focus should be on designing powerful EVs that match or even surpass ICEs in terms of performance, and not compromise on load capacities and maximum range. EVs certainly fare better in terms of lower TCOs, easier maintenance, and better ROI, and the needed shift from ICEs to EVs will only be possible when performance is not in question.
HiLoad from Euler Motors addresses these parameters and boasts the highest payload capacity, the highest battery power (12.4 kWh), and the longest certified range (151 km), suited to deliver higher performance and the best range. Our vehicle offers beyond the regular benefits of EVs in the three-wheeler segment, boosting customer profitability and earnings with overall better performance and output.
Is dependence on China for major components a hurdle?
Yes. Dependence on imports is a challenge that we need to solve, and the industry is already working towards import substitution and localisation to create a formidable ecosystem to make EVs mainstream. Because one of the most significant barriers to EV adoption is the high cost of ownership, the push toward indigenizing EV technology will aid in lowering the cost of ownership and increasing EV adoption. Our EVs are designed and developed in India, and we have achieved 85 per cent product localisation (except for cells).
What do you have to say on the future of EVs in India?
India is swiftly moving towards electrification, and the recent budgetary announcements in the country's Union Budget echo this sentiment. EVs are set to play a much larger role as customers and businesses move towards electric mobility. With massive advancements in EV technology and indigenous battery manufacturing, the two- and three-wheeler segments are already leading with strong demand.
As battery prices continue to slide, EVs will become more popular and accessible. The government continues to support the sector, and more supportive policies and programmes should be implemented to fast-forward the adoption of EVs in India. OEMs and governments must work together to improve the ease of sourcing, manufacturing, and financing in the EV value chain so that buyers have more confidence in purchasing EVs.