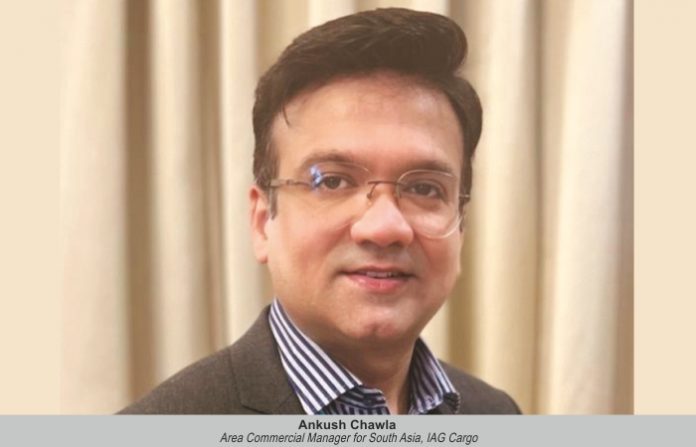 Ankush Chawla, Area Commercial Manager for South Asia shares that in 2022, the carrier transported 21 per cent more pharmaceuticals from India between January and August than in the same period in 2021. Soon it will be announce its winter schedule, which will offer customers uplift out of Latin America into Europe and United Kingdom.
Ritika Arora Bhola
With cargo and pax ops coming back to pre-COVID times, how is IAG Cargo gearing up to meet the increased demand, achieve pre-pandemic cargo volume levels?
This year, IAG Cargo has been focusing on bringing its global network and capacity back to pre-COVID levels by introducing new routes and announcing resumption of pre-pandemic services. The business now offers more destinations into North America from London-Heathrow than 2019. Route expansion includes opening a new service to Portland from London-Heathrow, and new services to Dallas and Washington from Madrid hub, while the business also restarted services into Pittsburgh. Globally, IAG Cargo continues to expand its network and from its Madrid hub, adding about eight destinations since 2019.
The e-commerce market is booming, with consumers across the world buying a whole range of goods and services online. We have recently added a cargo-only service between London Heathrow and Hong Kong—this air bridge is important to the movement of e-commerce and for electronic goods across the globe. Our priority products with e-commerce customers was up to 25 per cent in H12022 as against H12019. We have also increased services to Johannesburg and Dubai, we are offering a double daily service to both. Soon we will be announcing our winter schedule, which will offer customers more uplift out of Latin America into Europe and UK and also Mexico. In 2023, we will have some exciting new routes to announce.
Please elaborate on your freighter operations worldwide. Please throw light on the present freighters, new freighters added to the fleet, new networks or destinations?
IAG Cargo uses the bellyhold of passenger aircraft of International Airlines Group (IAG), which consists of British Airways, Iberia, Vueling, Aer lingus and LEVEL. With five airlines, and over 500 aircraft, it's a model that provides IAG Cargo with fantastic capacity and global reach. The breadth of our network allows customers to access destinations where a freighter 747 is unable to land. Within the first three months of launching cargo-only services between India and London-Heathrow, while passenger travel was paused IAG Cargo operated
100 flights: this service continued throughout the pandemic.
Tell us if the carrier has the right technology and infrastructure to move variety of cargo, including heavy, outsized, live animals, temperature sensitive among others  worldwide?
At IAG Cargo, we are well equipped to move all types of cargo, from lifesaving vaccines to car parts and live animals. When it comes to temperature-sensitive pharmaceutical and bio-science products, IAG Cargo has many years of experience and benefits from three established world-class specialist hubs at London Heathrow, Madrid Barajas, and Dublin, supported by 100 approved Constant Climate stations around the world. When it comes to perishables time, whether it's food, fresh flowers, or dairy products, IAG Cargo supports some of the world's largest growers and retailers by delivering perishable produce in pristine condition. The business has a dedicated perishable handling facility in London. Our Constant Fresh service is specifically designed to optimize the shelf life of produce and its network is an ideal placed partner for transporting perishable shipments.
Today, the world seeks to ship to India. Where do the trade activities with India stand at this moment? How do you think of India as an investment destination, any plans to start trade here?
IAG Cargo has recently conducted a global survey of freight forwarders and logistics industry professionals to get their thoughts on the future of the industry. This year IAG Cargo transported over 21 per cent more pharmaceuticals from India between January-August than in the same period in 2021 with top export destinations included the USA, Canada, and the United Kingdom. According to Invest India, the Indian pharma industry may reach US$65 billion by 2024 and to US$120 billion by the year 2030.
Please elaborate on the Indian destinations covered, and what kind of cargo wil be moved?
We currently fly to five destinations in India including, Delhi, Chennai, Mumbai, Bengaluru, and Hyderabad, with a total of 46 flights per week into the country. India is a popular trade route for commodities such as car parts for the automotive industry, garments for the textile industry, and technological goods. IAG Cargo has also recently restarted flights to Male in the Maldives, which is an important trade link for Sri Lanka, where garments, automotive goods, and perishables such as fish are among the principal exports. Exporters in the region will be able to benefit from IAG Cargo's Constant Fresh product, ensuring produce arrives on supermarket shelves in peak condition. This will also be welcome news for exporters into the Maldives where in 2019, goods worth US$ 2.89 billion were imported to the Maldives.
What are your expansion plans in India, in terms of fleet/capacity and possible partnership with Indian cargo carriers.
IAG Cargo's winter schedule will be up 8 per cent in weekly flights (2019;104 weekly flights vs 2022;112 weekly flights) between India and the UK compared to 2019. Also, we have restarted flights to Male from October 14 with 4 flights per week from London-Heathrow. The same will be increased to a daily service from October 30. This route is quite important for the exporters in Sri Lanka.