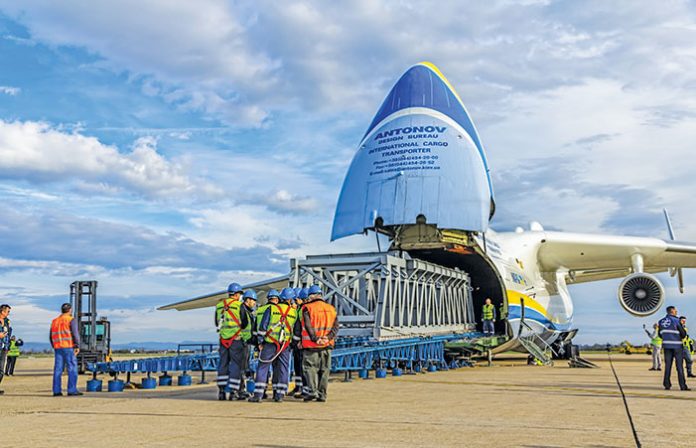 A rapid growth, complementary trade baskets and relatively high degree of market protection, these are some of the exhibits of the ample growth opportunities in the air freight segment between the European countries and India. As Air Cargo Europe takes off from May 9-12, CARGOTALK explores the scenario with industry experts.
Kalpana Lohumi
Presently, India is one of the fastest growing economies in the world and a strategic partner for the European Union (EU). As per the recent International Air Transport Association (IATA) report, European airlines posted a 10.5 per cent (or around 14 per cent adjusting for the leap year) increase in freight volumes in February 2017 and a capacity increase of 1.4 per cent. The ongoing weakness of the Euro continues to boost the performance of the European freight market which has benefitted from strong export orders, particularly in Germany, over the last few months.
India is the EU's ninth trading partner in 2016 (2.2 per cent of EU's overall trade with the world), after South Korea (2.5 per cent) and ahead of Canada (1.9 per cent). The value of EU exports to India grew from €24.2 billion in 2006 to €37.8 billion in 2016, with engineering goods, gems and jewellery, other manufactured goods and chemicals ranking at the top. On the other hand, the value of EU imports from India also increased from €22.6 billion in 2006 to €39.3 billion in 2016, with at the top textiles and clothing, chemicals and engineering goods.
The recent visit of Federica Mogherini, High Representative-Foreign Affairs and Security Policy/ Vice-President, European Commission (HRVP) to India has further strengthen the India and Europe relations. She said, "With work ongoing to conclude a comprehensive and ambitious free trade agreement, the EU accounts for 13.5 per cent of India's overall trade, which makes it the country's largest trading partner." Hence, this gives good signs of augmentation in bi-lateral trade. CARGOTALK took the opportunity to speak to the airlines, freight forwarders and GSAs about the India-Europe air freight opportunities.
Charting out opportunities
Commenting on the air freight opportunities between the two Vaibhav Vohra, Managing Director, Continental Carriers, notes, "Major Indian cities are very well linked to almost all European gateway cities, thereby offering excellent opportunities for freight movement between India and European countries. European market is considered to be steady for Indian merchandise and growing rapidly. Indian products covering garments, made-ups, rugs, handicrafts, machine spares, tools, pharmaceuticals etc. are much preferred in European countries and contribute to the rapidly growing air freight volume from Indian cities to Europe and provide ample opportunities to producers of these goods."
Explaining how air can be the best mode between Indian and Europe, Huned Gandhi, Managing Director, India – Air & Sea Logistics, Dachser, says, "India and the EU are strategic partners who are committed to further increase their bilateral trade and investment, driven by the Free Trade Agreement negotiations that were launched in 2007. Goods transported between India and Europe are often sensitive articles of high value like pharmaceuticals, chemicals or automotive parts. As a consequence, air freight is the most suitable transport mode to fulfil the specific requirements."
Registering growth
Sandeep Vijh, AGM – Air Exports, Rahat Continental, says, "India is a top exporter to Europe for commodities like pharmaceuticals, gems and jewellery, textiles, automotive components and leather goods which are mostly shipped via air. All these commodities are widely consumed by the masses across Europe and has always seen a consistent increase in demand. Moreover, a competitively weaker Chinese Yuan has opened more avenues for India manufacturers to bid for more businesses which further add on to the growth factor."
From a GSA perspective, Prithviraj Chug, Director, Group Concorde, edifies, "Europe still remains the largest consignee market for air freight export India. Traditionally dominated by the business of garments, the Indian manufacturers have advanced in supplying chemical products, pharmaceuticals, engineering goods etc."
Roadblocks
Talking about the challenges agents are presently facing while doing business with any of the European countries, Vohra tells, "There is no apparent challenges faced or foreseen while doing business with most of the European countries. However, an element of uncertainty looming large is Britain exiting the European Union and is the subject of discussion in all circles. Fallout of such an inevitable exit and possible impact on Euro and UK Pound are speculated but no serious consequences are anticipated. There is no likelihood of any negative impact on business transactions between India and European countries."
"Europe's infrastructure is well-developed; the legal, financial and customs clearance frameworks are very well defined, transparent and easily accessible. As such, trade with European countries is relatively easy to execute. Dachser has an extremely dense road logistics network of 363 branches across Europe which is fully digitalised and seamlessly integrated via the in-house developed IT infrastructure. This enables us to serve Europe on a very high-quality level," says Gandhi.
On the other side, Chugh mentions, "As an airline representative, the challenges are limited to bilateral and slots for getting the right days and timings to get the cargo delivered into Europe. For example, cargo reaching on Friday and Saturday faces demurrage and other costs that hamper the overall costing and mostly agents have to bare those additional cents per kilo."
On this Vijh informs, "Form A – GSP (Generalised System of Preferences Certificate of Origin; a combined declaration and certificate) used to be a mandatory document required for every shipment valued over €6,000 going from India to Europe. Effective since February 2017, this has been exempted to one time registration only which has reduced our documentation paperwork and encourage to ship goods over the weekend as well as we don't have to wait to generate GSP which was only Monday to Fridays."
"The electronics sector is still underplayed in our country, hopefully with the new investments and manufacturers coming, we will not only produce for our own economy but for our biggest trading partner Europe," Chugh adds.
Unveiling capacity
Vohra says, "European carriers are offering huge uplift capacity, through scheduled combi-flights and cargo freighters, for priority cargo movement between India and European countries. This is in addition to the sizeable uplift capacity offered by Asian Carriers like Qatar, Emirates, Etihad, Cathay Pacific etc. with visible price advantage and deferred service. Estimate of Indian exports volume to European countries is 30,000 tonnes per month and New Delhi's IGI Airport (DEL) alone accounts for average 6,500 tonnes per month. The average uplift is at around 72 per cent of ex- India capacity jointly offered by all carriers. Wide-bodied aircraft operating as line flights and freighter services between India and European countries cater to the regular space requirement and peak season demands are met out by supplementing freighters."
Gandhi opines, "Freight operators consolidated over the past few years. The Indian market currently is mostly served by Gulf and European country operators like Germany, France and Singapore and additional capacity has been provided by integrators. The carriers operate a comprehensive mixed fleet of aircrafts. According to Chugh also, "There is ample of freighter capacity available between India and Europe which includes European, Middle Eastern and Asian carriers. For now, we believe that market is at a peak point for capacity and all kinds of capacity like B777F/B767F, A330F or B747F(jumbo)."
Wishlist of Indian players
Vohra says, "European countries serve as consistently growing business destinations for Indian exports and constitute as supply sources for Indian imports, thereby offering excellent opportunities and space for freight movements. Many of these sensitive and time-bound merchandises are moved as air freight and Indian logistics players, as supply chain managers, can play a major role in ensuring prompt service with cost effectiveness." According to Chugh, "If the consignee/ shipper gets an end to end solution from the freight forwarder, it has an advantage to retain the client and be able to charge a premium for giving a smoother throughput for shipping as well as communication aspect. In retrospect, it is easier to secure your business as well as secure a higher price at times." "Logistics players can offer variety solutions, mainly due to availability of multiple carrier options for movement of freight for their clients. Operating carriers ensure huge uplift capacity directly to almost all the major European gateways from India. There are scheduled direct flights with good cargo capacity to London, Frankfurt, Munich, Paris, Amsterdam, Madrid, Helsinki, Luxemburg for priority service. For varied freight charges, via services with huge capacities and deferred service option, are offered by Asian carriers viz. Qatar, Emirates, Etihad and Cathay Pacific. These options are not readily available for other ex-India sectors and this specific advantage attracts Indian logistics players to do business with European countries for stability and growth," Vohra adds.
The airline perspective
"The overall tonnage for import and export between India and the EU is growing year-on-year with double digits. Although, the average yields have continuously declined for the past years due to massive capacity increase, shares, Ivo Seehan, Head of Sales & Handling Northern & Eastern India, Bangladesh, Lufthansa Cargo, in adding, "Volumes of the pharmaceutical market have boosted the Indian Exports since 2012. And, Lufthansa Cargo is actively participating in this growth with Cool, Active and Cool, Passive products. The automotive sector has also increased its importance."
Commenting on the challenges, Seehan, adds, "One challenge is the limited capacity on freighter aircrafts, while belly capacity on passenger flights increases overall. It is further challenging to maintain profitable freighter operation due to decreasing revenue and unchanged costs."
Vaibhav Vohra, India Cargo Award 2016 winner & Managing Director, Continental Carriers: European countries serve as consistently growing business destinations for Indian exports and constitute as supply sources for Indian imports
Huned Gandhi, Managing Director, India – Air & Sea Logistics, Dachser: Goods transported between India and Europe are often sensitive articles of high value like pharmaceuticals, chemicals, etc.
Sandeep Vijh, AGM – Air Exports Rahat Continental: There are over 500 passenger flights and 100 freighters a month that offers great capacity to cater to Indian export to Europe
Prithviraj Chug Director Group Concorde: The challenges are limited to bilateral and slots for getting the right days and timings to get the cargo delivered into Europe
Ivo Seehan, Head of Sales & Handling Northern & East¬ern India, Bangladesh, Lufthansa Cargo: One challenge is the limited capacity on freighter aircrafts, while belly capacity on passenger flights increases overall