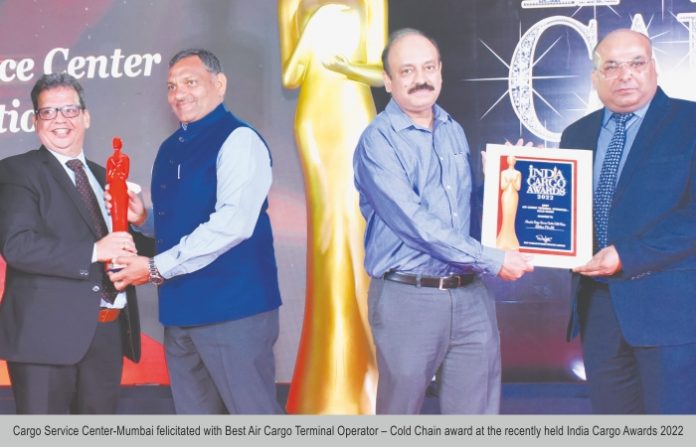 Cargo Service Center is ready for next decade with its world-class Pharma Excellence Center, which has a capacity of storing 14,500 tonnes. Tushar Jani, Group Chairman says the ground handler is working on developing new processes to prevent temperature excursions, and upgrading cargo tracking mobile app.
CT Bureau
The demand for pharma has increased ever since Covid-19 has struck the world. How efficiently are you handling the pressure?
Our Pharma Excellence Center, which we set up just before COVID-19 hit the globe, has helped us cope with the increased pressure of storing and transporting pharma products   globally. The world-class facility has a capacity of 14,500 tonne for a throughput, and we are merely doing 4,000 to 5,000 tonnes at present.  About 300 tonne of cargo can be stored on ULD under temperature-controlled zone. We are ready for the next 10 years.
How do you see business ops at CSC in next 10 years?
We are increasing our cold storage capacity. We are working on developing new processes to prevent temperature excursions, and our cargo tracking mobile App is being upgraded. Furthermore, we are improving our supply chain processes to move and handle goods more efficiently. For us, air in air cargo means agility, innovation, and resilience, which is our mantra for work.
Your collaboration with Pharma Aero and Mumbai Adani Airport would strengthen ops at CSC?
CSC is a strategic member of Pharma Aero and we work closely with them. We are working on a few projects with Pharma Aero such as Pharma Air Corridor, Life Care Cell Therapy and Sustainability.
How does tech help in creating end-to-end visibility and help create supply chain and avoid future disruptions?
More than pharma cargo, CSC Pharma Excellence Centre lends a helping hand to life. CSC has touched six billion lives till now. To make it possible, it is vital to understand the status of cargo—from the origin to the destination. Cargo security is of paramount importance. We have the technology and infrastructure to make it possible. We have skilled manpower—pharmacists working at the terminal have in-depth knowledge of each and every drug being handled, stored, and transported via air.
Any new features added to the technology you mentioned?
We offer our customers the ability to track their cargo, on the go, via our Turant App. We are looking forward to deploying predictive science and Machine Learning for all of our business operations. By 2032, we want to be predictive science company, which can help customers learn about the location, time, and quality of delivery for all their consignments.
How can Gati Shakti boost the India pharma sector?
Gati Shakti is one of the most innovative programs, which aims to change the face of India in a few years. Its focus will be on improving logistics infrastructure, resources and tech resulting in reliable transport services throughout India.