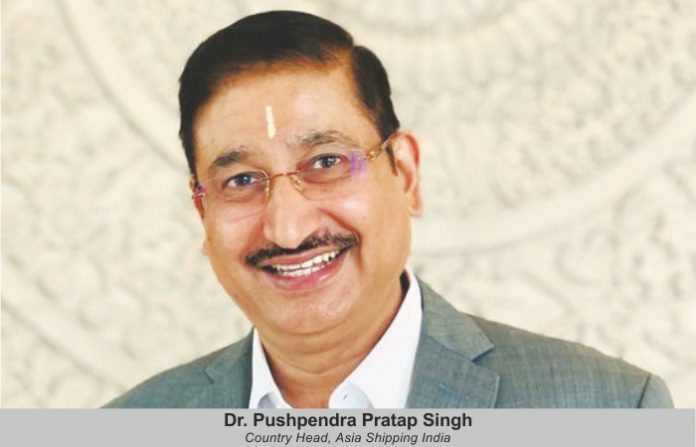 With intensity of COVID-19 subsiding, Indian maritime industry is slowly and steadily gearing up for uninterrupted services. Dr. Pushpendra Pratap Singh, Country Head, Asia Shipping India, asserts that maritime trade is expected to increase further in an bid to reduce imports.  
CT Bureau
Where does sea logistics currently stand in India?
The global supply chain witnessed increased costs, disruption of shipping schedules, equipment shortages, and long queues of vessels waiting to berth at ports after COVID-19 cases started subsiding. The Indian economy has high demand from the USA and Europe owing to the closure of Chinese industry. This has resulted in global businesses shifting their interest towards the Indian market as the economy is flexible, agile and resilient. At present, maritime trade is getting noticed in the light of the import of industrial goods, raw materials, machinery, pharma, and healthcare, among others. There has been a rise in demand for equipment and the same is likely to continue.
What will be the growth drivers for maritime trade in 2022 and beyond?
The growth drivers include customers, technology, operations, finance, transactions, and the risks involved. Customer-centric business helps companies understand their customer base, enables them to anticipate future needs, and deliver targeted services that help build loyalty and long-term growth. To ensure people achieve their full potential, companies should invest in their employees, nurture their talent, and help them develop skillsets. The key drivers' role is to add impetus to the economy and generate employment.
What are the key bottlenecks in the maritime sector?
Even though most of the work involved at the port is mechanical nowadays, the shipping and logistics industries are still dependent on a human workforce at the port. Secondly, force majeure is an extraordinary event that causes disruption in the supply chain, such as war, riots, natural disasters, epidemics, and sudden legal changes, among others. The trouble with force majeure is its unpredictable nature. It can be one of the most colossal bottlenecks. Furthermore, Christmas and Chinese New Year celebrations are two events wherein there is a demand for containers and space in vessels.
Do you think the government's most recent initiatives can bolster Indian maritime trade?
With initiatives such as Make in India, Free Entry of Foreign Investment, and Licensing Abolition, among others, Indian maritime trade has grown. The government removed FERA curbs, duly replaced by the Foreign Exchange Management Act, which regulates foreign transactions. These transactions have now become simple and swift. Special significance is being put on boosting MSMEs as they contribute 25 per cent of the GDP and are responsible for 50 per cent of the total exports.