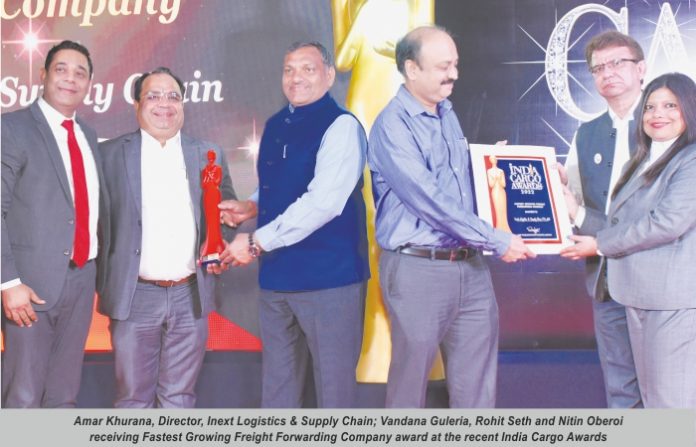 Amar Khurana, Director, Inext Logistics & Supply Chain speaks about the importance of making supply chain robust and creating value for customers by enabling on-time deliveries and live information sharing. Companies are positive about obtaining pre-COVID growth in 2022 and believe technology as a tool to move forward.
Bryan Anthony Thomas
What are the new opportunities you are looking forward to in 2022 and how do you want to go about implementing them?
The year seems to be a positive year in terms of new growth opportunities. During the last two years, the difficulties faced by the global supply chain have impacted the industry. However, with easing of COVID-19 norms, the boundaries have started opening and the demand is coming from all economic sectors, be it raw material or finished goods. On-time deliveries and live information sharing are the need of the hour to make the supply chain planning robust. This has forced the industry to embrace advanced technology solutions such as AI and Big Data, among others.
We are planning and executing the strategy to become a technology-enabled logistics service provider. We are continuously investing in developing new systems for "track n trace" to keep our valued customers updated about all phases of logistics movements.
What do you think has been your biggest learning during the pandemic?
COVID-19 has underscored the need for an approach that was underway over the last six years, diversifying supply chain solutions to a broader array of locations and away from single source/single region suppliers. Indeed, many companies are moving their production out of China to diversify supply chain locations due in part, following the trade dispute between Washington and Beijing that reached its pinnacle last year. Now, in some cases, the pandemic is expediting that trend.
What is the one thing that needs a change for the industry to grow?
Like other industries, logistics is currently undergoing change, and this brings along both risk and opportunity including new technology, new market entrants, new customer expectations, and new business models. There are ways the sector could develop to meet these challenges, some evolutionary, others revolutionary.
Moving forward, what sectors do you think will grow the fastest and why?
Automobile, textile, retail and pharmaceutical will be the fast moving sectors in the new normal.