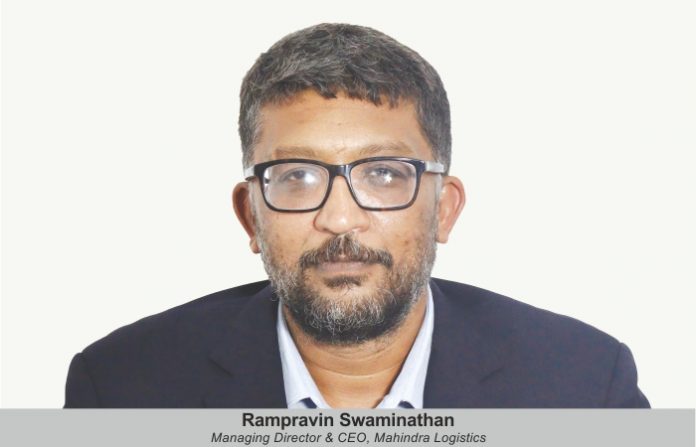 With a pan India presence, Mahindra Logistics has a target to achieve `10,000 crore by 2025-26, by investing in transportation, pharma, consumer durables, and e-commerce. Rampravin Swaminathan, Managing Director and CEO, in conversation with CARGOTALK, discusses how the sector has evolved in the past couple of years.
CT Bureau
How can the development of multimodal warehouses help resolve connectivity issues?
India is a dispersed demand environment, and therefore, there are several large and small consumption centers. When we look at satiating demand, products must be stored and processed at various points. This drives the need for warehousing. Overall, the warehousing sector has witnessed growth, especially in grade A and asset class warehousing. We are witnessing a significant growth in smaller towns as companies are making efforts to augment their networks. Apart from this, we are also expanding infrastructure in remote locations.
How do initiatives such as Gati Shakti and Make in India benefit the industry in creating better opportunities?
The government initiatives such as Gati Shakti, Self Reliant India, Make in India, and EoDB will drive manufacturing in India positively. The initiatives are likely to attract foreign investment as well as participation. However, I feel high logistics costs and inadequate infrastructure are the major challenges which the industry is dealing with at present. I feel Gati Shakti will help in resolving these issues.
How do you ensure an efficient supply chain, LMD, and create value for your customers?
The company's focus has always been on building an efficient supply chain ecosystem and LMD ops by building a delivery partner ecosystem. We focus on providing integrated offerings to our clients, thereby enabling service fulfilment. We are also investing in the latest technologies and making operations fully digitized. Expanding our reach is another area of focus for us. We believe LMDs, in the long run, will be 100 per cent digitized. Last year, we launched Edel and Cargo last-mile delivery services. To enhance our technology efficiency and reach, we recently acquired Wizard, a tech-enabled LMD firm. We are strengthening our capabilities and hope to see growth in the business.
What are the key growth drivers for the Indian logistics sector?
E-commerce activity, especially in the D2C segment, has grown substantially. A paradigm shift towards multimodal logistics and cross-border movement are other crucial areas of growth and potential opportunity.
In terms of trade, where do you see your firm in the next five years?
We have set a target for the company's revenue to reach  Rs. 10,000 crore by the fiscal year 2025-26. We have a good presence in the automobile industry, but this sector has witnessed a fall in the last couple of years. However, we have seen growth in sectors such as consumer durables, pharmaceuticals, e-commerce, and manufacturing, and we hope to sustain that growth.
In the past 12 quarters, the growth of the company has been around 20 per cent. We anticipate driving and sustaining this growth. We are also looking at driving growth in transportation services.