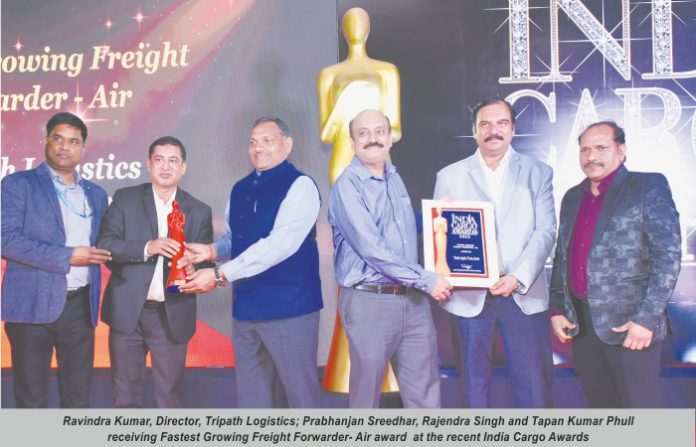 Tripath Logistics, one of fastest growing logistical solutions provider, specialises in providing efficient, reliable, and customer-focussed comprehensive solutions tailored to customer's needs. It relies on functional excellence, customer focus, product leadership, people, and sustainability, says Ravindra Kumar, Director, Sales and Agency Development.
Bryan Anthony Thomas
Please share with us the key emerging trends in 2022 and beyond?
Customer demands and expectations will be the most important bases for improvements. Last-mile delivery, robots,  sustainability solutions to warehouses, automated picking systems, and predictive model optimisation software will leading factors. Technology and automation can bring differences in logistics as it can increase the speed and efficiency of operations. The LPS should take care of warehouse management, efficient transportation, upskilling of the employees, and adopt automation.
What do you think have been your biggest learning during the pandemic?
Behavioural changes in customers and the demand in logistics have changed. Logistics had to be re-organized within a short time. Customers have acknowledged the importance of this section and of those who have worked behind for a successful supply chain. Many processes had to be digitized quickly, while the oangoing pandemic has made the world learn, improvise and innovate continuously.
What do you feel can be the major growth drivers?
Logistics has embraced digital transformation slowly as compared to other industries. The companies are dealing with an increase in growing costs, and are facing troubles in getting containers, scaling up their processes, predicting the demand and relying on labour. It is high time for innovation. However, regardless of the international market turns, the financial industry still manages to remain afloat. Banking and financial institutions have helped businesses keep going. With digital marketing, the businesses may grow double fold in the coming years.
Which sectors do you think will grow the fast and why?
Logistics, Healthcare, Banking and, financial industries ae expected to grow. Employment opportunities are likely to increase. Technology will become the highest priority.