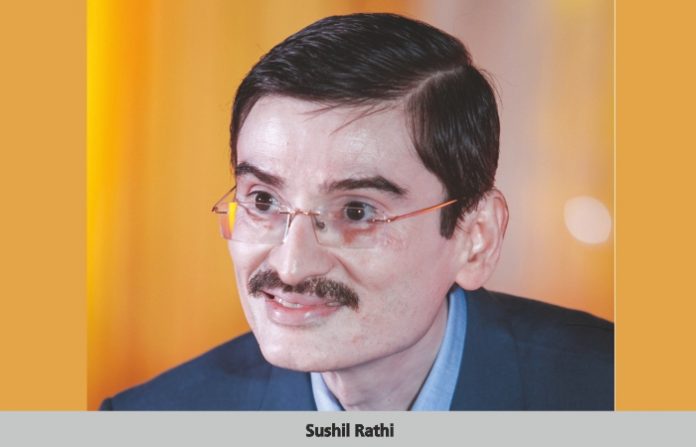 Lords Freight has witnessed a sharp growth in overall volume in e-commerce marketplaces. Sushil Rathi, Chief Executive Officer, Lords Freight talks about Indian road freight sector's challenges and how the ever-evolving technology is benefiting the logistics industry. 
Kalpana Lohumi
Which issues need to be looked at by the road frieght industry?
In India, road transportation is the predominant mode of transportation of freight cargo. The estimate of the modal movement of cargo highlights that in India nearly 60.2 per cent of the cargo is moved by road, 32.1 per cent by rail, and rest by the coastal shipping, airways and inland waterways. It is recognised that movement of long-haul bulk traffic by road is less efficient than by rail. But road is still preferred over rail.
Road movement has its own set of challenges
Freight movement in India is dependent on national highways. Most national highways in India are severely congested, resulting in freight travelling only a third of the distance compared to developed countries.
Quality of roads on the national highways is improving but is still inadequate in most parts of the country. Expressway / Freight corridor networks are taking time to develop.
High level of fragmentation of the trucking industry results in fierce competition amongst operators. This is making truck owners overload their vehicles to recover investments.
What role digitalisation can play in making the sector better?
Ever-evolving technology will soon be able to take over logistics industry as we move towards catalysing the digitalisation of supply chain management. Companies are transforming the face of supply chain management by transforming traditional supply chain management activities with the help of artificial intelligence, machine learning, IoT etc. In addition to that, logistics industry is becoming more transparent as suppliers, workers, and communities' access increasingly refined technologies and use them to create and share information.
Therefore, there needs to be a lot of focus on technology.  It is important for two key reasons; the first being customers would like to see how to reduce the paperwork as it requires a lot of touch points etc. Therefore, companies can be seen focusing on how things can be moved more digitally. Secondly, there is more demand even from customers to share the complete tracking details of their consignment. Training of skilled manpower is extremely necessary to enable smooth utilisation of technology.
We at Lords Freight, are taking all efforts in changing our existing platforms and replacing them with the new ones.  We will be upgrading our transport management system and have added a brand new HRMS system. We are now planning a new sales system as well.  Technology for us is the continued focus.
How Lord Freight has survived the COVID crisis? 
COVID has thrown different challenges to our business. One of the challenges we faced was in transportation. Due to migration, there was an unavailability of drivers and third-party workforce in the lockdown areas as they were not feeling secure wherever they were continuing in the operation. It was one of the big challenges which impacted both MLL and Lords. Moreover, the international trade was also affected because of the delays in the clearance at seaport and airport. Due to staff crunch, there was a lot of pile up which eventually delayed everything.
With a lot of planning and by running different schemes for the drivers, we ran a programme called HOPE (Helping Our People during Emergencies) under which we gave them cash benefits and we tried to make sure that all
medical safety facilities are made available to all these drivers so that they feel a bit secure.  During the year we expanded our freight forwarding business, strengthening both our air and sea forwarding locations both towards East Asia and Europe and North America. We have also expanded our express capability. We now provide surface and air coverage to over 14,000 pin codes across India.
What best practices have you learnt from your experience?
We all are aware that the COVID-19 pandemic has disrupted the global supply chain like never before. There have been significant changes that have been brought about the way companies operate. We have realised that our clients are concerned about how to fulfil their customers' requirements during these uncertain times. Health and well-being of employees became priority, given the COVID-19 fatalities globally. We have strengthened our focus on safety, so we must institute several programmes in our company. We have instituted a programme called 'LIFE' which focuses on safety improvement across eight pillars. We have another platform called 'PULSE' which focuses on productivity improvement.  We believe for frontline business like ours, for safety and productivity, such practices are a must.
With e-commerce booming, is the road freight market ready to take the demand?
Absolutely. The pandemic has accelerated the adoption of digital channels and that has transformed into an upsurge in e-commerce. We have witnessed a sharp growth in overall volume in e-commerce marketplaces with leading marketplaces growing by over 40 per cent year-on-year. Social-distancing norms has made people skeptical of going out and as a result  segments growth has accelerated the demand for transportation and fulfillment logistics including sortation, fulfillment centres, return processing and last-mile delivery.
With the strict guidelines passed by government, there has been a perceptible growth in demand for essential products through the e-commerce channel and we have continued to see that trend in Q2 as well. We also see strong demand from tier-2 and tier-3 cities and towns accelerating in the last six months and we expect the same patterns to continue. While some part of the demand has been a blip because of pent up volumes, we can now expect a consistently strong growth trajectory.
What are your expansion plans? 
Today when you look at Mahindra Logistics, we are a completely domestic company with all our operations within India.  We believe that through Lords Freight, we can expand our presence into international markets. Currently, we operate in those markets only through a network of partners and not through our own offices.  Therefore, our plan going forward, is to open our own offices in major markets like China, Europe and US.  And one of the strategies which we are thinking to adopt, is to enter the markets on the backbone of M&M footprint, the parent company which has multiple international operations.  So, we can follow their footprint and that might help in terms of not only supporting our parent group but will also help Lords in terms of expanding quickly in those markets. Once we open Lords offices in international markets, the possibility is we can eventually look in terms of the third-party logistics services also in those countries, which is the core business of Mahindra Logistics. Thus, Lords can be our vehicle for the international expansion. We aim at   Rs. 1,000 crore business by FY 2026 for Lords Freight and a   Rs. 10,000 crore business for Mahindra Logistics.