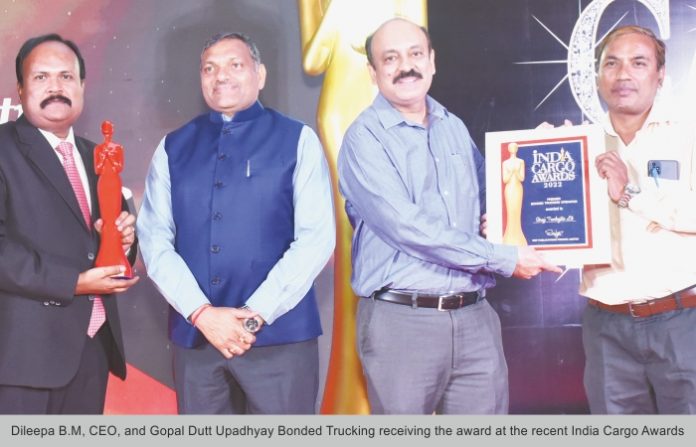 Dileepa B.M, CEO, Bonded Trucking in an interview with CARGOTALK, elaborates on the importance of technology, the need for skilled and trained drivers, and plans to enter the cold chain market soon.  Supply chain solutions provider, Shreeji Translogistics, was conferred with the Premium Bonded Trucking Operator Award at the recent India Cargo Awards. 
Ritika Arora Bhola
What are the major opportunities in 2022 and beyond and the risks involved?
Today, we are seeing tremendous changes in the transportation industry. Transit time has been drastically reduced. Currently, only national highways have seen improvement. Major opportunities include the government's support in improving the state highways. New and advanced technology should be deployed at the tolls, such as automatic sensors, which enable vehicles to move continuously, even if the vehicle moves a speed of 100 kmph. Sensors should catch the FASTag within seconds. These areas need improvement in the transportation sector.
What are your plans for entering the cold chain market?
Shreeji Translogistics will be entering into Reefer truck movements in this year. Our trucks will be on the road within three months. The company plans to own refrigerated freezer trucks and transport customer products from the point of sourcing through reefer vehicles or ambient distribution vehicles. We are also planning to expand warehousing in the western regions of India in a bid to take advantage of increased demand for warehousing facilities by the customers for storage of their cargo and goods.
What are your efficient supply chain strategies to ensure timely pick-up, safe delivery, and zero damage of cargo?
We export and import transhipment cargo from one airport to another airport. Cargo is loaded and unloaded without wasting time. We even have skilled manpower and advanced technology to avoid any kind of damage during transit.
Recently, the Union government introduced many schemes to improve transportation infrastructure in India for green NHs. Will these benefit the industry in the coming years?
Yes, the central government has undertaken huge infrastructure development in the transportation industry. At the same time, since there is no control on the prices of fuel, it is becoming very difficult to retain customers with the new rates.
Today, skilled and trained truck drivers are essential. What initiatives has the company taken in this regard?
As we carry export and import transhipment cargo, it is vital we train the drivers about the cargo's importance. Only then will the drivers deliver the cargo on time. Once every three months, we have review meetings with all drivers to improve our service levels.