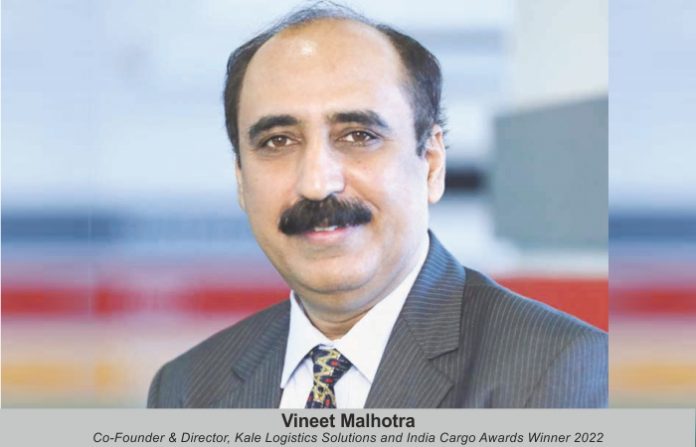 Kale Logistics Solutions, a pioneer in developing digital infrastructure for logistics industry from the last 11 years, with its vision to empower stakeholders in the supply chain and make tech affordable and accessible, has designed and developed tech interventions to make supply chain entities future ready, says Vineet Malhotra, Co-Founder & Director, Kale Logistics Solutions.
With digitalisation becoming buzzword in the logistics and air cargo industry and rapid surge in demand for adoption of advanced technology, how are you gearing up to meet the demand and create value to your clients?
Our cloud-based systems, smart mobile apps, API integrations, IoT, Blockchain, AI, ML, and Robotics are considered integral components of the systems developed by us like Cargo Community Systems and Enterprise Solutions. With scalable and robust platforms, CCS will lead the future where business models will be data driven and customer-centric.
Have you seen any changes as far as IT adoption among your clients is concerned? What are the main challenges you face while offering IT solutions to your clients in the Indian market?
Though India has been the IT hub, the industry has been a laggard in IT adoption. SMEs prefer manual operations over investing in digital infra. The cost conscious, quality mindful, and value maximising Indian client keeps our innovation drive high. Due to this, we are enhancing more value for our clients. Our Saas-based solutions are a response to this peculiar need.
What is your take on the future of air cargo logistics in India? How have you been a game changer in this sector?
When we started off, India logistics was still called as the typewriter-based sector. In those conditions, we propelled India to the sixth position in e-AWB adoption globally. That's the power of the cargo community systems. We take the credit of creating the awareness in Indian market about IT solutions from the grass-root level and today, we take pride in the fact that 90 per cent of India's cargo runs on Kale's systems. Today it's a different India, one driven by automation is setting new benchmarks for the world outside. Take the case of Mumbai and Bengaluru airports who adopted cargo community systems and transformed into cargo hubs in the region.
Kindly throw light on some of the recent advancements done by your company which have been integrated or used by the logistics sector?
We have helped the exporters with speedy IGST refunds from 90 days to seven days with our port community platform, CODEX. We saw that when refund claims were filed from the system, there was an accuracy of 95 per cent. The customs department processed these refunds faster and refunds started flowing in less than a week which is better than three months or more. The paperless operations at V. O. Chidambaranar Port Trust was recognised by UN and ADB as the best innovation on trade facilitation. The other innovation is the document to EDI conversion service for e-AWB which employs ML to convert legacy documents such as scanned copies, PDF, and emails into e-AWB format in less than two minutes.
How do you see your business scaling over the next five years?
The next five years will define the history of Indian logistics. The government is playing a vital role to boost this industry. As per Logistics Skill Council, the sector is valued at $150 billion, contributing 14.4 per cent of the country's GDP. The road logistics market in India is expected to grow at a CAGR of 8 per cent in four years to reach $330 billion by 2025. Initiatives such as PM Gati Shakti Master Plan has a huge role in improving infrastructure efficiency and reducing the cost of logistics.