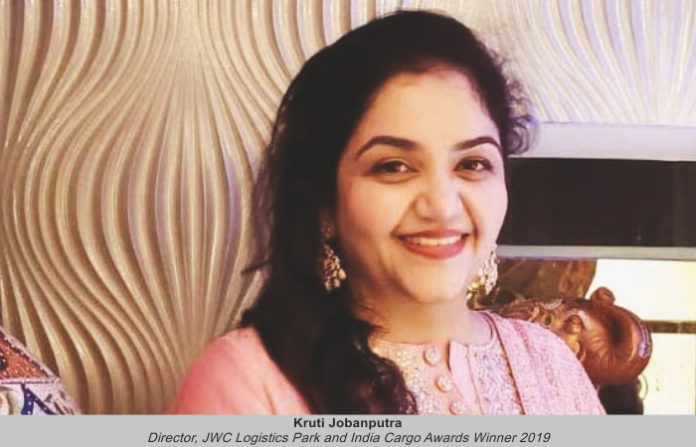 The organisations responded by digitalisation throughout the value chain. In other words, the pandemic has proved to be once-in-a-lifetime experience for industry leaders to adjust in the New Normal. However, there has to a balance between human expertise and technology, says Kruti Jobanputra, Director, JWC Logistics Park.
How has 2021 been different from 2020? What percentage increase has been recorded by
your company?
The seaways freight traffic, though growing slower than the other modes on account of supply-side/infrastructure constraints, has nevertheless, reverted to its growth trajectory from November 2020 onwards with the highest-ever monthly freight volumes reported in March 2021.
Most logistics players reported sustained growth in freight volumes on a year-on-year basis over Q3 FY2021 and Q4 FY2021. The rail freight traffic reported year-on-year growth of 13 per cent and 11 per cent in Q4 FY2021 and Q3 FY2021, respectively.
While the market continues to remain robust, and the equipment shortage and capacity constraints will continue into November and maintain the industry-wide challenge. The port congestion will delay the vessel schedules and add to more blank sailings Port congestion remains a problem at Los Angeles and vessels have been piling up at Savannah as well. Carriers have decided to omit Savannah and replace it with Charleston instead. Demand remains strong, especially to the USEC ports. Service disruption and equipment are two burning issues for the trade. Space planning must stay agile and adapt to last-minute change of schedule. Equipment SOC or NOR are a good alternative. Few extra loaders deployed, but still no long-term upgrade of capacity; demand shall remain high as the trade enters peak season. Equipment stock level at Far East is slowly improving but 40 HCs are still deficit. Vessel blankings or slidings are leading to an overall tight capacity supply. Ongoing port congestion leads to delays. Market demand is still strong to AFR/EMED.
Middle East volumes are slightly decreasing, while the Red Sea is plagued by capacity shortage and bookings are still strong. Space and equipment remains tight resulting from frequent service changes and cancellation. More delays are expected in Q4 due to congestions and weather conditions. Demand into IPBC is still going strong, capacity reduction and long delays at transshipment port remain the biggest challenges in the coming weeks.
As a lot of medical cargo was being transported last year, what other goods were in demand in 2021?
FMCG goods, packed food products, chemicals, electronics and electrical spares were in demand.
How did digitalisation help in clearing cargo with minimum time?
The pandemic's impact on global supply chains has pushed the organisations to focus on risk mitigation and increasing resiliency. By capitalising on digital technologies and increasing real-time visibility into every part of the value chain, the companies can proactively identify potential risk areas prior to an issue, or more quickly notice and respond to disruption. The pandemic continues to affect growth rates of underlying industries, thus impacting the logistics industry. COVID-19 is proving to be once-in-a-lifetime experience for global supply chain leaders, including shippers and customers, to learn and adapt to the New Normal.
The most impactful changes for logistics providers will be to redesign their strategies and structure themselves for the volatile market and provide solutions to customers so that it's not just about rates, space or availability of equipment, but rather a bespoke solution for their supply chain needs. Logistics service providers must come up with diverse and out-of-the-box solutions now more than ever before. The pandemic has stressed how vital it is to build a balance between technology and human expertise. Shippers are revisiting their supply chain strategies to navigate the market volatility with options such as near-shore supply chain elements, technology, and innovation-enabled solutions coupled with the experience from logistics experts. The digitalised world is evolving and making new rules.
New technologies such as Machine Learning (ML), Artificial Intelligence (AI), cloud technology, and automation have allowed companies to enjoy greater efficiencies. The logistics industry is at the forefront in embracing new technologies to improve efficiencies and transparency.
The supply chain sector is looking at blockchain allied to Internet of Things (IoT), telematics to enable greater visibility and using AI and ML to enhance customer experience. Playing a vital role in digitisation, e-Commerce has grown manifold during the pandemic. Since customers have little or no patience for delayed or incorrect orders, meaning logistics and distribution—from warehousing to order fulfilment to shipping—must take place at
lightning speed.
As a result, some organisations are moving from store to centralised distribution and real-time inventory management, allowing order points to be less tied to warehouse inventory levels and more responsive to demand. As most customer transactions shifted online during COVID-19, the companies are taking a cue from retailers and building their own e-Commerce capabilities.
With passenger flights resuming to normalcy, how will the air cargo be impacted?
An year ago, on 11 March 2020, the WHO had declared COVID-19 outbreak a pandemic. Since then, daily life across the globe has transformed. Air transport has remained one of the hardest-hit since the very beginning of the crisis. The ongoing pandemic has resulted in a full-scale global transportation crisis. It quickly became evident that it would evolve into a crisis like no other, bringing the industry into survival mode, impaired by the loss of traffic and revenues.
With the biggest vaccination campaign in history underway, we were seeing some positive signs and prospects for recovery. Both travellers and industry stakeholders are eager to resume travelling. Many industry experts forecast a surge in travel in the second half of 2021. Some are referring to this potential increase as a "post-war-like surge" in travel.
Though uncertainty surrounds the recovery of the aviation industry, however, and projecting the path to recovery at this point is an exercise requiring prudence. Three scenarios are used to look at the potential recovery trajectory using the following assumptions.
Effective vaccines were distributed in the second half of 2021, in addition to an enthusiasm from passengers to start flying again in the second half of 2021, and a reasonable airlines fleet recovery. Third and fourth waves of infections are possible, but can be contained and limited to specific regions.
Air transport is a driver of global trade and e-Commerce, allowing globalization of production. The small volumes of air cargo amount to big values in world trade. In 2014, goods worth US $6.4 trillion were transported globally by air, representing 35 per cent of world trade by value and representing only 0.5 per cent by volume. Aviation's advantage over other modes of transport ihas contributed to the market for 'same-day' and 'next-day' delivery services and transportation of urgent or time-sensitive goods.