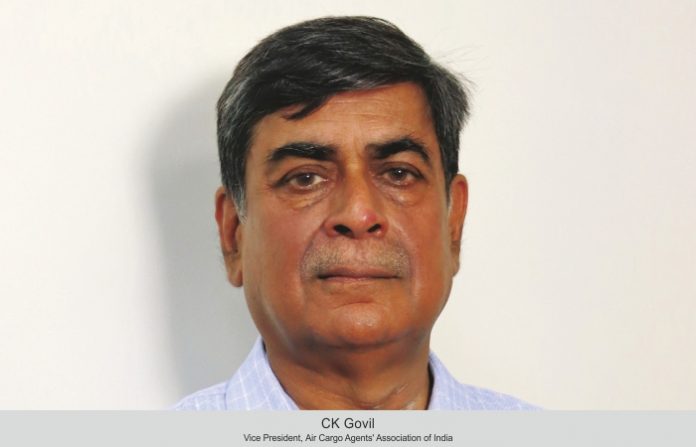 CK Govil, Vice President, Air Cargo Agents' Association of India (ACAAI) says things in air cargo sector are moving forward but hopes for government's support to the industry. He also gave a sneak peek of the 46th Convention to be held in Thailand in November.
Ritika Arora Bhola
As an expert in the sector, can you suggest solutions to resolve issues such as need for more AFSs, high logistics cost, and congestion at the airports?
The central government needs to give a nod for more AFSs, which could help in easing out the bottlenecks. Simultaneously, we need more skilled labour as more and more airports are coming up. Currently, there is an acute shortage of skilled labour. But with many cargo terminal operators and other agencies, including ACAAI, we are conducting training sessions for logistics and air cargo aspirants.
Since associations played a key role in taking the industry forward, what will be the highlights of this year's Convention?
The highlight would be to urge for better coordination with the government and to ensure things are streamlined for the agents, and relief for shippers and other players. Thanks to the Open Sky Policy, things are moving forward, and we hope that the government supports the industry's needs and helps in promoting the growth of this industry.
With various domestic airlines launching freighters, how will it boost regional connectivity and logistics efficiency, especially in tier II and III cities?
Quantity of perishables in Guwahati are not reaching either domestic or international markets. In this regard, the government is planning to engage defence aircraft to lift the perishables and bring them to the metro cities from where they can be carried to various markets abroad, whenever required. The government is roping in private players to operate cargo planes and move the commodities from tier III to II to tier I cities so that they can reach the international market and farmers can get the best prices for their produce. The AFSs cannot handle military aircraft: the defence aircraft will be used to carry bulk cargo and defence personnel will be involved in cargo handling, loading, and unloading. So, I do not think there will be any problem.
How would you justify the Convention theme Resilient Air Cargo Post-Pandemic?
The focus will be on building resiliency in the sector after the pandemic cases subsided. The industry has played a role of being the lifeline of the country in delivering vaccines, essential medicines, masks, and PPE kits across the globe. The passenger aircraft were converted and deployed to fly essential items required for survival of the people during COVID outbreak.
What are your views on the multimodal infrastructure available today?
Currently, the ports are congested though road infrastructure is improving. However, people are still not aware of which mode to use. It will take some time though.
We have witnessed developments in this sector in the past years from both private players and the government. Initiatives such as Gati Shakti Masterplan, Self-Reliant India, Vocal for Local, and EoDB have been introduced with an objective to resolve the existing bottlenecks and enhance resiliency.
Do you think Indian industry stakeholders are ready to embrace tech to streamline business operations?
Technology is the need of the hour. To succeed, one will have to adopt digitalisation. It has helped us in a big way during the ongoing pandemic.