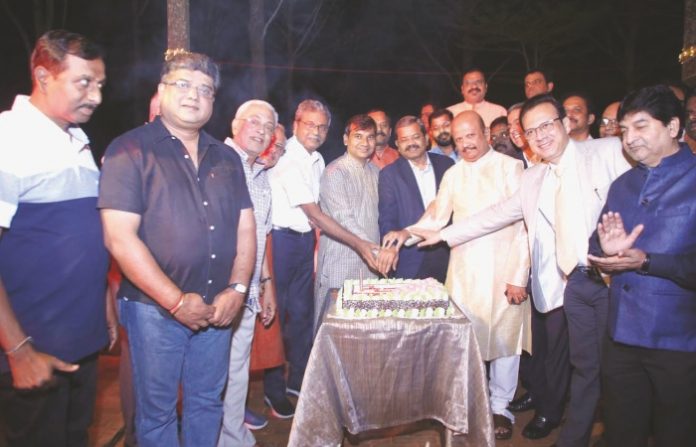 The VPT Chairman launched FFFAI's 59th Foundation Day and ushering in its Diamond Jubilee Year in City of€Destiny. BAV Srinivas, Commissioner of Customs hailed FFFAI's support to strengthen 28 Customs Brokers' associations.  FFFAI's partnering with the Government of India and its initiatives to facilitate the trade were appreciated.
Federation of Freight Forwarders Associations in India (FFFAI) celebrated its 59th Foundation Day and celebrates its Diamond Jubilee Year on December 2, 2021 during its second Executive Committee meeting held in Visakhapatnam.
K Rama Mohana Rao, Chairman, Visakhapatnam Port Trust (VPT) inaugurated the 59th Foundation Day celebration and launch of Diamond Jubilee programme. Shankar Shinde, Chairman, FFFAI welcomed Rao and other dignitaries.  The event was attended by office-bearers, EC members and Board of Advisors from all over the country. The event was attended and addressed by several customs and government officials.
BAV Srinivas, Commissioner of Customs, appreciated FFFAI's partnering with the Government of India and its initiatives to facilitate the trade. He welcomed FFFAI to Vizag and noted the milestone was happy to note the milestone achieved by FFFAI and support to strengthen 28 Customs Brokers' Associations.
M Shrikanth, Joint Commissioner of Customs acknowledged the contribution of the customs brokers for facilitating the EXIM trade partnering with the Customs. He mentioned that the customs brokers should initiate the IT skill development in their role of facilitation measures.
While addressing the gathering, Dr. PK Gupta, Registrar, IIFT and Dr. Nitin Seth from IIFT acknowledged the efforts taken by FFFAI in Logistics Sector and signed a MoU between FFFAI and Centre for Trade Facilitation & Logistics (CTFL), on various researches in logistics sector with the FFFAI's presence at 28 locations in India.
Shankar Shinde, Chairman, FFFAI appealed to all the logistics service providers to be part of the FFFAI, which plays a significant role in Logistics and is the only association in the industry having a representation on National Committee on Trade Facilitation (NCTF), constituted by the Government of India. He said the FFFAI welcomes all Logistics Service Providers in EXIM trade to be part of FFFAI membership on eve of the Diamond Jubilee to have single voice of the Logistics sector.
Several new initiatives were also announced by the FFFAI at this event, which were as mentioned below:
FFFAI unveiled its Diamond Jubilee Logo, Flag and Calendar
FFFAI launched its Diamond Jubilee News Letter- FFFAI Bulletin
FFFAI signed MoU with Logistics Sector Council (LSC) on Skill Development
FFFAI announced the 'Young Forwarders Award 2022'
IIFF (Education Wing of FFFAI) launched
IIFF-FIATA Diploma Course in Freight Forwarding and a course for Examination under Rule 6 of Custom Broker Licensing Regulations.
Later, it was announced that the FFFAI convention will be held from July 7 to 9, 2022 at Chennai. AV Vijayakumar, Immediate Past Chairman, FFFAI appealed to all LSPs to participate in the FFFAI biennial convention.
A Knowledge Session for the members was also organised by the  FFFAI where Dr. Pramod Sant, Head-Import, Export & Customs, M/s SIEMENS Ltd. made a detailed presentation on 'Customs Brokers New Opportunities' which was much appreciated.
The event concluded with a Valedictory Session which was addressed by Durgesh Kumar Dubey, Deputy Chairman, VPT.