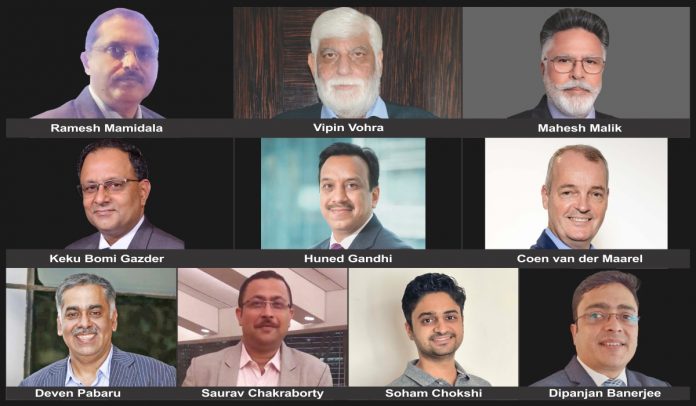 COVID disrupted supply chains led to increased volatility and unpredictability. Indian logistics and air cargo sectors must address core issues, including skill development, 100% digitalisation, improvement of multimodal infrastructure, concerns related to EXIM trade, and form efficient strategies to resolve existing issues.
Ritika Arora Bhola
Indian logistics industry and air cargo sector have witnessed a massive revolution in the last one decade—in terms of multimodal infrastructure upgradation, rise in e-commerce, emergence of Smart and Automated Grade A Warehouses, Technological integration, development of NHs, increased foreign participation, new warehousing facilities in remote locations, Greenfield Dedicated Freight Corridors, enhancement of regional cargo complexes, to mention a few.
The Union government has logistics industry's back, no doubt. With highly ambitious initiatives and schemes such as Make in India, Ease of Doing Business, PMGS, Self-Reliant India and the recently launched NLP—the industry has received the support and the standards have been set high.
Experts said, "Now is the time to lead and reap." With the kind of progress happening, experts believe India is ready to become a global transhipment hub in the coming years. According to a Cushman and Wakefield's latest report, Indian logistics and industrial market continues to attract global funds and investments in the sector in 2022 may surpass last year's investments. The sector has attracted investments of Rs 8,257 crores since early this year.
While India's air freight market is estimated to be US$12.41 billion in 2022 and is expected to reach
US$16.37 billion by 2027, growing at a CAGR of 5.7 per cent. After the pandemic cases reduced, air cargo has recorded an increase in the cargo volumes and revenue. According to reports, freight carried across Indian airports increased 27 per cent to 3.1 million tons in FY2022 compared to 2.5 million tons in 2021. While global freight increased 29 per cent to 1.9 million tons, domestic freight increased 24 per cent to 1.2 million tons.
While Mumbai saw a 26 per cent rise in global freight to 556,899 tons, Hyderabad saw an 18 per cent increase to 75,546 tons. On the domestic front, Mumbai saw a 40 per cent increase at 214,054 tons and Hyderabad saw a 38 per cent increase to 64,529 tons. Indian Airlines, during the last two years, have witnessed a 520 per cent increase in cargo revenue, stated reports. At present, there are 21 international and 35 domestic cargo terminals in India. MoCA has set 10 million metric tons target in cargo to be achieved by 2030.
The government is establishing 33 new domestic cargo terminals by 2024-2025.
Globally, APAC is the region with the highest cargo load factor globally, at 54.7 per cent in August, followed by Europe as the next best performer at 50.2 per cent. Cargo load factors in Africa (41.8 per cent) and the Middle East (46.6 per cent) declined by 2.9 ppts and 0.5 ppts, respectively, compared with the previous month.
India has come a long way…but still there are miles to go. Despite the progress made, there remains a set of challenges, which hinders growth and cannot be neglected. Upskilling manpower to adapt to doing business in the new normal, which is paperless and automated, improving multimodal connectivity, reducing congestion at the ports and airports, trimming down high freight rates, adopting Sustainable initiatives, setting up AFSs and improvement in logistics infrastructure in remote locations and tier 2 and 3 cities—are some of the areas that need attention.
Ramesh Mamidala, CEO, Adani Airports said, "The two biggest risks for growth of air cargo in India presently are constraints related to the open skies policy and levy of GST on export freight. GST will put pressure on the exporters and will increase cash flows."
Mahesh Malik, CCO, CarGo, IndiGo said, in FY 2040, "It is expected that air cargo capacity will increase fourfold to 17 million tons. The entire cargo handling process will be paperless, with dwell times cut to one to two hours. With the rise of e-commerce, India's freighter fleet is projected to multiply."
Lockdowns in China, ongoing Ukraine-Russia war, global recession can impact Indian supply chains in the coming years, addressed other stakeholders. From the e-commerce perspective, shipping during the peak seasons can be a quite a challenge. Return shipping/ reverse logistics is a complicated task and very much part of the overall e-tail experience.
Ferrying perishables quickly and in a good condition is a major challenge—lack of reefer trucks, cold chain infrastructure results in food wastage on daily basis especially in remote areas. With the growing consumers' demand —there is need for improved transparency, traceability, and agility. Ferrying perishables is one of the major areas for the industry today. Lack of logistics connectivity, end-to end visibility, and supply chain resilience is required. The industry is optimistic of the growth in logistics and related sectors. The experts are certain of automation and AI in empowering logistics businesses, reducing inefficiencies and overall logistics costs in the coming years. CARGOTALK spoke to logistics and air cargo industry experts to do a ground reality check and find out crucial areas of concern.
Levy of GST to increase cash flow, burden on exports
Ramesh Mamidala, CEO, Adani Airports
Global air cargo industry has suffered a lot, especially during the pandemic. The crisis had a huge impact on the cargo volumes. But now the air cargo industry is moving towards growth. We should focus on the Union Ministry of Civil Aviation's vision to achieve 10 million tons of cargo by 2030. Also some policy changes are required, and there are various air cargo associations that have been lobbying for these policy changes. Indian freighters have been witnessing a recovery now in the current times when the pandemic cases have reduced and working on bringing back capacity. Freight rates are adjusting now. Airport infrastructure also needs to be developed, especially in the remote and interior areas. Technology integration is happening with ULIP and Kale's Air Cargo Community System (ACCS) at a fast pace so that is a good sign. The two biggest risks for the growth of the air cargo in the country at present are—constraints related to the open skies policy and levy of GST on export freight. GST will unnecessarily put pressure on the exporters and will increase cash flows.
Need AFSs to make India global cargo hub
Vipin Vohra, Chairman, Continental Carriers
The Union government had launched the policy for AFS in 2014 and mine was the first approved greenfield Air Freight Station in India in 2016, but the terminal operators want to create monopoly instead of creating competition. Since we know that logistics cost is high in India, they want to charge full TSP, while not doing 15 per cent of their jobs. About 85 per cent of the jobs will be done by AFS, even customs cost recovery will be done by the AFS operators, their job is only to take the cargo in ULD out from the trucks to the flights, why should customers pay twice? I have approached all the government bodies, but this issue is not being resolved. It was my father's dream to build a Greenfield AFS in India and I will continue to fight for this. India has the potential to become air cargo hub soon. But for that, a few policies need to be changed such as uniformity in the present policies of the customs at each airport, the airport policies, the security policies, the issue of the transit cargo needs to be X-rayed at every airport or at the origin airport.
Rise of e-commerce to expand India's freighter fleet
Mahesh Malik, Chief Commercial Officer, CarGo, IndiGo
Ground handling and airport operations will be fully automated and driven by electric ground support equipment. Check-in, bag drop, immigration clearance, and retail shopping will be automated, with minimal human intervention. Indian airports will invest heavily in cloud computing capabilities, which will enable integration of safety and security data sets such as security camera feeds, facial recognition, luggage scans and security incident reports. This is evident with the launch of DigiYatra programme to facilitate paperless travel and avoid multiple identity checks at the airport enabling seamless and hassle-free travel. Beta versions of the app have been launched in Bengaluru, Delhi, and Hyderabad. India's infrastructure for aviation education and skill development will undergo an improvement. Students from across the world will be drawn to its excellent aviation education system. In FY 2040, it may increase fourfold to 17 million tons. The cargo handling process will be paperless, with dwell times cut to one to 2 hours. With the rise of e-commerce, India's freighter fleet is likely to multiply, and it will eventually turn into a transhipment hub for South Asia.
Ukraine-Russia war can impact supply chain
Keku Bomi Gazder, MD, Aviapro Logistics
The air cargo industry is not growing at a speed at which other industries are growing. We are not innovating with products or services that need innovation and growth. So that is one pain point that needs to be addressed. This will take time. It is not easy as this is one of the heavily regulated industries. But I am convinced we are on the right track and there will be clear results on the way forward. I think logistics cost is not that high as has been shown. If we look at it in a deeper sense the challenge is that the component, for example, of air freight within the overall logistics is not even 7 per cent, while we are projecting the logistics cost for the industry is 12 to 14 per cent. This number is not factually authentic. There are signs of uptake in the business and an indication the traffic volumes are on the rise and will continue to rise. However, the ongoing Russia-Ukraine crisis is one of the challenges that the sector is facing, which has severely impacted global supply chains. A contraction in the automobile industry is another concern. It is dependent on the consumers' purchasing power, but advance planning will help in overcoming this.
Upskilling manpower: need of the hour
Huned Gandhi, MD, Air & Sea Logistics, Indian Subcontinent, Dachser
There is a need for getting skilling and training imparted for the new workforce because the industry is going to need new talent. At this stage, I see a shortage in terms of talent that we could hire in the company. The logistics industry, and in fact, the world is getting more complex, and we need highly skilled employees. In terms of infrastructure, a lot is being done, but that is not enough. New highways are being developed. The Union government has launched the National Logistics Policy (NLP) , which is comprehensive. The objective of the policy is to bring down the logistics cost. Now it is not only the government's policy but also ours to understand NLP and implement it in a proper way. Tremendous efforts have been made to develop dedicated freight corridors, coastal waterways, and railways. I feel there is a high dependence on road freight in the country and reduce logistics cost down. At the same time, we also need to focus on both road and rail freight.
Resolve bottlenecks to achieve growth
Coen van der Maarel, MD, Sri Lanka & Maldives, Kuehne+Nagel India
The high logistics cost has been a concern for a while in terms of global market competition and the recent efforts in making India the global manufacturing hub with 'Make in India' movement. The government has taken steps to cut logistics costs by 5 per cent from the current 14 per cent. If the target is realised, it will catapult India to the league of developed nations where the logistics costs is 8-10 per cent of the GDP. Framing of state-level logistics policies and master plans, single-window clearance system for logistics, grievance redress mechanism and large-scale skilling will help achieve ambition. The government has made efforts to enhance multimodal infrastructure and connectivity. The need is to develop warehousing infra in fringe areas of metropolitan hubs and in commerce corridors.  There is a need for PPP model in bridging the gap in skilling manpower to fulfil its future needs. Steps are being taken by the government to improve AFS.
Key priorities are resilience, agility, safety
Deven Pabaru, CEO, Stellar Fulfillment Solutions
Skill development has always been a key focus area for the govt and bodies such as CII, which conducts training modules regularly to upskill the talent force in the industry to enhance the overall efficiency of the industry. Investments in technology to ensure speed, efficiency and transparency has proved to be a strong anchor for new age companies by improving their service levels. The government is looking at expanding the infrastructure with initiatives such as 80 new airports by 2025. Consistent efforts from all the directions hold the key to propel India ahead. Two of the biggest learnings of recent times are agility and Safety. At Stellar, we have always been safety conscious whether it is our processes or people. Stringent rules and policies are framed, implemented, and monitored. This was a boon during the pandemic as we were quick to rise to the occasion and ensure minimum business disruption. The other aspect is agility. It is a way of life as it is the business edge, we provide to our clients to cater to their requirement of large warehouse facilities or transportation which is possible through technology and processes. This ability to adapt to the situation with effective planning for infrastructure, technology and manpower is what is holding us in good stead.
Perishable products movement requires resilience
Saurav Chakraborty, COO, Lords Freight
Most shippers must cope with the difficulty of moving perishable goods in a secure manner. These problems become complicated and aggravating for carriers and because of the rising consumer demand for improved transparency, traceability, and freshness of consumables. Some of the challenges are: Inventory Management: Manufacturers, retailers, and distributors must collaborate to keep an eye on inventory levels at the point of sale to maximise food and beverage inventories. They must trace it across warehouses and fulfilment locations. Reduced client happiness, lowered sales, and lower profitability are the results of failure to achieve this. Increasing Regulatory Procedures: Find methods to enhance quality and safety of the food and beverage items. These concepts are sometimes transformed into rules that aid in regulating the production, storage, and transfer of goods. Forecasting: Accurate forecasting continues to be a problem in the sector, along with inventory control. Threat of product recalls and quality control: Quality control is must for effective and secure production of all food and beverages, whether it be failing to correctly monitor temperatures for cold storage or perishables during transit or a facility's cleaning procedures. Lack of Logistics connectivity: We have limited direct flights to cater the prevailing demand from the source of origins in India. Hyderabad, Ahmadabad, Vizag, Bengaluru, Cochin and Thiruvananthapuram do not have direct flight options to area 1 lands of IATA, which leads to transit delays and quality of services.
Deploy technology to enhance efficiency
Soham Chokshi, CEO and Founder, Shipsy
Automation and Artificial Intelligence (AI) play a critical role in empowering businesses in order to reduce overall logistics costs and manual interventions. They can achieve high levels of supply chain efficiencies by automating core logistics planning processes such as routing, scheduling, order allocation, freight procurement, customs management, and the like. To cite an example, advanced route planning tools can reduce last-mile delivery costs by as much as 14 per cent. Our advanced logistics management platform enables businesses to build highly resilient supply chains that can quickly respond to changes in demand and supply, accurately predict demands and mitigate transportation risks. Advanced technologies such as AI, Block-Chain, Predictive Intelligence, Big Data Analytics, and Automation will make a winning difference for enterprises in building robust strategies for addressing unprecedented supply chain disruptions.
Seamless reverse logistics required
Dipanjan Banerjee, VP, Sales, Express and EDS, Ecom Express
Shipping during the peak season can be a quite a challenge. Return shipping is a part of the overall e-tail experience and with proper planning and collaboration with dedicated e-commerce focused logistics players, it is possible to provide seamless process when it comes to returns. The volume of return shipments is estimated during the planning stage itself with the help of data and trends for predictions and we leverage analytics to understand returns patterns. We plan for space and resource demand for peak seasons based on these insights. We work with our customers to plan the returns management as the goal is to use returns as an opportunity to increase the e-commerce/online brand's customer satisfaction. Our automated shipment sorters at Return Centers ensure quick processing of shipments for transit back to portal warehouse/seller. Features such as Proactive Return Updates reduces customer inquiries. Our Quality Check-Reverse Logistics solutions ensures the return product is checked for authenticity and damage at the doorstep of end-consumers. When it comes to e-commerce, customer expectations are evolving, and the basic needs of consumers of yesteryear will not reflect the needs of the current consumers. Hence, when it comes to Returns, we ensure that all risks are mitigated to ensure a smooth reverse logistics.