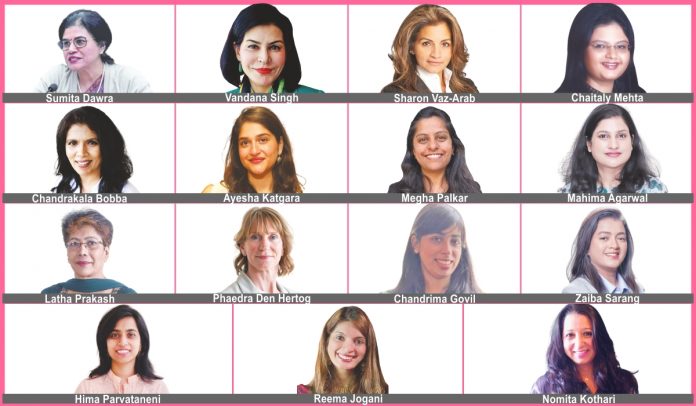 Air cargo revenues played a key role in cutting losses, with revenues likely to reach US$ 201.4 billion. This is an improvement as against the June forecast, unchanged from 2021. In the current scenario, women professionals state that sustainable recovery seems to be the only way forward.
Ritika Arora Bhola
Global cargo volumes may come under increased pressure and decrease to 57.7 million in 2023 due to economic uncertainties, as per IATA's latest data. The findings have left the stakeholders bewildered and concerned.
"Cargo markets may come under pressure in 2023. Revenues are likely to be US$149.4 billion, which is US$52 billion less than 2022, but still US$48.6 billion more than 2019. With economic uncertainty, cargo volumes may decrease to 57.7 million tons, from a peak of 65.6 MT in 2021," it stated. As belly capacity increased in line with the recovery of passenger markets, yields may take a step backwards. IATA expects a fall of 22.6 per cent in cargo yields in the latter part of the year, the report stated.
Air cargo revenues played a key role in cutting losses with revenues likely to reach US$ 201.4 billion. This is an improvement as against the June forecast, unchanged from 2021, and double the US$100.8 billion earned in 2019.
Cargo yields grew by 52.5 per cent in 2020, 24.2 per cent in 2021, and 7.2 per cent in 2022. The decline left cargo yields well-above pre-COVID. The IATA in Q3 2023 expects a return to profitability for the aviation industry in 2023 as the carriers continue to reduce losses stemming from the COVID effects to their business in 2022.
Willie Walsh, Director General, IATA said, "Resilience has been the hallmark of aviation industry during COVID. As we look to 2023, the financial recovery will take shape with a first industry profit since 2019, considering the scale of the economic damage caused by pandemic curbs. But a
US$ 4.7 billion profit on industry revenues of US$ 779 billion illustrates there is more ground to cover to put the industry on a solid financial footing."
What are the reasons for the distress in global air cargo volumes?
Experts forecast many reasons for the drop in overall cargo volumes:
Decline in global economic growth
High inflation
Ongoing conflict between Russia and Ukraine
Higher interest rates
Higher costs of living
Over capacity
Increase in energy prices
Air cargo and logistics firms are searching for optimization alternatives. spoke to global and Indian professionals about the causes of distress and how the industry can accelerate recovery in the coming years.
Sumita Dawra, Special Secretary Logistics, DPIIT, Union Ministry of Commerce and Industry
'Build multimodal infra to improve logistics efficiency'
We have our Vision 2047 for India wherein we expect to become a US$30 trillion economy. Our plans are supported by reforms to become the manufacturing hub, said Sumita Dawra, Special Secretary Logistics, DPIIT, Union Ministry of Commerce and Industry. She was addressing the CII Logistics Summit 2023 at Pragati Maidan. "As we characterize the service sector, it gets facilitated to greater logistics efficiency and a lower logistics cost. As we attract more investments under PLI scheme, logistics cost becomes a determinant for attracting investment, while the entire industry has been working on improving efficiency by improving the overall logistics infra. Private players and service providers need to invest in infra to ensure seamless cargo movement," she added. Dawra addressed the need to improve first mile and last-mile connectivity and build multimodal infrastructure to ensure logistics efficiency. Apart from the marvellous developments being done under PM Gati Shakti Masterplan to improve country's infrastructure and connectivity, Dawra said "The NationalLogistics Policy launched last year introduced us to Unified Logistics Interface platform (ULIP), a digital platform, enabling seamless movement of goods from one point to another".
This is one example of technology, which can unite all the industry stakeholders under one platform. "We are going to set up a services improvement group to give us feedback and to help us resolve issues related to logistics efficiency. We have had round tables with businesses who have given us feedback on how to improve logistics infra and logistics services in the country. We are also putting together a consulting group with the businesses to get constant feedback on how to improve the same further," she added.
Vandana Singh, Director, Global Corporate Key Account Management, Saudia Cargo
Cross border e-commerce will grow by leaps and bounds
What is causing distress in global air cargo?
As per IATA forecast, cargo volumes are likely to come under increased pressure and decrease to 57.7 million this year. Potential reason for this distress is the overwhelming global economic uncertainties such as the USA-China trade tensions and the ongoing Russia- Ukraine conflict. However, we expect profitability to return this year as the airlines continue to cut losses stemming from the COVID effects. Resilience has been the hallmark for the airlines as COVID has demonstrated.
Accelerating recovery
The buzzwords are enhancing our flexibility through measures such as increasing the deployment of so called 'preighters.' The flexibility to adapt to unexpected scenario is the key to accelerate recovery. The other way is to focus on e-commerce—a sector that has benefited both the shipper and the consumer. With the use of the latest technology, the consumers can keep track of their shipments. The third way of moving forward is with latest digital air cargo innovation (e-freight).
Key growth drivers
Digital innovation defined as the commercialization of novel ideas, including products, services, processes, and business models is critical for economic growth. Across the globe, innovation as a driver of growth and competitiveness has and will continue to increase. As we have witnessed, e-commerce and digital technologies are revolutionizing the trade, and the industry is set to double by 2035. Cross border e-commerce is growing by leaps and bounds and providing the customers with speed, predictability of delivery times, and visibility.
Bottlenecks
With pre-COVID capacities returning to normal, the reasons for a decrease in demand affecting global trade include Russia-Ukraine conflict, inflation, higher interest rates among others. Air freight should be prepared for the downslide and upside risks of the forecasts. This year is unexplored like any other year.
However, the complexities of geo-political situations, nuances of cargo operations make it tough along with a COVID surge in China. At the end I would like to state we are optimistic that even with a deteriorated market, global average air freight rates will remain 35-50 per cent above pre-COVID levels.
Sharon Vaz-Arab, Regional CEO, India, Middle East, and Africa, Chapman Freeborn
Digital innovation, collaboration to change air cargo
Cause of distress
Air cargo has seen success during COVID with yields reaching historic highs. Air cargo has continued to sustain global airlines during the past two years, with cargo being a game changer in the boardroom of many airlines and supply chain logistics firms. The economic and geopolitical environment dictates supply chain trends. The restricted demand airlines experienced for passenger travel during the pandemic caused an over capacity situation for 2023. A degree of uncertainty as to how these factors will impact inflation, labour productivity, and certain industry-specific verticals continues.
Accelerating recovery
Air cargo is the lifeline of recovery for several industries. This has been proven not only for the health sector, but also for the wider recovery of the logistics industry and society's wellbeing. We have invested in a framework to identify the key growth drivers for our business towards our 2030 goals and developed a blueprint to improve our products by investing in our people and strengthening our regional offerings to the market across the globe.
Digital innovations, ensuring transparency with business partners, adopting regulations-compliant business policies, and building a resilient and sustainable industry in the long-term are all keyways in which stakeholders in the logistics sector should continue to improve the industry.
Key growth drivers
I believe digital innovation, collaboration, and e-commerce can transform the sector. The metaverse is projected to be a new form of tech-enabled human interaction worth US$800 billion by 2024. The government officials and business executives across borders must collaborate to build a viable, safe, and inclusive industry, not only for the cargo industry, but for all sectors. Businesses were forced to operate during an economic downturn, and although retail is back into brick-and-mortar stores, e-commerce industry will see a requirement to evolve to meet post-COVID consumer demands for omnichannel shopping experiences. The industry must prioritize customer retention and increase customer value creation.
Bottlenecks
Uncertainty linked to economic and geopolitical tension
Possible decrease in demand linked to inflation
Higher interest rates and fuel price hike putting pressure on air freight rates
Impact of labour supply shortages on productivity and performance
Chaitaly Mehta, Director, EKF Global Logistics
Increase investments in cybersecurity
Global economic growth is forecasted to slow from 6.0 per cent in 2021 to 3.2 per cent in 2022 and 2.7 per cent in 2023, which is the weakest growth profile since 2001, as per the world economic outlook by the IMF.
There are multiple factors for the pressure some of which are excess supply and less demand, existing geo-political issues, strikes/ high airport landing costs, natural calamities, possible recession in the USA, Western Europe, spend more money on holidays compared to buying products, surging fuel costs, anti-COVID restrictions affecting Chinese manufacturing and logistics, and sea freight rates coming up to pre COVID levels may have buyers wanting to shift general cargo by air to ocean again.
Accelerating recovery
Using rail transport as an alternate means to road transport
Making tier II and III airports more cargo friendly so that pressures are reduced on the major airports
To pronounce digitalisation to reduce manual processes
Turning air freight into an omni channel. With stiff competition, organisations have started providing end-to-end services. To ensure seamless delivery, Amazon has expanded its services to Amazon Air Services.
In warehousing, companies should try and reduce human contact involved in material and products handling and introduce innovative packaging and materials-handling processes
Improving management of Unit Load Devices (ULDs)
Increase investments in cybersecurity to protect against the cybersecurity threats
Key growth drivers
Digitalisation and innovations between stakeholders will be the key growth drivers. Digitalisation, ACCS, Digital Air Freight Corridors, the NextGen supply chain trends will be supported by technologies such as AI, ML, IoT, robot process automation, and AR platforms. e-commerce cannot be left out and may grow at 78 per cent globally by 2030, as per the Economic Forum. Many firms have started to adopt last-mile delivery tech into their ops and this trend will continue to increase in the coming years.
Bottlenecks
Reduced buying, threat of recession in Europe and Americas, excess supply, cyberattacks, shortage of skilled labour and logistics and supply chain personnel higher fuel prices, shortage of containers, geopolitical issues, sustainability, and climate change are some of the causes at the moment, according to me.
Chandrakala Bobba, Director, Bobba Group
Additional cargo-friendly airports need of the hour
Cause of distress
There are various reasons for such a situation, such drop in overall cargo volumes, global slowdown, inflation, higher interest rates, and higher cost of living. Over capacity is the biggest reason. There seems to be a weakening air cargo demand and an inflow of extra capacity. Many shippers and players in the transport and logistics are currently under pressure due to issues such as COVID, energy price hike, supply-demand fluctuation, demand for transport capacities, delays in port transshipment among others. Many countries are experiencing double-digit inflation. During such challenges, firms are analyzing their supply chains and searching for optimization. One possibility is to go back to warehousing with the aim of stability in the supply of goods. The economy has no short-term alternative to global production and trade.
Accelerating recovery
Air cargo has been a volatile market. After the pandemic, uncertainty has become the new normal across the globe. The way to work around this is to be flexible to situations and the demands/requirements they come with. Flexibility is the key to provide solutions to customers to ensure trade. We have many initiatives underway. These include:
Cargo-friendly airports with a logistical speed advantage
Upgrading technologies and skills
Making use of Air Cargo Community System by enabling forwarders, ground handlers, airlines, and customs to communicate electronically
Creating digital air freight corridors
Accurately tracking the real-time movements of Unit Load Devices (ULDs)
Maximising the efficiency of the ULDs with innovative new designs/solutions
Growth drivers
Increase in quality infrastructure with multiple warehousing options, from large ones to micro fulfilment to ensure that stock is available, anywhere, so that we do not face a shortage like we did in the past couple of years Using technology such as cloud-based supply-chain management in order to upgrade current processes The Boom in online shopping with increased access to the internet across different strata
Bottlenecks
Fuel costs—though they have stabilized—still play a major role in determining which markets to enter or make an exit:
Airport space is becoming increasingly tight, especially for air cargo
The pressure to adhere to the Federal Aviation Administration (FAA) noise standards under a new noise legislation by imposing operating restrictions on carriers
Ayesha Katgara, Head, Corporate Strategy, Jeena & Company
Need to increase air cargo capacity and freighters
What's causing distress?
As per IATA's forecast, there will be a 4.3 per cent decrease in volume and a 22 per cent drop in yields in 2023. Although cargo markets are in a much better position than in the pre-pandemic times, yet the distress could be due to a inflation, softening of demand and escalating tariffs. With forecasts for the remainder of 2023, gaps should be fulfilled, and belly capacity would receive a boost upon the return of more wide-body freighters, contributing to cargo market growth.
Accelerating recovery
Here are some ways to boost the air cargo sector:
Digitalisation: It is high time digitalisation is embraced, and manual processes are done away with. Going digital, end-to-end processes could be streamlined and the supply chains could be made more efficient and optimized.
Air freight corridors: It will provide improved visibility of shipments and optimized flow of cargo data between two airports or communities. Such corridors have the potential to transform the sector.
Cargo-friendly airports: We need to have more cargo-friendly airports for loading and unloading. These are setups with accelerated processes that can get the freight to their final destinations.
Key growth drivers
Digital innovation and e-commerce can change the logistics sector. There are other factors with potential to drive sustainable growth in logistics. With focus on infra development, it is likely India's logistics sector will receive a boost. Under the NLP and PMGS, several projects are underway. We may witness dedicated freight corridors, enhanced warehouses, and better ports and airports driving efficiency in the logistics sector.
Bottlenecks
Economic headwinds: Economic uncertainties followed by disruptions can impact logistics industry. Fuel price hike: On the last-mile front, the industry is relying heavily on EVs, which mitigate the concern of rising fuel costs and provide momentum to sustainability. Handling customers: Buying pattern of consumers has changed due to COVID. With a shift to online purchases, they expect speed and convenience in e-commerce ops. Handling their expectations has become challenging.
Megha Palkar, Assistant Manager, Cargo iQ
Digital growth to completely transform air cargo
Cause of distress
Global economic growth is forecast to fall from 6.0 per cent in 2021 to 3.2 per cent in 2022 and 2.7 per cent in 2023—the weakest growth profile since 2001 except for acute phase of the COVID, as per the World Economic Outlook by the IMF. There are multiple pressures such as excess supply and less demand, existing geo-political issues, issues at airports (strikes et al), high airport landing costs, natural calamities and possible recession in the USA, Western Europe, among others. This has made people spend money on holidays vs buying products and force them to shift general cargo to ocean again.
Accelerating recovery
Using rail transport as an alternative to road transport thereby making it more environment-friendly
Making tier II and III airports cargo-friendly so that pressures are reduced at major airports and also reduction in dwell time
Digitalisation more pronounced thereby reducing manual processes
Turning air freight into an omnichannel, with increase in demand and competition, organizations have started providing end-to-end services.
Services to ensure seamless delivery
In warehousing, the companies should try and reduce human contact involved in material and products handling and introduce innovative packaging and materials-handling processes
Improving management of ULDs
Increasing investments in cybersecurity to protect against cybercrime
Key growth drivers
Digitalisation, innovation, and collaboration between the stakeholders are going to be the key growth drivers. Digitalisation, ACCS, digital air freight corridors, the next generation of supply chain trends will be supported by advanced tech such as ML, IoT, robot process automation, and Augmented Reality (AR) platforms are likely to assist identify patterns, errors, and proper supply chain data issues in real-time. e-commerce cannot be left out and is likely to grow by 78 per cent, internationally by 2030, as per the economic forum. Many businesses have started to adopt last-mile delivery technologies into their logistics operations and this trend will only continue to increase in the coming years.
Bottlenecks
Reduced buying, threat of recession in Europe and the Americas, excess supply, cyberattacks which is a real threat both now and in the future worldwide, shortage of skilled labour and personnel in the logistics and supply chain industries, higher fuel prices, need for better technological integration and upgradation, shortage of containers, geopolitical issues, sustainability and climate change are some of the causes at the moment according to me.
Mahima Agarwal, President HR, CJ Darcl
Digital, multimodal connectivity are key growth drivers
Accelerating recovery
Expanding our services to provide door to door operations with a vision to be the total logistics service provider by 2027 is speeding us to growth. CJ Darcl is authorized agent for all the airlines (except Akasa Airlines) to book any load at any time, domestically. It is looking forward to planning to expand its wings globally. CJ Darcl has set up five dedicated processing centres in metros. Its approach to avoid congestion in these metros is by enabling faster/timely deliveries. After having learnt the hard way in the past three years, CJ Darcl is now equipped to handle any disruption.
Key growth drivers
The factors driving trend upward is the expansion of e-commerce to tier II and III cities, which has led to growth of the logistics sector. This expansion is hiking demand for warehouses in smaller cities for the supply chain's seamless functioning. The government is working to building new roads across India and investing in rail transportation to give momentum to logistics industry. The growth of retail business and development of e-commerce are the major demand drivers .
The government is planning to invest in 100 projects on infra and spend 2.4 lakh crore to improve regional railway linkage and logistics. About 19,700 crore has been allocated to the National Hydrogen Mission aiming hydrogen production capacity to 5 MT by 2030. The Digital Innovation involves launching of 3 AI centres of excellence and 100 labs for developing apps using 5G Services.
Bottlenecks
Physical infra hampers transportation, which impacts supply chain management. The hike in fuel prices hikes freight charges, indirectly impacting the logistics firms. The economic and socio-political changes result in price fluctuation, which in turn, affect disrupts the supply chain. Logistics staff needs to be imparted training to make them skilled.
Latha Prakash, Branch Manager, Broekman logistics
Integrated logistics must be technology-driven
Cause for distress
It is due to the economic uncertainties and recent GST Policy imposed on air freight exports. Post COVID, while the freight prices have come down, the overall logistics cost has not improved. With implementation of GST on exports, the exporters/importers are left struggling with funds flow situation, leading to mergers and acquisitions, and folding up of many firms. India is dependent on China, which is our major trading partner. China's economy has grown powerful and is posing a threat to the rest of the world. With future still uncertain, the alternatives are not cost-effective to pursue.
Accelerating recovery
An integrated approach where all involved in cargo players such as freight forwarders, customs house agents, customs, custodian, and airlines must align and work cohesively. It is imperative everyone understands his or her role to cater to the requirements of EXIM trade and facilitate smooth logistics movement. The Centre is responsible to boost the economy by framing policies that can be embraced. The state must initiate infra development to facilitate the supply chain link for timely distribution. Cargo-friendly airports, rise in freight capacity and frequency of airlines are need of the hour. We notice an upsurge of related trade associations in this network, highlighting the challenges faced—some of them are at the grassroot level. Need of the hour is to look at the larger picture and stimulate the growth of industries.
Growth drivers
e-commerce plays a crucial role in logistics. It is limited to the type of goods that can be transacted through this platform. Industrial cargo movement per se must depend on freight forwarders and to facilitate this, "technology-driven integrated logistics is the key. Digitization is an area gaining importance in all sectors. Usage of the right digital technology platform can help in providing timely solutions in a challenging situation. Real-time tracking and access to correct information is the key to success".
Bottlenecks
Rise in logistics cost.
Phaedra Den Hertog, Customer Success Manager, Awery Aviation Software
Inflation decreases demand for consumer products
Causes of distress
Pressure on cargo markets is not new. After passenger capacity went back to pre-pandemic levels, a competitive market was created causing freight rates to drop. Another factor is the continued international uncertainty as China is not operating fully thereby reducing demand for ex-Asia capacity. The extra freighters and conversions, which were ordered previously, are contributing to the over capacity. Inflation and rising energy costs, are cooling down demand for consumer products. The drop in demand has slashed volume of cargo being transported.
Accelerating recovery
Digitalisation is key. Digitalisation reduces manual labour, so there is more time to focus on customers such as managing shipments that need attention. The air cargo industry is dependent on swift and accurate communication between stakeholders. Digitalisation can assist in several ways, providing open marketplaces, linking different airlines on the same platform. AI such as Awery's eMagic tool acts as a bridge to manage emails and other communication modes until the industry is fully digital.
Growth drivers
In today's market, e-commerce is the key growth driver. Consumers receive their purchases the same day or latest the next day. The rise of e-commerce is also reliant on digital innovation and ensure a customer-driven approach. e-commerce operations require digital ERP systems, which offer track and trace options, right from placing the order with the shipper or the player to the final delivery to the customer, which is within a day or latest by the next day.
Bottlenecks
The economic situation arising due to the Russia-Ukraine conflict, which is lasting longer than expected
Lack of skilled emplouyees; it is hard to find qualified staff
The continued resistance from many stakeholders to adopt to new digital ways of working
Chandrima Govil, Director, MKF Logistics
Cost optimization, digitization are must for logistics
Cause for distress
The air cargo and logistics industry faces' challenges (COVID) causing supply chain disruptions and increasing pressure on cargo markets. To recover and grow, the industry must focus on cost optimization, process automation, and digitalization using technologies such as AI), Blockchain, and IoT. Sustainability and e-commerce growth may drive sector growth, while trade uncertainty, and demand for air cargo capacity remain cause for worry.
To drive sustainable growth, the industry must be proactive in addressing the challenges. The reasons for increased pressure on cargo markets in 2023, according to International Air Transport Association (IATA), could be due to many factors such as economic uncertainties, geopolitical tensions, and supply chain disruptions, caused by the ongoing pandemic.
Accelerating recovery
To prepare for recovery, the air cargo and logistics sectors should focus on cost optimization, process automation, and digitalisation. Improving network connectivity, fostering partnerships, and investing in infrastructure can also help in boosting efficiency and competitiveness.
Growth drivers
It could be the integration of advanced technologies such as Artificial Intelligence AI), Blockchain, and the Internet of Things (IoT). Additionally, the focus on sustainability and green initiatives as well as the rapid growth of e-commerce are likely to drive growth of all sectors in the coming years.
Bottlenecks
The main concern are ongoing global pandemic, uncertainty around trade relations and tariffs, and rising demand for air cargo capacity. The industry must be agile and proactive in addressing these challenges in a bid to drive sustainable growth and recovery.
Zaiba Sarang, Co-founder, iThink Logistics
Companies emphasize on sustainable logistics
Accelerating recovery
Logistics and air cargo firms may face challenging times ahead due to factors such as inflation, surplus freight capacity, declining spot rates, and the impact of worldwide events, all of which will reduce demand. These issues could be addressed through digitization, automation, Artificial Intelligence (AI), and cloud-based systems to streamline operations and improve supply chain visibility. As India is striving to become carbon neutral, we may be able to use technology to optimize the routes. While on technology, the loading and unloading processes are still done manually; the process is slow and difficult, but with AI, proper planning and structure, the process could become faster. Players are taking matters into their hands by launching air services in India. e-commerce players are coming up with more ways and means of optimizing logistics by launching their own flights resolving the industry's delivery problem caused by a shortage of skilled personnel.
Key growth drivers
The Union Budget 2023-24 emphasizes greener and sustainable logistics. The 'Panchamrit' initiative sets a goal to achieve net zero carbon emissions by 2070 prioritizing environmental responsibility in the industry. The focus on promoting green growth will usher in an era of sustainable development thereby ensuring a better future for all. The government has taken the initiative to offer customs duty exemptions on machinery imported for manufacture of lithium-ion cells for batteries for Electric Vehicles, which will encourage businesses to shift from traditional to electric fleets.
Bottlenecks
e-commerce growth has caused capacity constraints for logistics, warehousing facilities and higher shipping costs, while the pandemic has disrupted global supply chains. There is pressure to make the industry more sustainable and this requires investments in new technologies and practices.
Shortage of skilled manpower and infrastructure limitations pose challenges. Digitization and connectivity of logistics processes increase the risk of cyber-attacks and data breaches. Increasing costs, such as fuel prices, insurance premiums, and regulatory compliance, add further pressure. Despite these challenges, we remain dedicated to providing reliable and efficient logistics services.
Hima Parvataneni, CEO & Director, Navata Supply Chain Solutions
Invest in infrastructure to enhance operational efficiency
Cause for distress
Economic and political uncertainties worldwide have led to slowing slow down of economic growth rates in recent times. The global economic growth rate has collapsed compared to 3.2 per cent in 2022 from 6 per cent in 2021. The growth rate in 2023 was 2.7 per cent. This has led to a negative effect on global trade and cross-border connections. Spike in fuel prices, change in consumer behaviour and high inventory levels not being met have left a crater in managing fluctuations.
Accelerating recovery
The supply chain disruption caused by COVID has had operational and financial complications. We have identified three focus areas: digitization to ensure end-to-end visibility, rethinking operating model to identify improvement, and building an asset light network. I believe businesses must navigate through the financial and operational challenges the logistics sector is currently facing and accord top priority to address the needs of the workforce, customers, and suppliers. Supply chain leaders can turn supply chain disruption into meaningful change. Not only should the companies respond to the impact of COVID, but should also prepare for what comes next.
Key growth drivers
To comprehend a market, a variety of factors must be evaluated. These include demographics, business cycles, and micro economic needs. The sector is driven by growth factors, including investments, dedicated consumer base, automobile, telecom, pharma, and heavy industries. The introduction of the e-Way Bill and GST eased regulatory compliance, tech upgradation,development of logistics parks and freight corridors. Thanks to awareness campaigns, 93 per cent of logistics and related firms have adopted digital tech or are in the process to do so. This year, we saw investments in infra development for operational efficiency. Trucking, considered a manually run business in India, is combined with AI, IoT and Data Analytics to improve its performance. Enhanced use of robotics in warehouses automates laborious tasks.
Bottlenecks
The cargo sector is facing challenges that cause concern. Main worry is the hike in fuel prices, need for sustainable supply chains, and use of alternate modes of transport. There is need to comply with security protocols such as Advance Passenger Information System and e-way bill documentation, requiring extra data collection and transmission. These issues impact on the cost of ferrying cargo and can lead to delays in shipments.
Reema Jogani, Director, Reema Transport
Retention of skilled manpower is challenging
Accelerating recovery
There is a clear rise in digital literacy, and awareness among consumers regarding the use of the various online platforms. Digitization in the logistics sector is likely to lead to a decrease in procurement and supply chain prices. However, the investment cost is high and getting the right platform is also critical. Current IT systems continue to be inflexible and dependent on legacy technologies. People across the supply chain and operations depend on the human workforce. ULIP has set the roadmap for developing an interconnected and tech-driven framework for cutting costs and improving operational efficiency in the logistics sector. The collaboration of LSP will pool in the best talent available and infra on how to improve and give the industry a better negotiating position to ensure best services at lesser cost. This will help the service providers get return loads to ensure maximum use and ensuring revenue. The Indian government is spending on infrastructure such as building roads, integrated rails corridors, modern cargo facilities at logistic parks. The logistics and warehousing sectors are getting organized. The multimodal logistics and supply chain and upcoming Block Chain revolution will change the sector.
Bottlenecks
All overheads for transporters have increased be it insurance, fuel, toll, tyres, vehicles, lubricants, drivers' salaries, staff salaries among others. This is coupled with depleting profit margins. An upward trend is witnessed in the cost of BSVI vehicles and we, as transporters, strive to provide low costs and high-quality service. Due to increasing overheads, they get stuck in a Catch-22 situation.
The government's initiative to streamline movement of commercial vehicles at tolls and check nakas leads to harassment and hurdles by transporters by various authorities. These hurdles delay the movement of goods and lead to lot of hidden costs and risks. Procurement and retention of skilled manpower is another major challenge. While the industry supports benefits of technologies, some questions remain as to how they will pay for it and who will help implement the improvements. We understand how difficult it can be to manage these concerns. Outsourcing all or a portion of one's freight and business processes can provide the required expertise, people, capacity, and IT systems needed to help reduce expenses, improve visibility into the supply chain, manage the supply chain and achieve greater regulatory compliance.
Nomita Kothari, CEO, New Globe Logistik
Skilled manpower in air cargo, logistics required
Cause for distress?
There are several factors, post pandemic that influence an increased pressure on the cargo industry in this year and ahead. Starting from the adverse effect of the Russia-Ukraine war to higher interest rates, increased compliances/ regulations and tighter margins will stress the business.
Accelerating recovery
Offering 'better rates' or a 'rewards program' against upfront or early payments may be a viable option.
Key growth drivers
Software integrations—and tools to merge operational systems at both ends can be a game changer. This can eliminate delays as well as manual errors leaving valuable human skills for far more productive tasks such as generating more business and recoveries. Reducing the time taken for paperwork and replacing it with technology is a direct advantage at every end. Better tracking systems would benefit clients for accurate timelines.
Bottlenecks
Frequent rate changes, heavy detention, and demurrage charges. Time taken for paperwork, lack of skilled manpower and the adverse demand vs supply ratio.
The road ahead
Despite the global distress and uncertainty, air cargo industry seems to be moving on a right growth trajectory. With investments being done in increasing freight capacity, global cargo volumes picking up slowly, technological, and infra developments taking place worldwide, experts believe, the growth is certain in the coming years. Stakeholders are geared up to meet any future crises with strategic growth strategies and contingency plans. In the coming times, 3 C's—Collaboration, Consistency and Connectivity—will play a crucial role in determining success, while sustainability and digital innovation will provide base for the industry to combat and survive challenges that may come. IATA stated the good news for air cargo is average yields and total revenue for 2023 remain above what they were pre-pandemic. That should provide some relief in what is likely to be a challenging environment. There is a sense of optimism and revival is being looked at one of the focus areas, while maintaining customers' satisfaction as the main agenda.