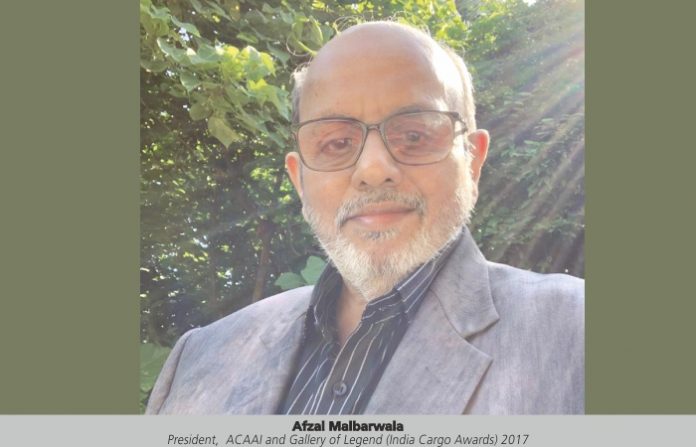 Like every other industry, there is a requirement of skilled personnel to run operations in the Indian logistics industry. There is already a growing interest, since logistics, supply chain management, and other related subjects are becoming more prevalent, says Afzal Malbarwala, President, ACAAI.
Priyanshi Bana
As the President of ACAAI, which key issues do you plan to focus on?
Address and resolve long-pending issues: Enhance cooperation and build   consensus amongst all stakeholders to tackle the ongoing issues.
Infrastructure growth: Share our experiences and ideas and convert them into initiatives with participation from all stakeholders. Growth is good news for all of us.
Ease of doing business: Work together, share ideas and make this industry more efficient.
What scope do you see in improving the air cargo services?
The ACAAI has a strong commitment to development. We see opportunities for different stakeholders (and associations) to work together to address issues that are hindering development (infrastructure, full utilisation of available resources, improving cargo turnaround timelines, etc.).
How has digitalisation helped in the effective movement of air cargo?
In all aspects of business, digitalisation is the future. It is the same in our industry. As our operations grow in size and revenue value, we must support the implementation of effective processes and be open to and embrace changes that are required. I firmly believe that our next level of success as a growing economy will be determined by how swiftly we accept and implement newer trends and technologies.
What is your idea of skill development?
As in every industry, we need skilled resources to run our businesses. There is already growing interest as logistics, supply chain management, etc., is a growing subject right from 10th grade onwards. We need focussed institutes, which can train our talented workforce in managing the various roles in the industry and support trainings at all levels to sustain these skill sets.
What is the present demand and supply situation in the Indian logistics industry?
The current climate is characterised by high demand and a gold rush to supply. We are racing against the clock as the volume surges in the post-pandemic scenario challenging our infrastructure on all levels, including space, facilities, pricing, etc. Warehousing, in particularly, is growing at an amazing pace, and I am happy to see newer business units attempting to design solutions to meet the demand. The supply crisis requires immediate focus, as otherwise, supplies may be diverted to other developing countries, as we have a history of being reluctant to implement solutions and address our problems.