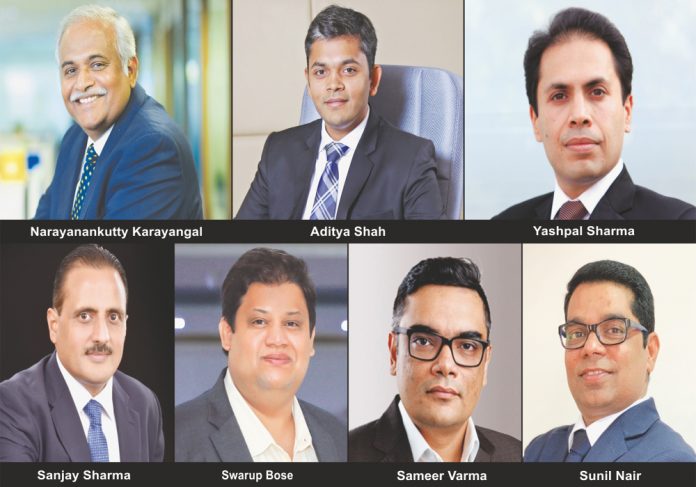 In the last two years globally, industry has witnessed wave of surge in demand for pharma, especially Covid-19 vaccines that forced industry to scale up production, determine best form of storage, and put right pharma logistics strategies in place. Race is still on to get booster shots to people as quickly, possible through seamless and accurate supply chains.
Ritika Arora Bhola
Pharma manufacturers and logistics service providers have learnt some important lessons in the last two years. Not only reliable and steadfast contingency plans, but the pandemic has also accelerated the need for resilient, agile, robust, and tech-friendly pharma supply chains which can combat any future crisis without getting disrupted. End-to-end visibility, accuracy, quality, and speed are the key pillars of a robust pharma supply chain. And the industry needs to work on it for attaining efficiency and growth.
Observing the same, Sanjay Sharma, Chief Operating Officer (COO), Coldman Logistics said, "In the last two years, we introduced flexible solutions for our customers in warehousing and transport wherein the demand uncertainties can be accommodated. Our modular warehouse design solutions help us in setting up the Temperature Control Warehouse in flat three months lead time as compared to conventional 10-12 months during pre-COVID-19 times. This has helped in absorbing the sudden surge in demand from our customers and we are seeing a good traction in this space from our customers."
Expressing similar sentiments, Sunil Nair, CEO, Snowman Logistics said, "Our focus has always been on building robust warehouses and operating processes for seamless logistics operations at key locations for creating maximum value for our customers. The Snowman Logistics warehouses are multi-temperature facilities designed to store products ranging from ambient temperature to -25°C, are divided into chambers and loading bays with related infrastructure that includes G+5 racking system. Through our SnowPreserve model, we offer complete flexibility to our clients as the command centre monitors and tracks the temperature and activities of each rack. For our pharma clients, we also offer blast freezers at all key locations throughout India."
Life science continues to be a core vertical for DHL Global Forwarding. "Under our LifeConEx unit, our staff is well-trained in good distribution practices and professionally experienced to handle variations in climate, route deviations, documentations, among others to ensure maintenance of the sterility and quality of this critical cargo," explained Narayanankutty Karayangal, Senior Director, Airfreight, DHL Global Forwarding.
"Fortunately, the large network we have with common visibility tools, capacity agreements with airlines, packaging solutions and temperature-controlled warehouses across the world helps us to prioritize the pharmaceutical product movement, and keeping these ahead of all other shipments. Under Thermonet service, our employees are trained holistically about the sensitivity, care and security regulations surrounding the pharmaceutical products not just between airports, but from the supplier's door to the buyer's door. We continue to invest in such value additions so that our customers can ensure their pharmaceutical products reach as they are intended to at the doorstep of their buyers," added Karayangal.
Yashpal Sharma, Managing Director at Skyways informed, "We have set up a control tower for the Healthcare vertical which ensures safety and seamless movement of supply chain. We have created a few cold chain storages of our own and tied up with various industry players for expanding our reach of these storages. We also have invested in our own reefer trucks to ensure our service offering is integrated fully with all means of transportation and with all healthcare customer supply chains."
Celsius has also created high-end and advanced SCM system with integrated TMS and WMS to provide value to customers. Swarup Bose, Founder and CEO elaborated, "This system provides end-to-end tracking for products in transit and storage. The products are usually sensitive to minor drops in temperatures, and they could lose their efficacy significantly if temperature is breached. With our platform, one of our objectives is to reduce pharmaceutical and other cold chain wastage as much as possible."
Meanwhile, Sameer Varma, Director, ColdStar Logistics said, "We have been able to deliver to our customers' requirements by investing in our network, people and technology-led service offering. Our technology stack and deep understanding of the clients requirement allows us to offer and deliver world-class healthcare logistics encompassing first mile pickup, packaging solutions, conditioning solutions, domestic freight, international freight solutions."
Aditya Shah, Executive Director at V-Trans India spoke no differently. "Time sensitivity and material safety is paramount in the pharma supply chain. Our first mile and last mile automation, complete visibility of the material, and extra care for such shipments helps in achieving the client's objective from logistics. We have multimodal movement capabilities, where we can offer air services for the required quantity and places. The group strength, including warehousing, where we also have temperature-controlled facilities and surface movement and FTL is helpful when our clients look for all solutions from a single player," Shah said.
State of the art infra
Ever since the COVID-19 crisis has hit the logistics industry, the need for highly efficient storage, handling and transportation of temperature-sensitive products has increased. In the last few years, private and public entities have taken steps to build world-class physical and digital infrastructure to store and handle cold chain products. Special emphasis has been laid on bringing in enough reefer trucks to transport pharma at all required temperatures, and in high-quality packaging to ensure zero damage. Most pharma products are shipped globally in insulated containers, protected from temperature excursions, such as sunlight, humidity and more. With the use of advanced technologies, several countries have established nation-wide cold chain network facilitating a seamlessly functional cold chain system and India is nowhere behind.
Warehouses at Coldman Logistics are certified for global standard for storage and distribution by BRCGS. "We have FDA and EIA licenses in place. We have robust WMS and TMS in place which gives our customers real-time visibility of their stocks enabling them to plan the inventory forecast accurately. Additionally, GPS gives them the access to online temperature and location mapping while their goods are at our warehouses or during primary and secondary transit," informed Sanjay.
Snowman Logistics is planning to build two good distribution practices compliant warehouses in the coming year. Nair affirmed, "Even trucks are being customised to meet the volumetric expectations of pharma products so that the cube and payload of a truck is optimised well. Intervention of technology in temperature monitoring, product movement monitoring, have helped in taking decisions based on live data and information."
At ColdStar Logistics, they have focused on deploying advanced technologies and on building a technology stack which allows everything from simple track and trace to supply chain planning and execution. "This technology is capable of sourcing in information from various IoT devices/mediums and allow us as 3PL operators for real-time action on information which is vital for healthcare logistics. This layer is being built with the latest applications of ML and AI with a view on making it easy to use and comprehensive enough to allow us to continuously scale up our offering to our clients," shared Varma.
From the freight forwarder perspective, Sharma said, "The compliance, training of handling staff, high levels of hygiene, pest control, and proper stacking and labelling of zones are mandatory. Once this is achieved, then AI-enabled systems for racking allocation, storage, returns handling, PO management is possible. Storage or distribution must have strong controls for temperature control management. A solid damage control system must be set up to ensure no excursion happens at any time. In addition, digitizing track and trace process provides significant benefit for regulatory oversight and ensures product safety."
"Our hubs at V-Xpress help with the entire operation process — from sorting to handling, value-added services, and delivering the product to the end-user. We deliver raw materials to the industries and products to the customer. Our infrastructure is constructed with modern technology that complies with maximum fire and safety protection. We have the perfect hub & spoke model for seamless connectivity across India, which is supported by latest infrastructure of Hubs & Branches, the use of MHEs, and process-driven and tech-supported operations. The shop floor automation, barcoding, pick and delivery modules on tabs, digital documentation, and payments are all tech integration in the process, that are helping us greatly," told Shah.
Upping production to meet demand
The demand for pharma, including medical equipment, Covid-19 vaccines and now the booster shots, have literally made Indian pharma firms pull up its socks and gear up to provide the stock on time. The last two years have been challenging for the pharma industry. The manufacturers/LSPs have witnessed a surge in demand for vaccines from across the world, and meeting it had turned out to be the biggest task for them. Scaling up production, keeping the right strategies in place for storage and to ensure seamless movement of supply chain have become important for the pharma logistics sector in the new normal.
"Design is a critical element in cold chain infrastructure as varied temperature ranges can challenge cold storage efficiency. Typically, the industry requires four varied temperature zones from sub-zero to ambient to store and retain the efficacy of its products. Hence, the design element and the right storage mix for each temperature zone plays a critical role to deliver operational and financial efficiencies. In the last two years, we have been working with our customers to deliver customised solutions through 'Built-to-Suit' infra. The design element provides our customers with flexibility and scalability to match up to their inventory forecast," asserted Sanjay.
Snowman Logistics was able to meet the demand through reefer trucks that have blast chillers for reaching interior areas in the country. "Vaccines, medicines, medical equipment need to be ferried in temperature-controlled environment, and we are able to provide customised solutions not only at the warehouse level, but also when the consignment is on the road," said Nair.
DHL Global Forwarding had stored in warehouses at Hyderabad and Delhi in order to condition the different packaging materials up to -30°C and move products in the shortest possible time to the central and northern parts of India. "We will continue to invest in such facilities as demand picks up. We have similar warehouses, not only for packaging, but also to provide the required consistent temperature during transit. Furthermore, we have tied up with transport organisations offering temperature-controlled trucks and containers for surface movements," told Karayangal.
According to Sharma, "Nowadays, sophisticated passive packaging solutions are available for storage and movement of goods. We have temperature-controlled storages available for our customers who have increased the storage of raw material closer to their factories and finished goods closer to the point of sales."
"The surge in demand can be met through technology," said Bose. "Cold storage chains in India have started to deploy PCM, IoT and AI-based temperature sensors and regulators, providing regular alerts and updates. Manufacturers can scale up production once the ongoing dearth of reefer trucks and equipment is dealt with. Storage units and centres must either expand or be emptied out at a faster rate to accommodate for storage of new products. This can be curbed by improving the cold chain infrastructure in the country, encouraging manufacturers to scale up production, resulting in a wide-scale availability of cold chain products. An alternative to this could be a national cold chain network, integrating all cold chain entities and facilitating seamless collaboration to maximise the output," Bose pointed out.
Varma added, "Our strategy is focused on deepening our national and global network, and our services are allowing our clients a bespoke scalable offering which can be replicated at will."
Handling pressure & creating value
India is the largest provider of generic drugs globally. But COVID-19 crisis escalated the demand in ways that initially seemed hard to meet. The total imports and exports of the Indian pharmaceutical industry in 2020-21 was a combined total of Rs 1,89,203 crore with the major segments being generic drugs, OTC medicines and API/bulk drugs, vaccines, contract research and manufacturing, biosimilars and biologics, says reports. Getting to these numbers was a challenge for all the cold chain establishments in the country.
Sanjay said, "The pressure of increased demand, especially in pharma domain, has been felt more by the International 3PL players as shipping cost and container availabilities have challenged them. For domestic players, the pressure may be felt in the coming few years as until now the manufacturers were realigning their sourcing channels and reducing their dependency on sole sourcing partners and reducing geographical sourcing dependency. As pharma firms realign their sourcing and supply channels, we see a shift in warehousing demand from tier 1, 2 to 3 cities in the coming years."
Nair said, "Since COVID-19, we have developed our pharma segment and expanded our service gamut for the sector. Along with dedicated pharma warehouses in Mumbai and Chennai, we are working on fulfilling the demands from the other cities. Our new facilities at Siliguri and Coimbatore are ready, and we have also expanded the infrastructure at Mumbai and Krishnapatnam centres. With our IT upgrades, we can meet larger volume throughput from our warehouses and transportation infrastructure. We are also able to give better supply chain visibility to customers."
To handle the pressure and meet the demand, Skyways has tied up with carriers and worked with them to ensure they can bring more capacity. "As the pandemic has caused various carriers to lose capacity, so we went and procured capacity through chartering. Since the pandemic has hit the globe, we have executed more than 100 charters," said Sharma.
"Celsius' SaaS-based cold chain platform provides a network for manufacturers of cold chain products, reefer truck owners, and cold storage facilities, helping them connect with one another to ship and store consignments based on the need. Till date, we have supported the transportation of pharmaceuticals across the country with zero temperature excursions. We have integrated the latest cold chain technology with our services to minimise the scope of errors, increase efficiency and transparency," exclaimed Bose.
While V-Xpress has developed strong supply chain solutions through multimodal express transportation and integrated logistics services to ensure timely and safe delivery of sensitive healthcare products to its end destination, the route optimisation as per the seasonality help in better planning and efficient handling of supplies.
Overcoming major hurdles
Inadequate infrastructure and storage spaces, shortage of reefer trucks, unskilled workforce, last mile connectivity and high costs are some of the key challenges persisting in the Indian market. Yet, Indian pharma industry did a commendable job by making use of the available resources, and continued with the supply of essentials worldwide, despite disruptions caused by the pandemic. Efforts are being made to resolve issues with right strategies and initiatives in place, it seems in the coming years, Indian pharmaceutical and cold chain logistics sectors will be at par with international standards.
Acknowledging the above, Sanjay said, "The adherence to the quality until the last mile is a challenge for supply chain managers, as at the tertiary and at the retail level, no robust systems are in place to monitor and control the quality compliances. Also, the uneven distribution of manufacturing and consumption hubs make it difficult for smooth 'to & fro' movement of trucks thereby increasing the lead time and costs."
Nair added, "In India, the biggest challenge is the weather that changes by a few degrees every few kilometres. We must be extra cautious, while transporting pharmaceutical products. However, advanced technologies are available to take care of these bottlenecks."
Karayangal highlighted, "We have limited high quality trucks in clean conditions with a temperature-controlled ramp to move them into terminals and de-van the containers. Limited storage space at terminals is another problem. Availability of only few cool dollies to transport the airline pallets from the warehouse to the aircraft and lack of adequately trained resources to handle these sensitive products, are some of the challenges we face." According to the WTO Secretariat, rapid scaling up COVID-19 vaccines production capacity worldwide is the need of the hour and delay of even a single component may slow down, or even halt, vaccine production given the globally integrated supply chains that underpin COVID-19 vaccine manufacturing.
Sharma said, "What needs to be managed and controlled in smooth movement of pharma products is multiple handling and transit points. Lack of updated trained personnel who may not follow GDP practices is an area of concern too."
On the other hand, Bose highlighted few crucial areas of concern:
Lack of integrated first mile movement and last mile delivery of pharma products.
Procurement of border paperwork and access for pharma products
Maintaining temperature throughout
Fragmented, unreliable network of reefer vehicles, cold storages, and distribution network.
Shah concluded by saying, "Given the incredible complexity of the modern international supply chain, discovering the cause of any recurring outage is not simple. Instead, it more ofrten than not requires insight into every touchpoint in the value chain–with real-time view of your inventory."