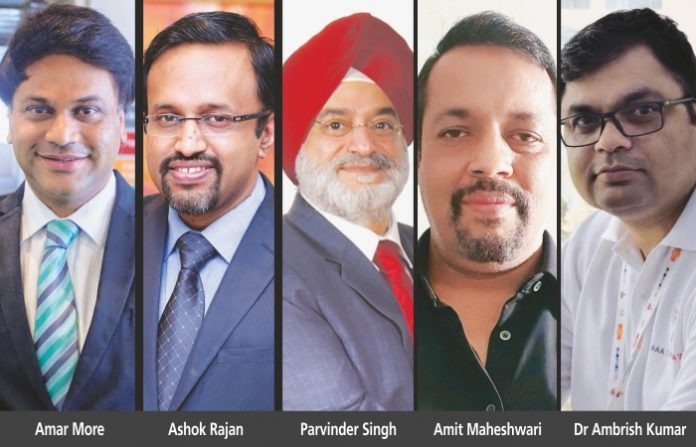 30 types of documents and 124 copies of paper have to move along with an air cargo shipment which starts from its shipper to the consignee. Simplifying the air cargo process, IATA has introduced Electronic Air Waybill to remove the requirement for a paper AWB. CARGOTALK discusses what is stopping the industry from going digital despite the pandemic.  
Kalpana Lohumi
Digitisation in airfreight industry has been a long and difficult one. Despite airfreight initiatives like the Electronic Air Waybill (eAWB) which has been available over a decade with an aim to build an end-to-end paperless transport process for air cargo, 100 per cent digitisation in the industry still seems like a distant dream. The Air Waybill serves as the contract of carriage between the shipper or freight forwarder and the carrier or airline. The eAWB replaces the paper document and simplifies the air cargo process for carriers, forwarders, customs agencies and air cargo industry participants. Industry experts share the reasons why the adoption rate of eAWB is low. Let's know from them whether it is due to the industry's resistance to change or more the nature of technology.
Calling the digitalisation journey of the airfreight industry a long and challenging one, Amar More, CEO, Kale Logistics Solutions, says, "The e-freight concept was initially launched by IATA in 2006 as part of the StB (simplifying the business) programme and became an industry-wide initiative. With more than 30 paper documents being handled for each shipment, the goal established 14 years ago by the e-freight programme was to cut delivery cycle times by 24 hours, accelerate and enhance track and trace processes and eliminate nearly 8,000 tonnes of paper documents annually – the equivalent of 80 Boeing 747 freighters filled with paper.
It has taken us such a long time to come to at least reasonable penetration of eAWB. We are taking a lot of time for it and the reason for that is that there are so many parties involved and it is difficult to get each and everybody on the same level. Only when the end-to-end functionality works, everyone stands to gain. The primary reason for slow adoption is lack of standardisation across platforms, making communication difficult. The other is the lack of initiative on the part of the stakeholders. Government regulations that require data targeting for security purposes will make it essential to digitise Air Waybill information for security and trade compliance. So, this can be put as a two-fold effect; getting the right
platform in place for all stakeholders to act on and tools and platforms which are easy to use."
"Kale's PING is designed to enable the freight forwarders, cargo handlers and airlines to convert documents to EDI messages where scanned and PDF AWB are converted to eAWB through machine learning and robotic process automation," he adds.
Putting it a bit bluntly, using the nature of technology as a reason for slack in eAWB adoption is almost like saying that we still send letters by physical mail because we don't have an email account. Ashok Rajan, SVP & Head of Cargo & Logistics, IBS Software, opines that the slow rate of adoption is due to lack of collective will. He says, "Everything exists in almost consumable form from model adoption, technology, processes etc. and almost leave no excuse for not adopting eAWB. What can shift the needle is if the early adopters can start to work with partners to showcase offerings that work on the back of eAWB that can unlock value like greater transparency, automated clearance etc. The problem is also that stakeholders don't see the cost of non-adoption."
According to Rajan, "Three things can change the scenario, which are, competitive pressure from peers and threatening loss of business, pressure from customers on adoption and thirdly, resort regulatory controls. The best case study for the industry to look at is within its own borders – the pace at which there is a much larger shift from paper passenger tickets to e-tickets. All it requires is for carriers, handlers and platforms to invest into the right technology backbone and work with partners to enable tweaks in the process to derive benefits from eAWB. Having said all of this, it's not all doom and gloom; we are inching towards a 75 per cent threshold, beyond which I believe momentum will take us towards 100 per cent adoption."
Commenting on the manual work involved due to the lack of implementation of eAWB, Parvinder Singh, Managing Director, Hans Infomatic, says, "Even in the present era, many airlines handle a lot of paper documents and they have dedicated staff to process these documents, wherein, they manually check the correctness of the data and then key in the important aspects into the systems. This requires physical presence of a good number of people working on it. Electronic documents, like eAWB would have easily allowed this work to be done remotely. Many companies still have problems coming to grips with the concept, but there is no way for them to avoid digitisation which also offers enormous opportunities for growth. At the same time digitisation will only be successful if the cloud and IoT solutions are secure and facilitate privacy of corporate and customer data.
Secondly, many airports are still not fully compliant with eAWB and hence need paper AWB. On behalf of freight forwarders, many airlines are apprehensive of sending eAWB due to data inadequacies, particularly the shortcomings in data length issues in IATA messages, which leads to truncation of data. Hence, all trade partners need to upgrade their systems for eAWB to be 100 per cent successful."
It is true that despite the big push eAWB is still struggling. Amit Maheshwari, CEO & MD, Softlink Global, says, "One of the biggest reasons is its limited acceptability. In most countries, eAWB is not accepted by any stakeholder other than airlines. Printed AWB is still required for most of the transactions. Another reason is the technology and trained manpower which remains a constraint. Most of the industry is using old technology which is unable to file eAWB directly. They rely on the traditional method of sending PDF files of manual AWB which is converted into a digital format and filed. This delays the process and adds the element of probable error."
According to Dr Ambrish Kumar, Founder of Zipaworld and Group CEO, AAA 2 Innovate, "IATA's eAWB could have been a digital revolution in the field of international air cargo transportation wherein digital processes could have become the mandate and paper documents an exception. However, there are several reasons for the prolonged delay in the implementation of eAWB, which finally came into effect in January 2019. Many trade lanes were not equipped to handle eAWB, players in the logistics sector in many countries are still comfortable with manual paperwork, there is a lot of fragmentation in the logistics sector or to be precise, the logistics sector is quite disorganised and disintegrated. Also, many other processes in the freight forwarding and customs clearance still require paper-based documentation. Hence, the AWB getting digitised would not have made much of a difference in the turnaround times. What the sector requires is a complete digitisation of not just the carrier documentation, but also the customs processes, trade authority authorisations, multi-modal transportation, etc."
Air cargo supply chain: Before and after the pandemic
No one can deny the fact that adoption of technology has been the only source of survival in the air cargo industry in this pandemic. On this, Rajan says, "This has been one silver lining of this pandemic; the outlook towards technology. There have been shifts on various fronts, such as the Board rooms, besides giving greater mind-space to cargo as a business has also come around to the thinking that technology is no longer a cost line on the P&L, but core to business strategy. Process shifts that leverage technology are being adopted at a very fast pace, for instance sales processes going fully digital through a host of channels, re-working physical processes in warehouses to minimise contact through kiosks and unmanned counters. Contrary to what one would think, the spend on digital initiatives and platform modernisation has not gone down at all, in fact in some of the leading carriers it has gone up.
Digital providers like IBS Software and others are increasingly coming together with partnerships of different forms to offer greater synergies and out of the box offerings to customers, thus making cost of adoption much lesser. In a sense, this is a once-in-a-lifetime opportunity for the air cargo supply chain to modernise itself. The key will be the period immediately post normalisation, the momentum gained has to be sustained, there is a risk of things drifting back to pre-pandemic days which will then be a massive opportunity lost."
"Digitisation is the foremost solution in handling the situation better, but it requires technological and business expertise. The biggest challenge for forwarders and ground handlers at the moment is the amount of urgent freight that needs to be delivered, but due to lack of capacity, they are unable to move it as quickly as required. Besides, the lockdowns and new social distancing practices have resulted in a struggle while maintaining staffing levels in some areas. This ultimately is creating pressure on storage and handling capacity for warehousing sector, thereby affecting the overall air cargo supply chain. The industry was caught off guard and trade partners who were not in sync with new technologies or were working on old outdated systems suffered losses in business. Many of them sensed the need of the hour and quickly tried to adopt the new systems and were successful," notes Singh.
Considering the disruptions caused by the pandemic in most of the industries and sectors across the globe, Kumar adds, "One such sector that beholds serious disruption is the logistics and supply chain. The sector was badly impacted in the initial months of the pandemic cognizance. The exigent impact of the pandemic on the global trade has caused an expected contraction of almost 4.3 per cent on the global GDP in 2020 as per UNCTAD. Technology played a significant role during the pandemic, whether from the logistics industry or any other, the players who were technologically equipped could easily manage their tasks from anywhere, but the others could not adapt to the sudden change.
The logistics and supply chain players have started to approach the post-COVID times differently. The pandemic year 2020 has taught the most industries what to sell and what not to, or more precisely reinvent their business strategies and the same applies to the logistics sector. The logistics players have found the need to filter out their products and services precisely focussed on the need of the consumers and the market. The pandemic has affected the funding, investments, cashflows, timelines, schedules, logistics delays, lower purchasing power of consumers, etc. Hence setting up of revised realistic timelines will be of utmost priority. Also, we can see that there is a more balanced check on cash flows. The logistics sector which suffered a high credit exposure, strictly resorted to advance payment strategies, be it the logistics companies, carriers, or any other players. Customer retention has been the need of the times. Hence, the perseverance, reliability, endurance, and problem-solving abilities of the enterprise now play an important role in retaining customers."
"Adaptability is the characteristic that has been most spoken of when discussing how businesses have survived – or even flourished – during the pandemic. With nearly 60 per cent of international cargo carried on passenger planes, the air cargo industry had to quickly adjust their loss of carriage belly. With the reduction and rotation in manpower at airports, the call for automation and the use of a combination of technology and data became stronger. Workforce management with rotational shift and quarantine scheduled laid emphasis on the use of digitisation of data. Also, screening equipment at airports and loading docks came into use. The data gained from screening equipment was used to automatically validate available booking data and scanned shipment documentation to ensure conformity of the cargo," says Maheshwari.
Emphasising on the changed attitude towards technology adoption, More says, "Now people are seeing technology adoption as a value-driven component and they tend to see technology with an ROI perspective. Therefore, we can see the sun shining brightly with more growth prospects."