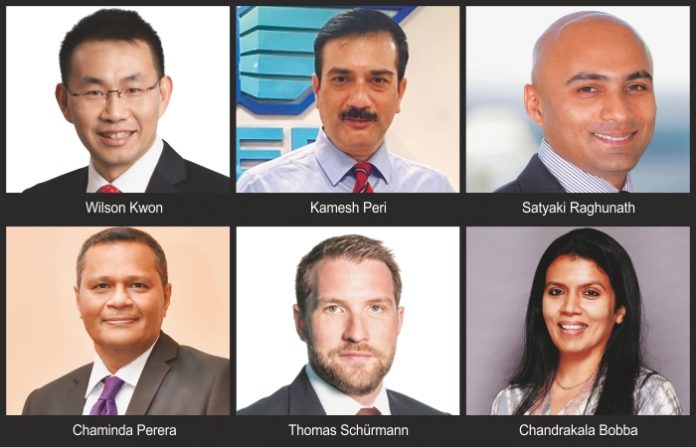 Air freight frontrunners are exploring game changing technology options, involving robots and cobots, to enhance cargo handling efficiency, as well as short-term and mid-term gains from leveraging smart and innovative solutions to take industry to next level.  
Ritika Arora Bhola
In the last few years, technology has transformed the way global air cargo ground handling industry functions. The swift developments in ICT have brought Robots and Cobots to enhance operations. Also, with the industry getting besotted with the usage of advanced technologies such as Artificial Intelligence, Machine Learning, IoT, Block Chain, Data Science, Automation, drones, and autonomous vehicles, it seems air cargo handling will reach the next level, where the industry will see robots-moving shipments to and fro.
Smart & innovative technology: Hong Kong International Airport Cargo Terminal (Hactl) took baby steps into robotics by opening an Automated Parts Store (APS) for its giant container and loose cargo handling systems. The robot-operated parts dispensing system needed spares to be accessed 24×7 for routine maintenance and occasional breakdowns. Wilson Kwong, Chief Executive, Hactl said, "Our focus is to leverage technology to enhance service standards and performance."
Smart Cargo Locating: Loose cargo that is too big for Hactl automated Box Storage System is photographed with a barcode identifier label and allocated a racking location by our system. Just as the smart forktruck racks the cargo, its racking cell location—identified by a ceiling-mounted RFID tag—is added to the cargo's record. Fast retrieval is assisted by a pick list sent to the operator's mobile device, showing a picture of the cargo and its location.
E-loading: In this process, the old paper-based process of listing cargo for a flight has been replaced by up-to-date information via mobile devices. When the dollies deliver the ULDs to the aircraft, their ramp position is logged for retrieval in the correct order for weight and balance and cargo type. The system cross-checks all cargo has been loaded in the flight and allows last-minute changes for no-shows or additional bookings. The staff no longer travel to and from the control office for paperwork, as it is all on their cell phones, he said.
iHCC: It features a variety of systems and equipment, including newly developed dashboards, providing real-time data and AI-based workload forecasts, a 3D Schematic Display System showing the position of all cargo and equipment throughout the terminal, and a unit-building monitoring system showing progress at the terminal's 466 workstations. "We are interested in using robotics in autonomous driverless vehicles, either in the warehouse or on the ramp. The latter, however, will require collaborative efforts across all stakeholders as it relates to shared spaces, airport property, re-designing of infrastructure and aviation safety," adds Kwong.
Acknowledging, Kamesh Peri, CEO-India, Çelebi Delhi Cargo asserted, "The global air cargo industry is embracing a technology revolution that includes shifting from the substantial use of legacy mainframe systems to more tailored systems to improve their efficiency and transparency. The latest advance in technology enables air cargo systems to streamline operations, reduce costs and optimize efficiency. The industry also perceives standardization as the key to unlock its full potential. Industry standards minimize cost and complexity by simplifying common procedures. They enable airlines to collaborate smoothly with one another and other stakeholders such as airports, ground service providers, cargo agencies, freight forwarders, and governments. Standards promote innovation and provide a better experience for all parties engaged in the air transportation supply chain."
Highlighting focus areas at Celebi, Peri said:
We have technology ready to enhance and upgrade our infrastructure to handle over 700,000 tons per annum of cargo. We are investing in upgrading centres for perishable cargo with a capacity of over 65,000 tons/year.
Opening a dedicated transhipment centre to seamlessly handle volumes from neighbouring countries and connect them to their final destinations.
Introducing additional handling equipment to meet demand and regulatory protocols.
Investing in security initiatives such as dual-view x-ray screening machines, RA3 compliance, TSA compliance, zero theft, pilferage, extensive security manpower deployment, and CCTV upgrade.
"IATA introduced tools such as ONE Record, Interactive Cargo Project, Cargo Connect, e-freight/e-AWB, and federated, some of which are still being used.  On the IT front, we aim to enhance our warehouse management system to include new features, which improve processes, have value additions, and enable digitization. We shall be exploring technologies in areas such as temperature monitoring, data integration with airport systems, routine tasks automation among others. Adopting tools for digitization of manual processeses for efficiency would be pursued," shared Peri.
Agreeing with him, Satyaki Raghunath, Chief Strategy and Development Officer, Bangalore International Airport (BIAL) said, apart from using ACS for all our business operations, BIAL took steps to integrate tech to enhance efficiency, improve customer experience, and drive sustainable growth of its businesses.
BIAL has started using IoT for cold-chain cargo handling. It enables live monitoring of temperature-sensitive products such as pharma and perishables., including fruits, vegetables, meat, seafood, dairy products, and cut flowers.
To save fuel, lightweight unit load devices (ULDs) were created.
The temperature-controlled supply-chain facility for the International Cargo at BLR Airport got a boost with the introduction of Envirotainer. This technology enables pharmaceutical companies and their logistics partners to move temperature-sensitive cargo across the world, while maintaining the integrity and quality of products throughout the journey.
BLR Airport has some of the mechanized cargo terminals across the country, with facilities such as automated storage and retrieval systems (ASRS), elevated transfer vehicles (ETVs), narrow aisle trucks, high-rise racking systems, lift and run systems for ULD movement, reach stackers with bar code readers and, handheld devices. This enables the airport to process all types of cargo, including pharmaceuticals, perishables, electronics, vegetables, and live animals." Not only ground handlers, airlines and airports seek to expand and improve business performances, for which technology, as the disruptive force driven by the technological revolution, will be a key factor for achieving success and improving performances.
From an airline's perspective, Chaminda Perera, GM, Cargo, SriLankan Airlines said, "The end-to-end integration between airlines, ground handlers and other stakeholders is crucial in evolving current supply chains to deliver  customer experiences. Technology-enabled automation of warehouse operations, diversification of products and services, enhanced collaboration and digitalisation, supported by capitalizing on data retained within the sector will be essential in the industry's transformation and, enhancing the levels of service at airports."
On the similar lines, Thomas Schürmann, Head, Cargo Operations & Delivery, Etihad Cargo, highlights, "As part of our journey, we have implemented several initiatives and processes to ensure a smooth transition from non-technology to technology-based systems. In 2022, we have been working on a Proof-of-Concept (POC)utilising computer vision and AI to help ground handlers calculate cargo dimensions. Back in 2021, we signed a POC agreement with SpeedCargo for automated dimension and volume scanning. Upon completion of the POC and trials, these digital solutions will become practical tools for minimizing leaking and optimizing offload recovery. Etihad Cargo  is providing ground handlers with the technology, giving them practical tools, and training to show them how to build up cargo for loading step by step, which will make the processes more efficient and reduce human errors." Etihad Cargo is also using robotic process automation (RPA) to automate manual labour processes to achieve further efficiencies.
Meanwhile, Chandrakala Bobba, Director, Bobba Group and Bobba Logistics said, "The adoption of technology in cargo handling has been towards improving efficiency and saving time. Handlers have taken an extra leap and moved towards using electric vehicles. This saves on power and is a good move for the planet. Integration of a barcode system has helped in easy loading, tracking, and tracing of shipments at every stage. This method replaces the use of people interaction, paper, fax, or even email transactions and increases direct computer-to-computer communication for every order. We have adopted customized solutions such as biometric access control systems, including Morpho wave technology and Face recognition, advanced surveillance systems to improve monitoring, and applications to control vehicular movement, reducing overall dwell times."
Chhatrapati Shivaji Maharaj International Airport (CSMIA) is continuously investing in its digital transformation for a faster and efficient cargo handling. "The modern air cargo supply chain is adopting several new technologies such as automated mechanized handling, robotics, augmented reality, AI, IoT, digital twin, Blockchain, cloud storage, automated sorting, dimension, and weight checks. These technologies can integrate the data with warehouse management systems for efficient warehouse ops. Also usage of autonomous vehicles and drones for deliveries have been adopted for air cargo. The cargo solutions derived from these tech help improve the handling efficiency, enhances the throughput of the warehouses through capacity optimization and maintains the agility and accuracy in the supply chain to compete with other competitive modes of transport," said an MIAL official spokesperson.
CSMIA is leading the IATA e-freight penetration in India by eliminating paper transactions to the maximum extent such as e-Air Waybill, e-Cargo security declaration, e-Delivery order, e-Carting order, e-Gatepass, Digital messaging (FFM/FWB/FHL/FSU), Export LEO and Import Out of Charge. The recently introduced Digital Docket Delivery (D-Cube) service in November 2021 offers paperless and contactless import cargo processing, strengthens e-Freight penetration, and reduces dwell time.
The CSMIA has facilities for processing of agriculture and pharma exports. Pharma facility offers real-time status and temperature information of pharma products through indigenously developed Mobile Application "Turant App". The CSMIA has facilitated one of its kind "Pharma Cooltainer" with two ULD positions for movement of
export pharmaceutical consignments between "Export Pharma Excellence Centre" and "tarmac area" under temperature control.
The digitally enabled warehouse operations facilitate regulatory and global compliances, real-time visibility, tracking of cargo and improved decision making through accurate data driven reports. Automated Storage and Retrieval Systems (ASRS) and Elevated Transfer Vehicle (ETV) is used in the air cargo warehouses for accurate storage, retrieval, floor space management and reducing congestion. Focusing on digitization and semi-automation over the years, the CSMIA is eying modern warehouse automation now. It continues to grow its air cargo business, enhancing its market share through tech," the spokesperson added.
Role of AI and cargo drones
E-commerce built a strong case for the use of drones in transportation and logistics sectors. The unmanned aircraft (drones) is considered ideal for use of inventory management in the supply chain, as its commercial use indoors is not regulated. Therefore, the drones can be seamlessly inducted for first mile and last mile integrated to the processes at warehouses, air cargo operations and 3PL facilities. There is a future for Artificial Intelligence inside of automated equipment, where the machine learning would be able to optimize arrivals and departures related processes through studying patterns and analysis of information. This would lead to reduction in costs, reduce environment impact through congestions at ports and allow an enhanced compliance for standards and procedures.
Kwong says, "Hactl is a mission-critical operation for its customers, so minimizing downtime is vital in the daily operation of our core cargo handling systems. The APS robot will save over 1,500 manhours per annum, while a mobile app, which will be introduced in due course will improve efficiency. This is an important technological step for Hactl. The experience we are gaining in designing, implementing, and operating this facility will prove invaluable to identify other suitable applications for robotics within our large-scale operations, and then produce tech-led solutions. This is yet another illustration of Hactl driving innovation and efficiency in its operations, through investment in state-of-the-art solutions."
Etihad Cargo is incorporating technology and sustainability to enhance its products. For example, Schürmann said, "In our latest step to make the transportation of pharma more sustainable, we signed a MoU with B Medical Systems to develop to launch the world's first airline-specific passive temperature-controlled container. These containers utilize passive cooling technology, enabling them to retain temperatures from —80 to 25ׄ°C for up to five days with no external power source. The units will reduce carbon emissions, while ensuring pharma shipments are transported safely at the required temperature. Trials of the sustainable container units will commence shortly, and a commercial launch date will be announced following the successful completion of the trials."
Focusing on the usage of taxibots and automation for cargo handling, the MIAL spokesperson opined, "Adapting automation and technology augments existing capabilities making air freight more competitive and enabling handling staff focus more on core activities and productivity. Integrators, e-commerce giants and logistics providers have been using warehouse robotic solutions for a decade, and this trend has accelerated amid COVID. The warehouse robots are inbuilt with key parameters such as safety, automatic tasks, perception, and navigation for safe interaction with handling staff and safe handling of cargo. They perform functions such as lifting and movement of heavy packages, sorting and storage. Taxibots assists airlines to move towards cost-effective operations. It can taxi an aircraft to/from parking bay to take-off point, controlled by the pilot, using the cockpit controls. Air cargo can also look at using taxibots for retrieval, transfer of empty/built pallets between warehouse and apron. The intelligent robotics can be used in build and break ULDs complying to contour accuracy and optimization."
Outlook
Although the integrators have adopted a technology-driven approach, the traditional air cargo handling market has been cautious about investing in automation and robotics for a variety of various reasons, including relatively low margins, the challenge of handling large and irregular-shaped cargo shipments, and a heavy regulatory environment. However, the air freight industry frontrunners are investigating various options, which can tap the potential for time saving, space-saving, and resource-saving options for cargo handling.