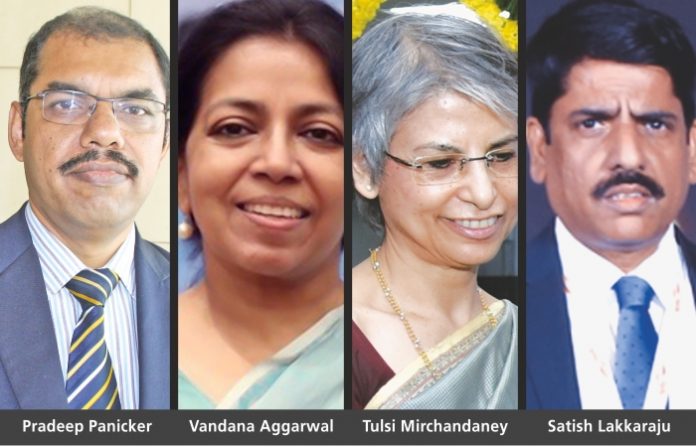 GMR Hyderabad Airport organised the third webinar on 'Air Cargo-Changing Dimension" as part of its ongoing webinar series on 'Reposing the faith in flying'. The webinar focussed on several issues from how the express industry is dealing with COVID and what is the future to logistics cost and to ensuring the vaccine reaches every nook and corner of the world.
Kalpana Lohumi
with the intent to come to some findings and takeaways which our industry will be able to implement in future and perhaps also to share some inputs with the policymakers who may want to consider how to improve the overall well-being of the sector, GMR Hyderabad International Airport organised a webinar. The speakers on the panel were Pradeep Panicker, CEO, GMR Hyderabad International Airport (GHIAL); Tulsi Mirchandaney, Managing Director, Blue Dart Aviation; Keku Gazder, CEO, AAI Cargo Logistics and Allied Services (AAICLAS); and Satish Lakkaraju, CCO, Agility Logistics.
Pradeep Panicker, CEO, GMR Hyderabad International Airport (GHIAL)
Air cargo industry has shown improvement over the years. After the first round of privatisation in Indian airports and the Greenfield airports coming in the mid 2005-06, we have seen significant growth in both cargo and passenger segments. In these COVID-19 times, cargo has played a large role, to some extent, in the revival of the aviation industry. "As a cargo industry, we are competing with manufacturers in Indonesia, Taiwan, or China who are competing with Indian manufacturers and unless we, as a logistics industry, really put an act together, Indian manufacturers tend to suffer."
Vandana Aggarwal, Senior Economic Advisor, Ministry of Civil Aviation
We are planning to roll out e-gate pass facility at cargo terminals of major airports by the end of this year. E-gate pass facility reduces paperwork, makes entry and exit quicker, and helps in social distancing as it ensures minimum physical contact. On e-gate pass, we have been internally debating whether January 1, 2021 will be too late or too loose a target to give. But by January 1, we expect the entire country would still be in the process to get approvals for it. The ministry has had a discussion with various stakeholders and it is trying to make sure that at least for those gateway airports, the ones that are large, the e-gate pass facility should come earlier than January 1, 2021. We can reach out to the smaller ones (airports) and get them in position by January 1.
Tulsi Mirchandaney, Managing Director, Blue Dart Aviation
The crisis has brought out the significance of air cargo and finally air cargo is something more than just a by-product of passenger airline. While the other modes of transportation were inaccessible, airplanes were flying.
Cost has been an issue
We have been looking at various components of cost but as a cargo airline or as an air express operator, Air Turbine Fuel (ATF) accounts for 40 per cent of total direct cost of aircraft operation. Perhaps it is time now that freighters should be treated differently; at least bring them under the GST regime.
Secondly, it is the cost of infrastructure. Now privatisation has brought us many benefits, be it the efficiency that has come in the airport, the kind of facilities we have or reduced dwell times but still the cost is high. The model of revenue sharing needs to be viewed differently so that it is cost neutral between the government as well as the airport operators. Thirdly, it is important that we deliver on time certain modules and for that we need to do our own self-handling which is possible for an airport operator and we have had that in several airports, but some airports still view us differently. The solution to this could be to lease the facility directly from an airport operator rather than from a third party who neither adds quality nor more efficiency in terms of process nor reduces the cost.
Satish Lakkaraju, CCO, Agility Logistics
India is one of the largest manufacturers of vaccines and this vaccine has to reach to all ends of the world.  I would like to focus on five key areas in order to ensure the vaccine reaches every nook and corner of the world: Firstly, the vaccine needs greater temperature maintenance between 2 degrees to 8 degrees because otherwise the potency of drug is not going to have the impact and that is one area where airports need to be prepared. Secondly, I want to focus on airports and seaports. Fortunately, all airports have pharma zones and in the present scenario what is critical for us is to increase the awareness of handling at the airports when the vaccine comes.
Thirdly, we would need government policy because we don't have any clear policy in terms of green channels if the vaccine comes into the country. Fourthly, I want to stress on people because we don't have sufficient trained people to handle the vaccine across the country. Once we are talking about exports, we also have a larger chunk of domestic movement that will happen.
The fifth aspect technically would be to see how we price it at this point of time for the common man to also get the medicine because if you are doing by airfreight then it is going to be maintained at a certain temperature. We need to find innovative solutions which will ultimately help everyone get this vaccine.