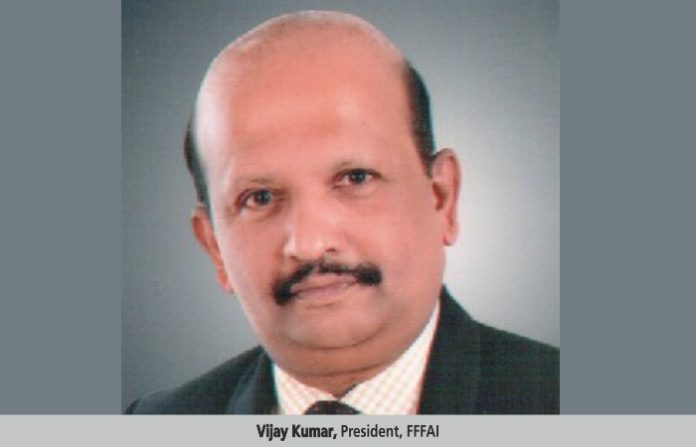 Despite the unforeseen challenges and hurdles being thrown in by the pandemic, the cargo industry has stood firm serving the nation in a 'never say die' attitude. Vijay Kumar, President, FFFAI, talks about the industry holding its ground hard.
Priyanshi Bana
Q What has been the biggest learning for the cargo industry since 2020?
The 'never say die' attitude of the cargo industry once again stood reconfirmed in 2020. The wheels of the supply chain never came to a halt and despite all the challenges the world of cargo delivered, they continue to remain buoyant and vigilant to ensure commerce across the nation and across the globe moves forward.
Q How do you think it can evolve further in making the cargo industry function with even more precision?
WFH (work from home) has assumed far greater sophistication with the help of technology. Contactless transactions are growing at an astounding pace. Looking forward even though cargo forwarding is a very physical activity, the pre- and post-dispatch procedures and process will become enabled and the dependence on a physical office space to transact work will diminish rapidly. This paradigm shift will also open up opportunities for embracing AI and other cutting-edge technologies to remain relevant in the business.
Q What all areas do you think governmental agencies will be of help in the smoother and efficient functioning of the cargo industry?
The role of the government will be critical for this new world order to operate in a legal framework that stands amended, casting aside the rules based on paper, and recognising the paperless records and processes. A very quick review of the various laws needs to be undertaken proactively and the relevant changes notified that also take care of the future developments.
Q Could you shed some light on the new initiatives, problems faced in present circumstances?
Our personnel have adopted to the WFH module very efficiently and seamlessly thanks to the encouragement and guidance offered by the industry associations. It has thrown up a few challenges like lack of a social bonding found in offices, the emotional disconnect between subordinates, claustrophobia etc. Constant dialogues both at a one-to-one level and at a collective group level has been a great tool to surmount these new challenges and we have become much more employee focused in helping them to understand and accept this new work environment and yet not lose the old values of bonding and identity.
Q What more do you think can be done to improve the parameters such as security, time management and the most important 'last-mile connectivity'?
Any emergency, and in this case, a global emergency will highlight some defaults. COVID relief transportation did present its own set of challenges. International transportation required regulatory compliance by way of taxes and duties and compliance with other national standards. Even though the GOI acted rapidly to announce dispensations to ensure that there is no hold up, the lack of sync between customs duties and IGST has been a sore thumb. Many believed that imports were offered relief of all duties but only to be later grimly reminded that this waiver did not cover the IGST. Also, onerous conditions to be fulfilled for availing IGST waiver could have been simplified. Compliance with standards requirements or notification benefit conditions was one major cause of some hold ups.
Cool chain transportation was achieved but rather in an ad hoc fashion and not in a methodical well described and documented manner. The lack of physical infrastructure to receive/store and distribute at the final stages was another issue but it was also addressed by individual initiatives rather than a well-established emergency protocol.But then the nation has risen up and faced these challenges undaunted and there are many unsung heroes who need to be complimented for their exemplary efforts during these trying times. Humanity learns from every situation and this is one huge learning process.