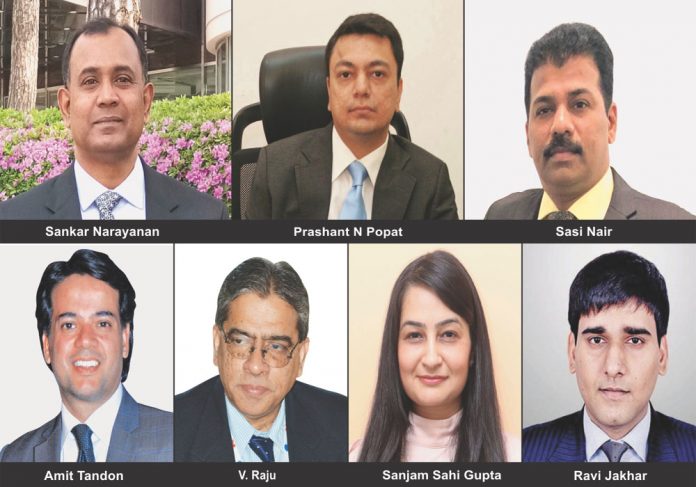 Sailing through troubled waters for some time now, the shipping industry is continuously evolving and adapting to meet the needs of the commercial marketplace. Affected by global trends and latest advances in technology, materials and fuels, the industry is fast pacing itself to remain competitive and cost-effective. CARGOTALK delves into the changes and developments taking place in the industry.
Priyanshi Bana
Witnessing one of the most turbulent times, the Indian shipping industry has been facing rough weather for quite some time now. The second wave of the deadly coronavirus pandemic became a major disruptor for the shipping and logistics industry at several ports globally, followed by the two cyclones, Tauktae and Yaas, adding to the already existing turmoil. The tragedy of COVID infections and deaths in India hit the shipping industry, global supply chains and, commerce and business alike. Explaining the double whammy caused due to the second surge and the cyclones on the shipping industry, Sankar Narayanan, Manager, Shipping Services, GAC India, says, "The ongoing second wave of COVID-19 has posed a serious challenge to crew changes, especially for Indian seafarers. The shipping sector has withstood and responded well to the economic challenges caused by the pandemic. However, the banning of vessels that have carried out crew changes in India has clearly put Indian seafarers at a disadvantage. Indian crew who are onboard vessels have been advised to extend their contracts or delay sign-off, leaving our seafarers in a precarious position, unable to return home. This has resulted in crew fatigue and related challenges. Disruption in the vessels' (machinery) maintenance schedules has been cited as another important challenge. As a result of travel restrictions, vessel owners are forced to delay maintenance as their specialised engineers and superintendents are unable to access ships for inspections, routine maintenance, survey by classifications societies etc. Indian ports have been operating normally despite the second wave; no serious disruptions have been reported at any of the ports."
He further adds, "Port operations were disrupted by landfalls caused by the two cyclones. Cyclone Tauktae affected operations at almost all ports along the west coast, including New Mangalore, Mumbai, Nhava Sheva, Kandla, Mundra etc. Vessels were moved out of almost all ports for safety reasons, although infrastructure remained intact. Cyclone Yass, which hit the east coast of India towards then, caused the ports of Paradip, Dhamra and Kolkata (Haldia) to stop all cargo operations and vessels were moved out to safe anchorage as a precaution. Infrastructure was also damaged which resulted in delayed restoration of normalcy and operations at these ports."
Expounding further on effects of the two calamities, Prashant N Popat, Director, Velji Dosabhai & Sons, says, "The biggest challenge was to manage the movement and transport of merchandise to concerned locations especially the essential and medical cargo in the face of shortage of manpower and ideal working conditions. The second wave hit the trade at large much harder which had just about started to limp back towards normalcy after the first wave and lockdown restrictions thereof. Further restrictions imposed with regards to workforce movement forced them to return to their native places due to resultant survival fears and economic insecurities, thus impacting manufacturing activities all the way to the last-mile distributions of merchandise.
If this wasn't enough, Cyclone Tauktae severely impacted port activities as the ports had to remain closed for days together. This ultimately resulted in lot of operational chaos and added delays and costs to the already under pressure industry. It added to the existing backlog and also the congestion at the ports for a few days as its after-effect. It has been quite a task for the industry to tackle and manage the above-mentioned-calamities and has raised many questions on how to manage such contingencies if any were to come up in a more comprehensive way."
Not only this, shipping industry faced the daunted task during the peak oxygen medical exigency times too. There were some who were busy managing transporting oxygen concentrators or cylinders, on the other hand shipping faced the worst container shortage during this time. Explains Sasi Nair, Senior Area General Manager – North India, CMA CGM India, "The CMA CGM Group focused on offering alternate options, and on bringing more empty containers into the country so as to balance the container shortage situation. In May, the CMA CGM Group mobilised its shipping, logistics and air transportation expertise in an unparalleled humanitarian operation, as part of the CMA CGM Foundation's long-term partnership with the French Ministry for Europe and Foreign Affairs' Crisis and Support Centre. Through its air freight division, CMA CGM Air Cargo, as part of the French solidarity operation with India, the CMA CGM Group deployed one CMA CGM Air Cargo aircraft to carry eight oxygen production units and 28 ventilators from Paris to Delhi. The CMA CGM Group also carried out the road transportation for all medical equipment grouped together at a storage site for loading onto the plane, thanks to the teams from CEVA Logistics, the CMA CGM Group's logistics subsidiary."
Globally too, shipping industry faced an unprecedented turmoil as crew shortages rocked the industry as India reeled under the second wave of the pandemic. Countries around the world had put crew changes on hold in India and had stopped employing people with recent travel history to India. Not just that, ports turned away Indian crews due to the fear of spread of disease and vaccines delays.
Despite facing challenges of crew shortage, freight rate hike etc, India's export sector grew tremendously. From exporting raw materials, gems and jewellery, handicrafts and other products showed an upward trend during the second wave too. Says Amit Tandon, Managing Director, Asia Shipping, "Exports from India have been on the rise inspite of the international freight rates not showing a decline. The space with the shipping lines has been a constraint. However, shipping industry in India kept pace with the rise in exports and was able to successfully keep its head above water. There were no significant hold ups in movement of export shipments from India, although shipping costs have not yet shown a decline."
Explaining the rise in exports sector, Narayanan adds, "Repeated curfews and lockdowns nationwide, due to increase in the number of COVID-19 cases, had disrupted supply chains leading to a drop in exports and imports. However, there has been notable growth in sectors like engineering goods, petroleum products, textiles, garments and jewellery which kept the exports elevated. Economic revival in the US, Europe, Southeast Asia and China after the first wave also helped in the growth of outbound shipments from India.
With the resumption of world trade activities, the outlook for Indian outbound trade remains positive for the current financial year. The government is making all efforts to minimise the impact of the pandemic on trade and business and to ensure the free movement of export consignments, aiming to keep the Indian shipping trade robust and continuing."
Amidst the many poblems faced by the shipping industry such as freight rate hike, container crunch etc., there has been a strong voice for making India a container manufacturing hub under 'Atmanirbhar Bharat' in order to reduce the dependability on China. Explaining the government's efforts, V. Raju, Sr. Vice President, CL – Chemical, Pharma & Food Sector, Awashya CCI 3 PL Logistics, says, "In a major push for the nation to become 'Atmanirbhar' in meeting its burgeoning needs for containers, the government has already set up pilot projects in Bhavnagar, Gujarat, and has selected 10 places for the job. India requires about 3.5 lakh containers every year. There is no container production in India and we depend mainly on China which is a global producer of containers. The government has taken several initiatives and engaged with re-rolling and furnace makers, to encourage them to expand and take up the manufacturing of containers. The development gains significance as there are reports of a global shortage of containers. Shipping liner associations have assured that they will purchase the containers from local manufacturers. They have assured that they will not import it once indigenous production starts.
In the last few years, share of containerised cargo in India has peaked up but in the last few months the trade is feeling the heat of container shortage in the market. While there could be several facts that resulted in the tight supply scenario, but the underline largely lies with slowdown of manufacturing industry in China and its aftermath."
Expounding further on the need of container manufacturing in India, Sanjam Sahi Gupta, Director, Sitara Shipping, adds, "The global container shortage highlighted the huge opportunities in domestic container manufacturing. This would help us attain self-sufficiency and boost India's containerised exports. China currently manufactures 90% of containers, however scaled up in a proper manner and manufacturing top-notch quality containers could position us as a leader and reduce our dependence on China. A lot of countries would be looking for alternatives to China and if we can match the gap. Indian shipyards could be utilised to manufacture containers. Indian steel companies are already planning to use this opportunity to enter this space and start their manufacturing.
Domestic participation and boost by the government would eventually bring down the cost of procuring containers from other countries such as China, which makes about 90% of the global shipping containers. If scaled up well and in a planned manner, India's decision to boost container manufacturing will not only reduce the shortage on major routes in and out of India but will also lower the logistics costs within the country."
The pandemic acted as a pause button wherein every industry was forced to pause and review their efforts to adopt and adapt to new technologies – and it's been a great boon. Today, technology is the new oil to run any business. It has been helping businesses save time and unnecessary expenditures which earlier was not paid much attention to. Shipping industry was quick to adapt to the necessity. Adopting to technologies has helped the industry acquire a more visibile supply chain, real time data tracking, vessel tracking systems etc. saving a lot of time and faster and efficient shipments globally. Ravi Jakhar, Chief Strategy Officer, Allcargo Logistics, says, "At Allcargo, we recognise technology as an essential enabler and no more a unique disruption or differentiation. We are leveraging technology for integrating digital tools with our core operational processes. This helps improve customer services and boost internal efficiencies to drive actionable business outcomes. We have our custom-built ERP operating across the globe over the years and many proprietary tools cutting across analytics, customer engagement and operations.
We lay equal emphasis on security and are also rolling out hyper converged infrastructure (HCI) to have best-in-class IT backbone. In our MTO business, we have rapidly built ECU 360 as a go to digital platform for our customers to perform a full range of tech-enabled business services across the supply chain spectrum. It provides single window services covering generation of invoices, e-bills of lading, e-delivery orders, and e-payment facilities. The platform which was built keeping customer at the centre now offers door-to-door rates from 40+ different countries with pickup and delivery options. It already accounts for a significant part of our overall bookings. In our express business our tech-enabled sales force offers a range of services to customers while establishing connects through an efficient customer portal. We see great appreciation amongst our customers who are equally excited to adopt and adapt to new technologies to drive efficiency in supply chain."