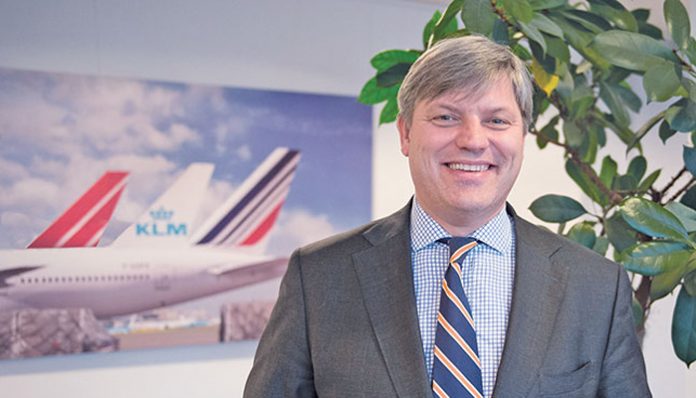 Seeing a huge potential in the Indian air cargo market, Marcel de Nooijer, EVP – Cargo & Managing Director Martinair Holland, Air France KLM, talks about trends, opportunities and the airline's future plans in a tête-à-tête.
CT Bureau
Can you enlighten on the current scenario of the air cargo market?
The air cargo market is definitely growing but is volatile also. Despite Europe and the US being the important markets, the consumer demand is seeing a surge in the emerging markets too. This had a positive effect on air freight. Secondly, air freight plays a key role in the process of trade growth through global sourcing and global consumption. We have seen a strong development that has gained momentum slowly, particularly in India, like that in e-retail and pharmaceuticals. Clearly, India plays a key role for air cargo. The country is gaining a hold in pharmaceuticals, given the time-sensitive nature. These are the positive drivers. Fluctuating economic growth, increasing trade barriers are few stimulating factors of the air cargo market. Since Europe remains a consumer market, the Asian countries particularly India, had a slower GDP growth this year, than before. I can assure a significant growth rate of six to seven per cent this year. Being a European player, we foresee main growth outside Europe.
From the monetary perspective, interest rates round the globe are relatively low. This reduces the cost of inventory, which can stimulate a modal shift to sea and rail. Subsequently, there are some changes in the production method such as more local for local, miniaturisation and 3D printing; that has strong impact on demand.
Another important concern at global level is the capacity in the air freight industry. New players give two dimensions, first – players having increased capacity and second – passenger aircrafts offering much more belly capacity. The capacity has gone much higher than traffic which has made the industry little uncoordinated at a global level.
Which vertical is Air France KLM presently focusing on?
Equation and Pharma. We have heavily invested in CEIV pharma certification. This helps the industry to assure that things are being dealt optimally. The sector commits to regulation and quality. We will keep on expanding pharma market as it offers more choice and control and improves e-tooling. Coming to Equation, cross-border e-commerce sales is expected to grow by 192 per cent as of 2018 (from 105$bln to 307$bln). We have made an investment of US $14 million in the Equation product. The facility will be operational by August 2017. This will develop business with integrators and couriers and will secure e-commerce related business.
Can you elaborate your future plans?
The Airline's cargo is in the shape for future with continuously growing belly capacity. We are reducing freighter footprint by strengthening partnership and alliances with other airlines. We are in alliance with Delta Cargo, Kenya Airways Cargo, China Southern Cargo and Skyteam Cargo in order to tap diverse markets. Naturally we would like to strengthen our cooperation with Jet Airways further.
Please enlighten on your global network.
The airline offers belly, combi and/or full freighter cargo capacity. This fleet is deployed on routes worldwide, optimally utilising our network, as well as specific routes and enabling us to provide best options for any type of shipment. With a fleet of 174 aircrafts, we offer 1,045 weekly services to 127 destinations worldwide.
How is technology helping the air cargo industry to improve?
Digitalisation facilitates the transformation in the value chain. Being a key enabler for cargo strategy, digitalisation develops most easy, simple and reliable services for customers and employees, leading to simplification and efficiency. There are customers who have more needs to fullfil, especially in the domain of transparency and ease of doing business. Easy to connect requires digitilisation of processes and development of both internal and external interfaces. Hence, front and back office processes should improve the quality offered. We at AFKLM are pioneering with 'My Cargo' our personalised digital shop which is easy, transparent and proactive. It gives robust product offering with the right product portfolio, high performance and transparency.
We have heavily invested in CEIV pharma certification. This helps the industry to assure that things are being dealt optimally