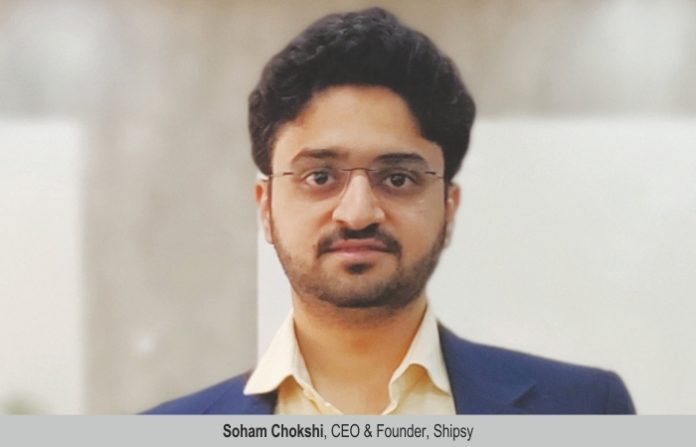 AI-based algorithms help make highly accurate decisions about vehicle and driver deployment. It crunches and analyses historical data to allocate the right task to the right delivery executive at the right time. Soham Chokshi, CEO & Founder of Shipsy tells more about automation in delivery.
Priyanshi Bana
Services offered through a single platform
Shipsy empowers businesses across the globe to ensure seamless delivery management, gain end-to-end visibility of shipments and boost productivity by driving real-time communication across delivery stakeholders. Here's a quick look at how we improve each of these aspects of logistics management.
Delivery Automation
Our AI-powered logistics management platform automates core delivery operations like route planning, dispatching, task allocation, driver onboarding, KPI benchmarking, and more. Shipsy's routing engine considers multiple external and internal factors like delivery type, store-to-customer proximity, driver productivity, weather patterns, empty miles, and more while automatically generating delivery routes. It ensures that a delivery executive follows the most efficient route when travelling from point A to B to C and so on.
The platform ensures seamless dispatch execution. Automated dispatching leverages AI-based algorithms to make highly accurate decisions about vehicle and driver deployment. It crunches and analyses historical data to allocate the right task to the right delivery executive at the right time. This eliminates the need to maintain exhaustive spreadsheets prone to error and downtime while allocating delivery tasks.
When it comes to scaling delivery operations, the platform quickly crawls through an enormous repository of past performance data and narrows down on a select number of delivery partners who can execute deliveries rapidly with perfection. Also, KPI benchmarking is critical when it comes to selecting 3PL providers/delivery partners. Shipsy's end-to-end logistics management platform ensures granular-level tracking of last-mile deliveries, thereby continuously benchmarking efficiency and productivity of 3PL operations.
Shipment Visibility
Poor visibility of ground-level logistics operations remains a crucial challenge in the supply chain industry. Our platform ensures that enterprises and logistics providers across the world gain end-to-end real-time visibility of logistics operations. We ensure that logistics stakeholders know where exactly a shipment is at any given point in time.
The platform's capability to provide granular-level visibility empowers businesses to boost delivery productivity by eliminating idle times, unnecessary route diversions, unprecedented stoppages, and more.  Gaining real-time visibility of first, middle and last-mile operations also optimise costs by reducing fuel consumption and vehicle idling time. It mitigates chances of theft and pilferage and minimises vehicle wear and tear by constantly analysing driver behaviour.
When we say visibility, we also include customer transparency. Shipsy sends out live alerts and notifications to customers regarding delivery progress to drive instant gratification and customer transparency. In other words, customers are never kept in the dark when it comes to knowing where their orders are, who will deliver it, what's the ETA, are there en route delays, and so on.
Delivery Collaboration
Collaboration is key to delivery productivity. Shipsy's advanced logistics management platform ensures that delivery stakeholders are updated with real-time information on shipments. It expedites ticket/issue resolution by raising red flags to senior management regarding delivery exceptions and emergencies. The platform's collaboration capabilities enhance decision-making, lowers delivery latency, and significantly improves accountability.
Role of digitisation
Disruptive technologies like AI, IoT, data analytics, predictive intelligence, natural language processing (NLP), and more are empowering enterprises to streamline numerous complex processes in the logistics industry. For instance, dispatch automation, automated delivery scheduling, automated driver allocation, ML-based route planning, automatic customer notifications, the list goes on.
Digitisation is not just about minimising human intervention in the first, middle, and last-mile, more importantly, it's how businesses can optimise human efforts. Automating core delivery ops improves the efficiency of mundane delivery operations, shrinks transportation costs, drives prompt data-based decision making, simplifies audit trails and more. Digitisation ensures that people do not have to spend hours of productive time executing repetitive tasks. Instead, they can focus more on key business aspects like innovation, research and development.
How route-optimisation can contribute to facilitating faster and contactless deliveries?
Our logistics management platform's driver app allows drivers to check customer preferences such as preferred delivery slot, contactless delivery, mode of payment, etc., for the last-mile services. Contactless delivery eliminates physical contact with the customer during the final execution of the last mile. It could be for customer verification, getting customer signatures as proof of delivery, or cash.
So once the consignment is out for delivery, the customer receives the tracking link to see the driver's location in real-time and check the ETA. After arriving at the destination, the driver places the consignment at the doorstep and photos are uploaded on the app as electronic proof of delivery (ePOD). Customer verification occurs through OTP that a customer shares with the delivery agent once the order reaches them. For payment, customers with COD orders can request an online link and pay the amount through the same.
Streamlining operations
We joined forces with ACT Grants and Udhyam. They have been actively involved in raising funds from donors across the globe to secure COVID relief equipment like oxygen concentrators, BiPAPs, and others. A substantial scarcity of the right tools and technology complicated managing a heavy volume of inbound and outbound logistics for them. Our advanced logistics management platform assisted them in streamlining their operations by improving product management, communication between logistics partners, and other processes. We digitised and automated the product journey while eliminating manual intervention. Another such organisation is DTDC, which has been at the forefront of delivering COVID vaccines throughout the country. Our platform's route optimisation and ePOD capabilities enabled faster and contactless deliveries for them for timely and efficient disbursement of shots.